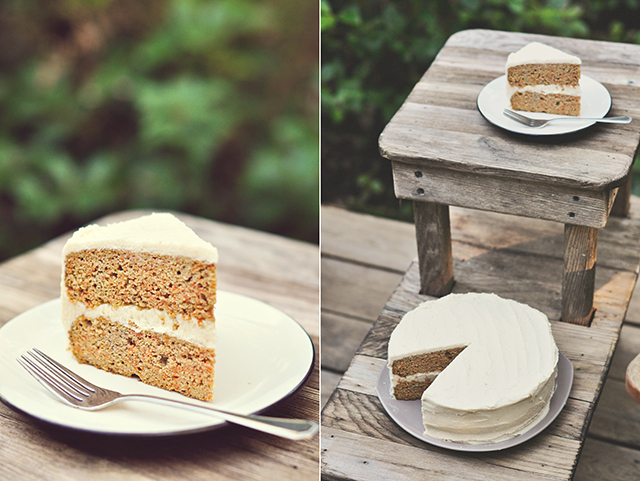 Birthdays' occur just once a year. Bummer…
30th birthdays happen only once in a lifetime. Win!
I wanted to do something amazingly special for my 30th this year. I wanted a perfect Paleo Carrot Cake, a beach, sunny weather, sand, a hot tub and peace and relaxation. I got everything I wanted, except the last two things…who knew kids loved hot tubs so freakin' much?! Give the adults some quiet time will ya?
We spent four bliss filled days in a beautiful house in the woods. We woke up, soaked in hot tubs, drank BulletProof Coffee, walked ridiculously fast on beaches, WODed on decks and in the sand and anywhere else we could perform movements. We worked out for THE FUN OF IT. We threw logs around, we sprinted in the sand, we did double unders under cedar canopies, we did way too many push ups, we ate a lot of cake, we relaxed, and we had fun. Oh and we nerded it up satellite style with the premiere of Season 3 of Game of Thrones. So sue me…it premiered on my birthday. I LOVE THAT SHIT RIGHT THERE….I'm still reading book two but I don't care!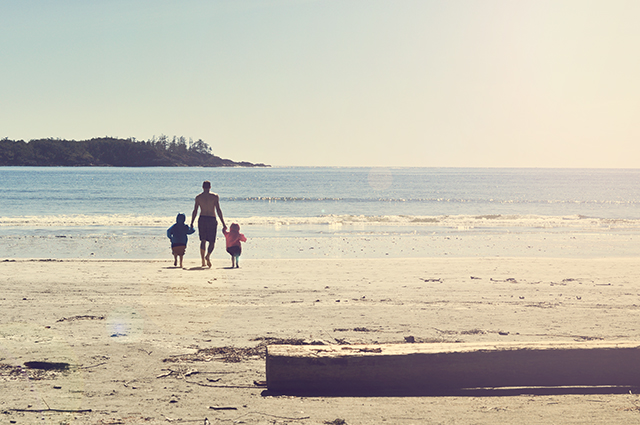 But this carrot cake stole my heart for sure. Going Paleo can be difficult for a lot of people. The mere thought of having to give up childhood favourites such as warm buttered bread, rice pudding, cakes, muffins, cupcakes, cous cous, Chinese sweet buns, etc. It's just too much for people. I thought the same thing when I first heard of Paleo. But then I convinced myslef to try it after hearing nothing but good results from the majority of people. I tried it. And I am telling you right now, I will NEVER go back. The temptation of my most adored sweets have nothing on the feeling I get from NOT eating grains and sugar. I feel like a million bucks every day, I sleep like a baby no matter what, I have so much energy all day, every day that most people can't keep up with me. Slump in the afternoon? Hardly.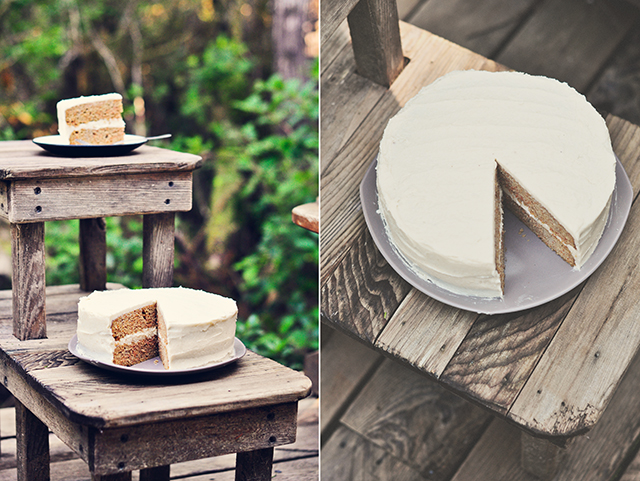 But what's a girl to do when her favorite dessert is carrot cake but it has to be grain and dairy free?? Get creative in the kitchen.
I wanted this cake to be fluffy, not dense. A lot of Paleo baking, because it contains no gluten, is dense and heavy. Made with coconut flour it is also VERY filling (there's a lot of fiber in there people) and too much cake is bad news, believe me. But I wanted to not watch my intake this weekend. I strutted around in a bikini for the better part of four days and ate cake the rest of the time.
So for this cake, I experimented with an ingredient I have never used before: arrowroot powder.
What is it?

Arrowroot is a fine, white powder that crunches like snow when compressed. It is made from the underground growing stem (rhizome) of the tropical plant by the same name. The rhizome is high in starch and this is the part of the plant that is extracted and pulverized to make arrowroot flour/starch.

This flour is grain free and gluten free. It is similar to, but not the same as tapioca flour. But you could be forgiven for confusing the two, as they are both starchy white powders and are commonly interchangeable in cooking. To complicate matters further, arrowroot is sometimes used as a generic term for any starch.

Compared to other grain free flours, it is relatively inexpensive. But because the production process is more complex with arrowroot, it is more expensive than potato flour or tapioca flour. Both of these flours are commonly interchangeable with arrowroot in baking. – http://www.grain-free-gluten-free.com
Arrowroot is 100% carbohydrates so it offers little in the form of nutrition but is VERY easy to digest. Too much in a recipe can make the finished goods elastic-y though and should not be mixed with dairy products or watch out for slime-zilla. It does add a nice light, fluffy texture when mixed with other grain and gluten free flours though. This will be my go to combination for all baked goods from now on, unless that dense and thick texture is desired (like in a cornbread).
The frosting is a play on cream cheese frosting, it did have a bit of a tang to it, but it was still coconut-y, like most Paleo frostings. Together they formed one of my best Paleo baking creations to date. Voila! Now get baking.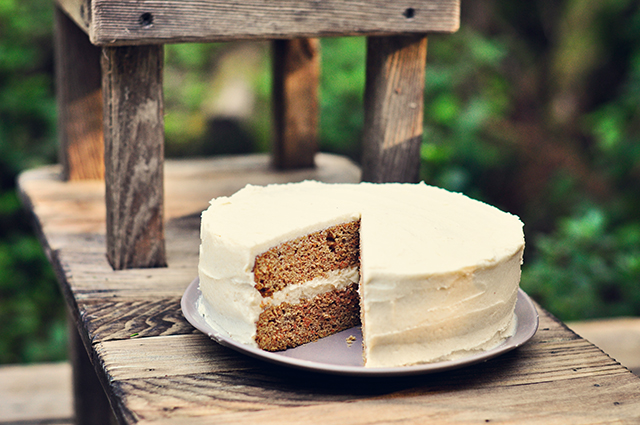 One year ago: Chocolate Chia Energy Balls
Two years ago: Halibut Cakes
Three years ago: Asparagus Soup
Ingredients
For the Cake:

1 cup almond meal
1/3 cup coconut flour
1 cup arrowroot flour
1 tsp sea salt
2 tsp ground cinnamon
1/2 tsp ground nutmeg
1" knob of ginger, peeled and grated or 3/4 tsp ground ginger (if using fresh, add to carrots during recipe)
1/4 tsp ground cardamom
2 tsp baking soda
1 tsp corn free, gluten free baking powder
9 eggs
1/2 cup maple syrup
1 1/2 tsp liquid stevia
3/4 cup coconut oil or clarified butter, melted
1 tbsp vanilla extract
zest from one navel orange
3 cups finely grated carrot

For the Frosting:

1 cup raw cashews, soaked 4-24 hours
1 cup coconut oil, room temperature
1/2 cup coconut butter (aka manna or creamed coconut)
1/4 cup palm oil shortening
1/2 cup pastured butter, room temperature
juice of 1/2 a lemon
1/4 cup maple syrup
2 tsp vanilla extract
2 tbsp apple cider vinegar
1/2 tsp sea salt
Instructions
For the Cake:

Preheat oven to 350°F. Grease two 9" baking pans and line with parchment circles.
In a large bowl, combine all dry ingredients.
In a separate large bowl, combine all wet ingredients (except the carrots and fresh ginger, if using).
Pour the dry into the wet ingredients, mixing well. Then stir in the carrots and ginger (if using).
Measure batter out equally between pans (I weigh them) and then pop them in the oven for 30-35 minutes.
Remove from oven and cool on cooling rack in pans for 10-15 minutes. Run a knife along the sides of the pans, then flip them out onto the cooling rack. Peel off the parchment and allow to cool completely.

For the Frosting:

Darain the cashews.
In a blender or food processor, blend the soaked cashews until as smooth as possible.
Add the remaining ingredients and process until smooth and completely blended.
Set aside until needed.
Notes
This cake freezes very well. Defrost at room temperature and consume within 4 days.
All Rights Reserved. Copyright Guilty Kitchen 2014
Note: If you can't find palm oil shortening, just increase the butter by 1/4 cup.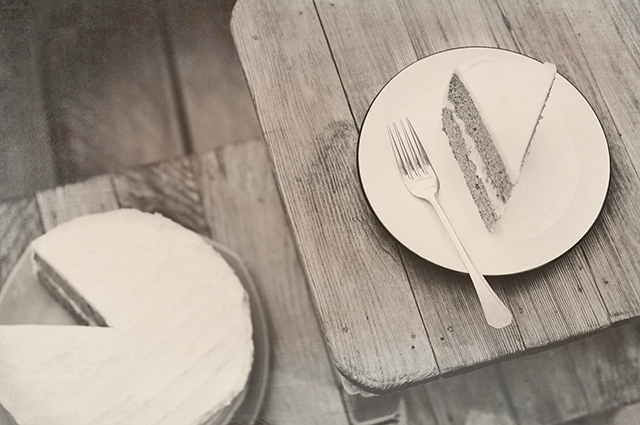 Delicious recipes from other fabulous food blogs: 
Paleo Chocolate Cake from the Unrefined Kitchen
Pumpkin Blueberry Blondies from Civilized Caveman Cooking Creations
Red Velvet Cupcakes from Clean Eating with a Dirty Mind
Sunbutter Frosting from Primal Palate
Paleo Breakfast Bread from Elana's Pantry
 What do you want to see me Paleo-ize next?