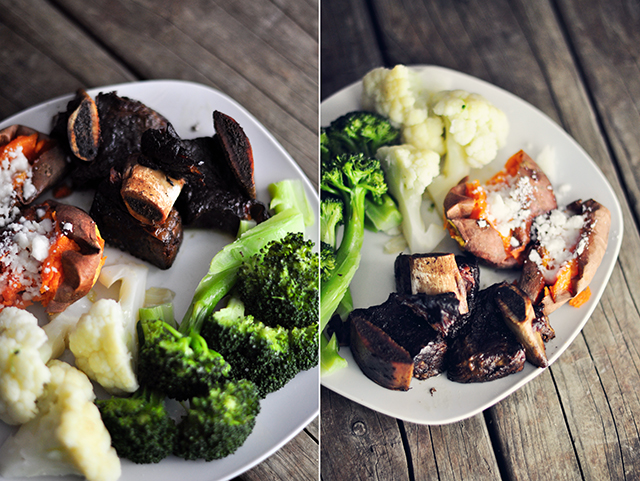 Happy Times.
Spring is here, the clocks have moved forward (which means more evening sun for those 800m runs at 5pm) and oh yeah, we bought a house.
WHAT?!
Yup, bought a house.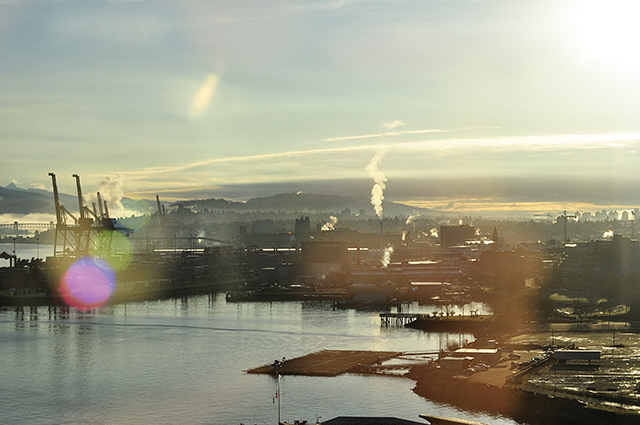 The whole process has been ongoing for about three years. We finally got all the little details in line, got our realtor to take us out to show us what was available in our area, in our price range (not much) and we picked the best of the bunch. It's not 100% final yet, so consider yourselves very close friends…but we find out on Tuesday next week, so keep your eyes peeled on my Facebook page, Twitter Stream and Instagram profile. Maybe you can help me choose a paint paint palette for all the upgrades it needs…
But anyway, on to food, cause I know you've ALL BEEN ASKING for some slow cooker recipes, which I make just about every single damn day but don't share…so here it is! At least one of them. So why don't I post them more often? I literally do this same procedure to 99% of the cuts of meat I use in my slow cooker. I sear it, sauce it and throw it in for eight hours on low. Voila! Dinner is served fresh from the pot as I'm finishing my last burpee and passing out on the floor.
This recipe is SUPER easy mind you, so no big deal. The big deal here is finding this cut 100% grass fed/grass finished. You don't want to be eating short ribs (or any fatty cut) that was raised on corn and soy. Tough to find it seems, but I have my sources…The reason being is that the fat in short ribs (and similar fatty content cuts like cheeks, shanks, etc.) is dispersed throughout the meat, you can't just cut it off like a steak. If these babies were grain fed, that omega 6 we've been talking about (the stuff that leads to inflammation) would be in every part of the meat. You don't want that. So go out in your city, hunt down THE BEST butcher or even better go straight to the farm. Find out what that animal has been chomping on all it's life. Grass = good, grains = bad, alfalfa and other dried grasses = not bad (they are legumes).
You'll thank me anyway because the flavour is deeper, more delicious and 100% healthier. So eat it up, fat and all (oh and the bones cooking in there all day offer there own little smorgasboard of nutrients as well). I served these little guys with some baked sweet potatoes and steamed veg, all covered in grass fed ghee and some coconut butter…it's practically dessert for dinner!
Bon Appetit!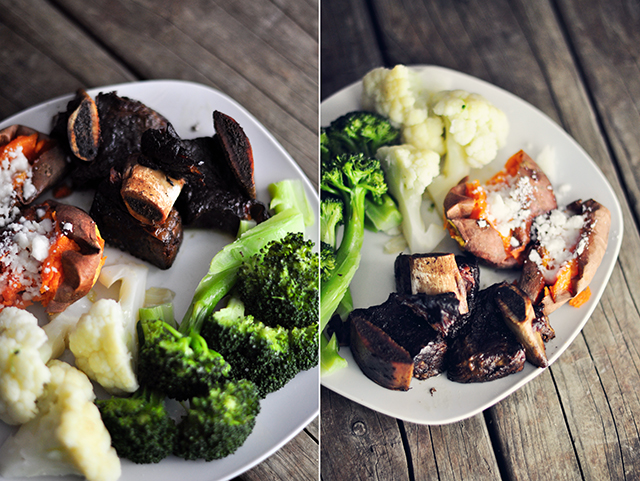 One year ago: High Protein Lemon Coconut Poppyseed Muffins
Two years ago: Gluten Free Cinnamon Oat Pancakes
Three years ago: Grilling the Perfect Steak
Paleo Slow Cooker Short Ribs
Ingredients
2lbs grass fed beef short ribs (Korean style is my fav, but any cut of rib works)
1 tbsp coconut oil
coarse sea salt to taste
pepper to taste
1/2 cup red wine
1/2 cup water
OR
3 tbsp aged balsamic vinegar
1 tbsp Dijon mustard
1/2 cup water
Instructions
Heat a cast iron or other heavy gauge frying pan to a medium high heat (about a 7 on a coil stove).
Heat the coconut oil until very hot (the oil will sizzle when anything is placed in it).
Sear the ribs on all sides, season with salt and pepper and place in the bottom of your slow cooker.
Pour in the wine and water OR whisk the vinegar, Dijon and water and pour that in over the ribs.
Set to low and cook for eight hours.
You're welcome.
All Rights Reserved. Copyright Guilty Kitchen 2014
Similarly delicious recipes on other fabulous food blogs:
Slow Cooker Kahlua Pig from Nom Nom Paleo
Braised Short Ribs with Figs from Health Bent
Maple Mustard Short Rib Bacon Burgers from PaleOMG
Bacon Crock Pot Roast from Civilized Caveman Cooking Creations
Slow Cooked Lamb Roast from Primal Palate