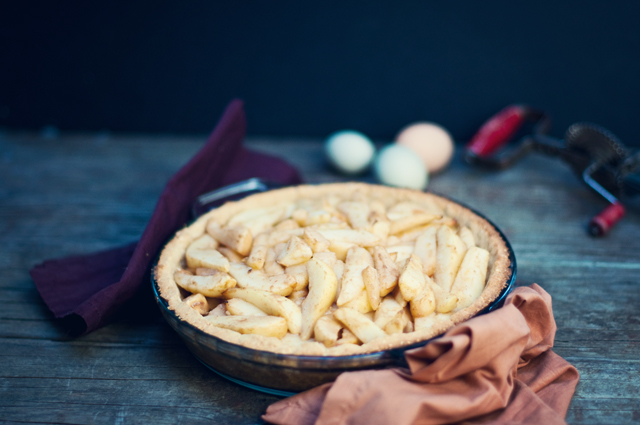 Autumn is a time of crisp, cool mornings. The sound of leaves crunching under your feet and the smell of wood smoke hanging in the air like the last drops of dew on a spider's web. It's a time of year we tend to overlook those simple things in life, but the transition from hot and lazy summer days to the cooler months of fall are something I take in with gusto every year. I am totally one of "those" people. I relish the fall, the colours, the scarves, the boots, the kids returning to school…oh wait.
Autumn also signifies the end of the harvest season. Of course there are winter vegetables to be had throughout the cooler months, but the last of the summer fruits leave the market during those darker days of September and October. It's the saddest part of my favourite season. All the markets close up shop until next year. Get it all while you can people!
One of my favourite fall fruits (besides the always mysterious fig) has got to be the Bartlett pear. Maybe it's because I have a massive tree in my backyard that is absolutely covered in the things and I have no plans for their use other then recreating this tart over and over but maybe I just like them a lot. Hey, what can you do?
This crust is totally awesome. Just sayin'. It would be equally at home married up with apples, pecan pie or pumpkin pie filling. You could blind bake it first and fill it with cherries, or plums, or any of your other favourite pies of yonder years. Whatever kind of pie it is you are looking for, I guarantee it will be most delicious in this crust. Perfect for anyone on a gluten free diet.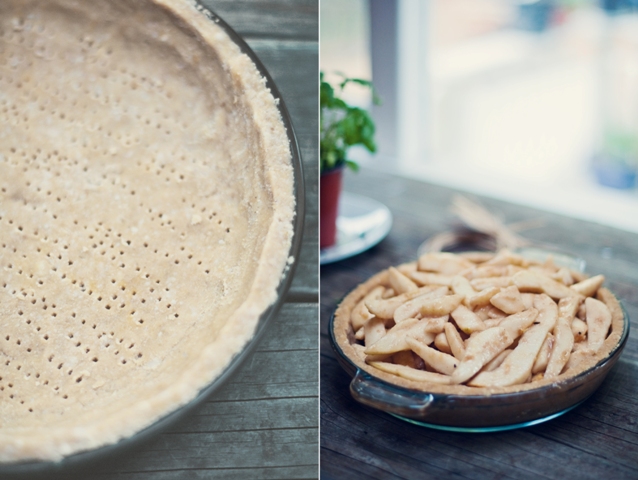 One year ago: Corn and Zucchini Tacos
Two years ago: Salmon Burgers, Tartar Sauce and Spinach Salad with Blackberry Vinaigrette
Three years ago: Butternut Squash Gnocchi
Ingredients
For the Crust:
3/4 cup coconut flour
1/2 cup raw cashews, finely ground
2 tbsp coconut palm sugar
1/4 tsp sea salt
1/4 cup coconut oil (solid state)
1/4 cup coconut cream, softened
3 eggs, beaten
1 tsp vanilla extract
For the Filling:
1.5-2lbs Bartlett pears
juice and zest of one Meyer lemon
1/4 tsp sea salt
1/4 tsp ground ginger
1 tsp vanilla extract
1 tbsp tapioca starch
1/2 tsp cinnamon
Instructions
For the Crust:
Mix the flour, cashew, sugar and salt together in a small bowl until well combined.
With a fork, mash in the coconut oil, coconut cream, eggs and vanilla.
Once a dough is formed, set aside.
Grease a 9" tart pan or glass pie dish.
Pour the dough into the dish and press into the bottom and up the sides. Try to get it as even as possible.
Chill in the fridge while you make the filling (at least an hour).
For the Filling:
Peel, core and slice the pears. In a large bowl, mix with the remaining ingredients.
Preheat the oven to 450°F. Pour the filling into the crust and place in the oven for 15 minutes. Reduce the temperature to 350°F for 25-35 minutes.
Remove from oven and cool on a wire rack. Best served when room temperature.
Keep in the fridge for an even harder crust.
Notes
Serve this with whipped coconut cream, full fat plain Greek yogurt mixed with vanilla and maple syrup or with just straight up whipped cream (but never naked).
All Rights Reserved. Copyright Guilty Kitchen 2014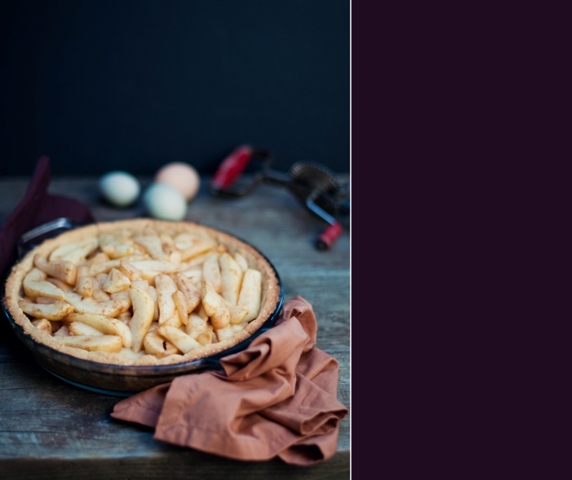 Similarly delicious recipes from other fabulous food blogs:
Gluten Free Pie Crust from Gluten Free Girl
Chocolate Cranberry Pie from Paleo Diet Lifestyle
Sweet Potato Pecan Pie from Civilized Caveman
No Bake Sticky Apple Bars from PaleOMG