Summer time. Finally.
For two years now the weather gods have decided to overlook our little island and instead bless their good fortune on other locations. We've had exactly six hot days and by hot I mean over 20°C. Which isn't saying much.
That said, I'm not one for super hot weather either. I feel like I can't move, can't get my normal activities out of the way. The heat stifles me, I can't breathe, sleep or eat properly. I hate it. I like a nice mild heat, maybe it's my ginger-ness. Us gingies have to stay away from the hot sun you know, or face the equivalent of a cute little Mogwai being fed after midnight (if you get that reference you are of appropriate age to read this blog).
But my kids looooove the sun. They strip off every last piece of clothing and spend as much time bathing in it as possible. I apply 2mm thick swaths of 350 SPF sunblock on them and release them into the wilds of our gigantic backyard. As long as the kiddie pool is full of fresh water, the dogs are roaming freely and the sun is shining…these kids live outside. The boy thinks it's his personal bathroom too, but that's a whole 'nother beast right there.
This summer has brought many new revelations, challenges and accomplishments. Last weekend, Adrian and I participated in our first obstacle race, the Warrior Dash. I got to meet up with a fellow FitFluential Ambassador, Scott Thomson, who I had the pleasure of running with. His fiancee was also a sport and the four of us stuck together as we ran our way around Mt. Seymour on the North Shore of Vancouver. Here's proof: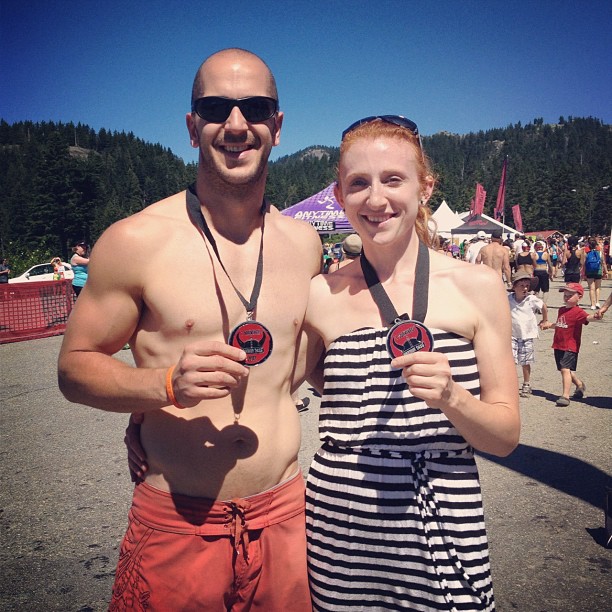 We nailed it. We got muddy and bruised, but we got our medals and life was good. My only regret was not getting the turkey leg at the after-race BBQ. I wanted that turkey leg so much, you don't even know. Luckily we were staying with a good friend in Vancouver who so graciously took us to the Richmond Night Market, where I consumed astronomical levels of meat. Thanks Rebecca!
We powered ourselves through this ridiculous maze of crazy steep uphill running with these amazing bars. I made these bars because I choke on my own cheapo rage every time I get to the till carrying one of the "real" ones. Buy the very best ingredients for these you can afford and make the effort to create the other ingredients from scratch. You'll truly taste the difference because these homemade versions are filled with the goodness of raw. You control the flavours and they come out perfect every time. They are great for hikes, before a serious WOD or even just to get you over that mid day hump. These babies are designed for the Paleo lifestyle, so they are relatively high in fat (20 grams  per bar)…so snack on fellow cavemen, snack on.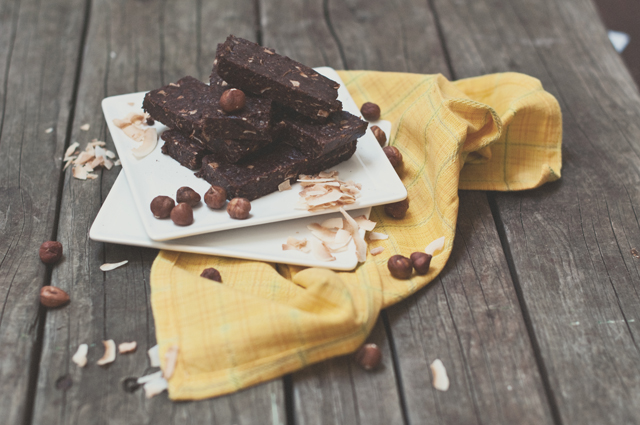 One year ago: Creamy Peanut Butter Pie (For Mikey)
Two years ago: Hanger Steak Sandwich
Three years ago: Mojito Inspired Sangria
These bars are my take on Lara Bars, but amped up to be a real Paleo treat or just a good snack for on the go for anyone and everyone. High in healthy fats and full of flavour!
Ingredients
3/4 cup medjool dates, pitted and packed
3/4 cup dried figs (black mission or calimyrna), packed
1/4 cup raw cocoa powder
1/2 cup coconut chips, roasted*
1 cup hazelnut meal or ground raw hazelnuts
1/2 cup nut butter (cashew, sunflower, walnut, almond, etc.)**
1 tsp pure vanilla extract
2 tbsp coconut oil (or if you are really looking for a treat, use bacon fat)
1/2 tsp sea salt (optional)
up to 2 tbsp water (optional, depends on how dry your dried fruit is)
Instructions
Place the dates and figs in a food processor and blend until a paste is formed (about two minutes).
Remove the paste from the food processor and place into a large mixing bowl. Add the remaining ingredients and stir with a fork. You will be essentially mashing it all together.
Add the water if you think the dough seems too thick.
Place the dough in an 8 x 8 pan And press it down to a level thickness (try using a flat kitchen implement to help with this, or the back of a spoon or just your hands).
Cover and place in refrigerator. Cool for 2-4 hours. Cut into 10-12 bars. Wrap and enjoy!
These keep for about a week in the fridge, but good luck keeping them around that long.
Notes
*Pour chips on pan and roast at 350°F for 3-5 minutes (turn pan if needed).
**To make your own nut butters, just add 1 cup of nuts to a food processor and blend for 8-10 minutes. You may need to add oil to get the consistency you need. Add a tablespoon at a time of a good quality nut oil like macadamia until you get it right.
All Rights Reserved. Copyright Guilty Kitchen 2014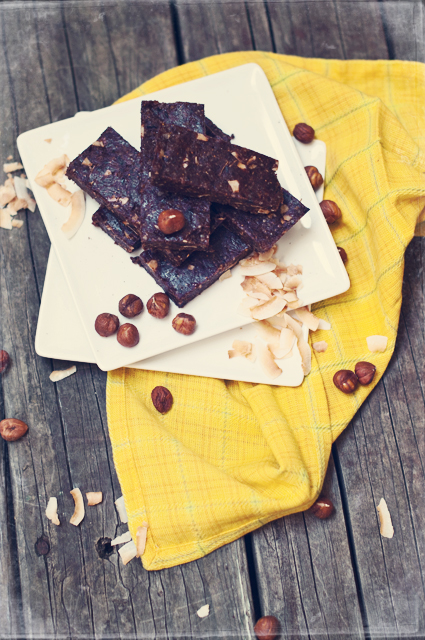 Similarly delicious recipes from other fabulous food blogs:
Nutty Fruit Bars from Anja's Food 4 Thought
Goji Power Bars from Elana's Pantry
Raw Vegan Nanaimo Bars from Healthful Pursuit
Apple Pie Caveman Bars from Civilized Caveman