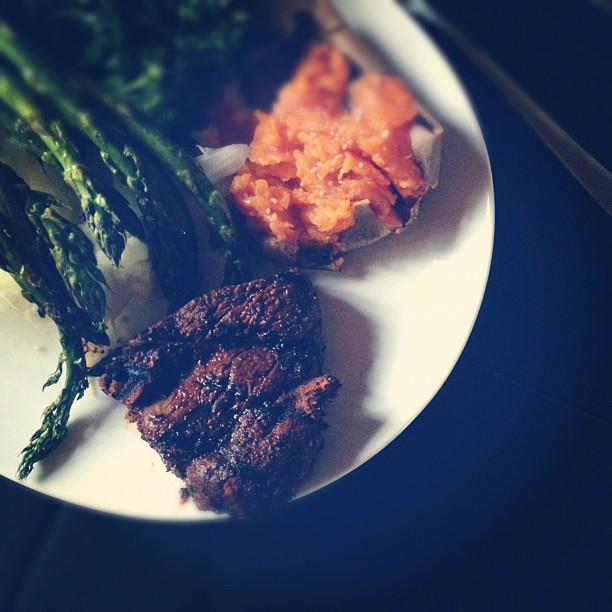 I lot of people who follow me on Instagram, Facebook and Twitter see most of the things I eat in any given day. I tend to talk about that a lot, as 1. I'm obsessed with food and 2. I'm obsessed with the quality of food that goes into my body. Also I like to take pictures of food, but I think I'm one of about 11,897,456 people who do that…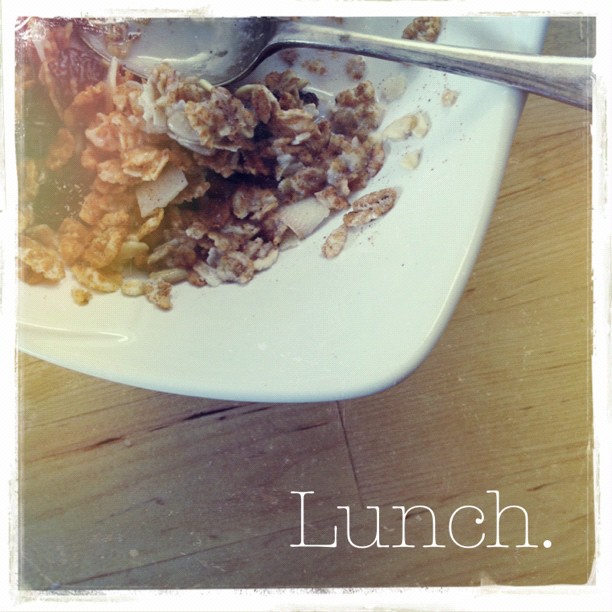 But I often get asked what my planning is like. As I have said in a couple of other posts, I eat based on macro nutrients and calories. I eat 20% fat, 40% carbohydrates and 40% protein. I try to maintain about1900-2000 calories a day and I work out pretty much every day, though a rest day is in there once in a while. I prefer a working rest day.
Because I tend to get long winded and I know the average internet users attention span is about 30 seconds, I'm going to keep this short and sweet. Here's what I do:
I use MyNetDiary on my iPhone to track my calories burned, my water intake, my macro nutrients and my calories. It takes some time to get used to, but you have to figure out what works for you. I've been weighing my food and keeping a diary for almost three years and it's just part of my life. After doing Weight Watchers for so long, it was a cinch. So I weigh my food, I input it into my phone and away I go.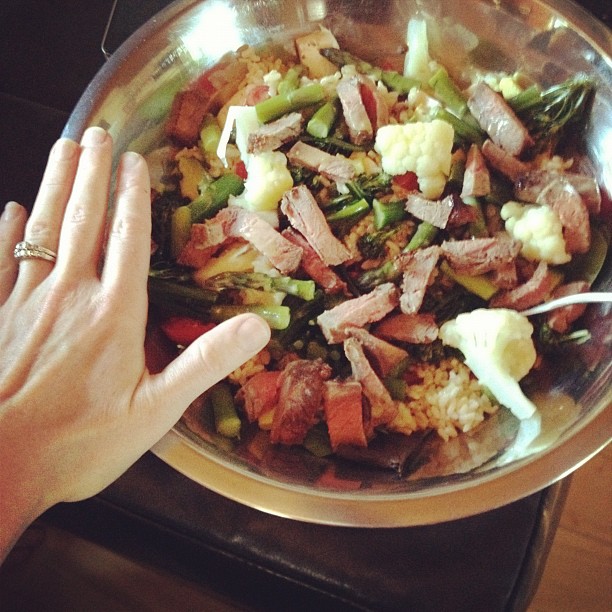 Redonculous sized salads are my fav…
BUT
In order to plan out your day so that you reach your target macro nutrients and calories, it's best to plan out your meals in the morning or even the day before. I have time to cook every night, but maybe you don't. So plan it. Pre make salads and weigh them out, freeze preweighed portions of proteins and freeze them with the weight written on the bag. Weigh out your snacks and lunches and have it packed up the night before. This is what Adrian does. He's got a bag and a bunch of containers and he weighs everything out for each meal and snacks and that way he has the whole day planned out. It's a lot easier then finding out you blew your fat or you have 200 grams of carbs to eat at the end of the night.
So in the morning I enter everything I'm going to eat that day into my phone and that's what I eat. On days I am going to eat things like this: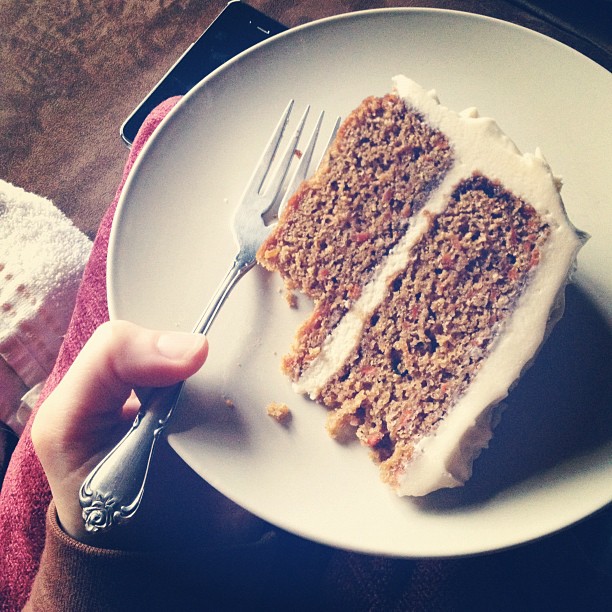 Well, some days I just don't count. This will throw off the information you have in your MyNetDiary, but overall, you'll be just fine. I am called Guilty Kitchen for a reason, though I am working on dealing with my guilt. Years of feeling shame for what I ate takes a while to get rid of, you know?
So you want a typical day in my world of food? Here it is:
6am Wake up, drink a 15 calorie preworkout energizer (stimulant free) and work out.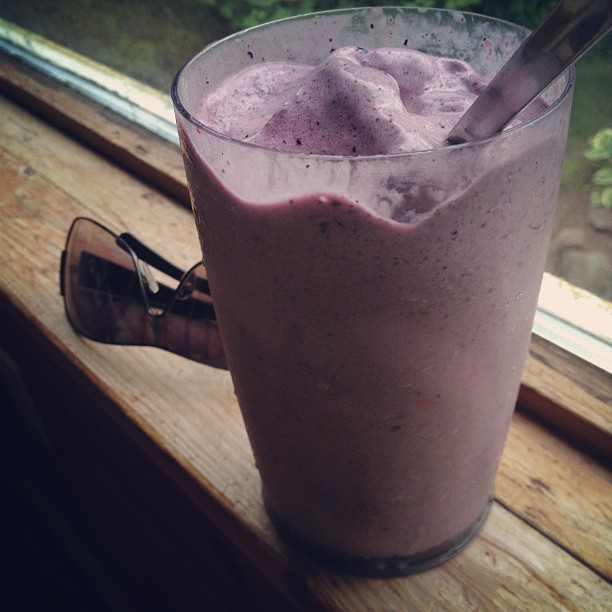 8am: smoothie time. My morning smoothie consists of 1 1/2 cups of ice, 40-50 grams of AllMax Iso Flex in Chocolate Chip, 1/2 a frozen banana, a scoop of Magnum Perfromance Greens, a tbsp of chia seeds, about 1/4 cup frozen blueberries, 3/4 cup unsweetened almond milk, 1 tsp of omega 3 oil in orange flavour and a dash of cinnamon. Blend to perfection and have yourself the best meal of the day. I freaking LOVE this smoothie.
11am: Snack time! Here I usually have a coffee or Americano with splenda or stevia and about 1/4 cup of unsweetened almond milk. I also usually have a protein bar of some kind at snack time. Some favourites include Quest Bars in Chcolate Brownie, Clif Builder's Bars in Chocolate or Chocolate Mint or Fit Stars Iso Bar in Tasty Chocolate (Do you see a pattern here…?).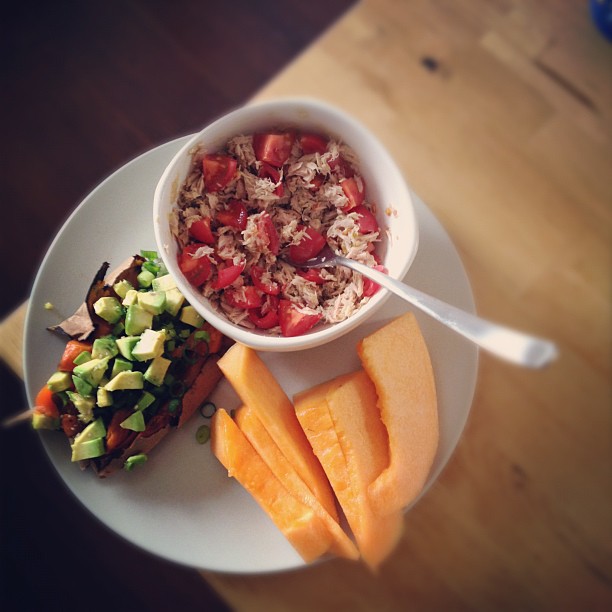 1-2pm: LUNCH! Here is where I can do a lot of different things. Sometimes it's leftovers, sometimes it's a carbolicious cereal like Dorset Muesli (see below for giveaway details!) and sometimes it's a salad. A lot of times it involves fruit, tuna, avocado and some form of other carb.
3-4pm: More SNACKS! Here I like to either have another smaller protein shake with just ice, almond milk, fruit and protein powder (plus more omega 3 oils) or fresh fruit. Depends on what my macros are looking like during the planning. Here is where I try to balance the carbs or proteins.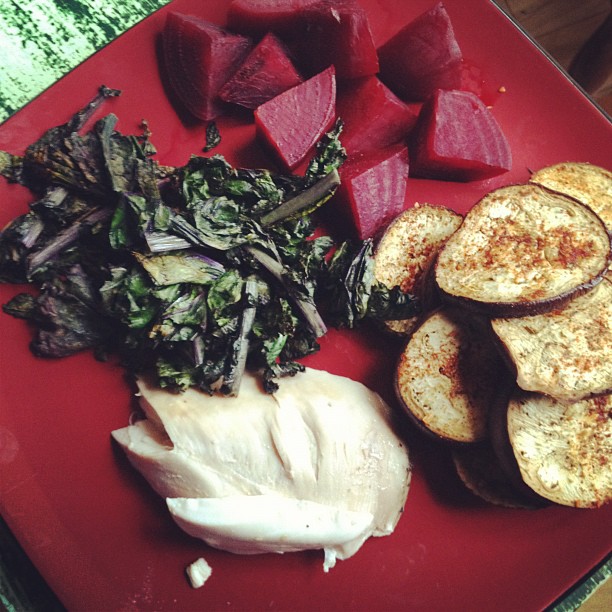 6-7pm: Dinner! Either a huge ass salad like the one above which is usually greens, tomatoes, mushrooms, cilantro, steamed veg, lean protein (usually chicken, sometimes black beans), avocado and dressing. Dressing is usually 2 tsp Dijon, 1 tsp honey and 2 tsp white balsamic vinegar. Goes a long way and zero fat. If not a huge ass salad, then we have a simple protein/carb/fat meal. This could be sprouted brown rice or sweet potatoes (soon to be corn and new potatoes too!), a lean protein (seafood, chicken, bison, lean beef or pork loin) cooked by broiling, steaming or grilling (also I often brine the proteins first as lean cuts can be very dry and tough) and a vegetable. Whatever is in season at the time, though we've been defaulting lately to whatever Costco has on sale. No that we are in full summer, the farmer's markets are all open and veg will be whatever is cheap, local and organic!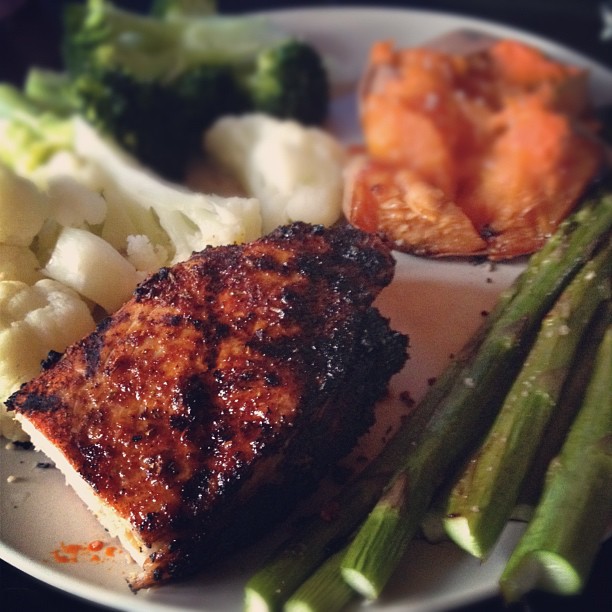 8pm: snack time if I have the calories left over. This is usually a small protein shake (which I would have instead of the pm snack shake) or fruit. I often have a piece of dark chocolate too. What can I say, I'm a bit of a chocoholic!
10pm. Bed time!
So there it is in a nut shell. Plan, plan, plan and you too can have every day be a breeze meal-wise. no more browsing the fridge to see what's good. Plan out your whole week! Plan your weeks meals, shop on Sunday and cook what you need to, pack up your lunches the night before and you're life will be a million times easier. And don't forget to drink your water people!
Elizabeth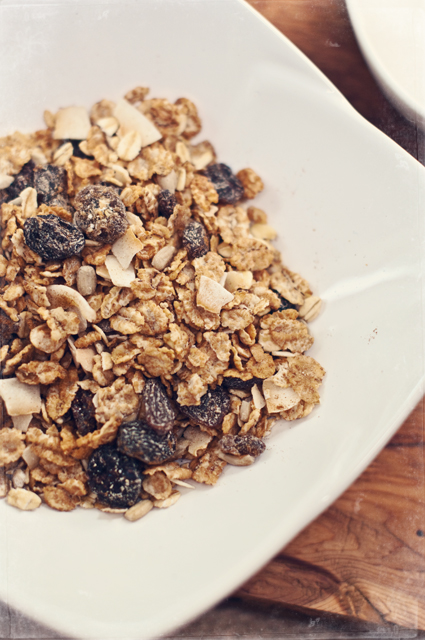 Dorset Cereal Giveaway!
You may have read above that I love Dorset Muesli. The company was kind enough to send me a complete product sample pack a few weeks back and Adrian and I (and the kids!) have fallen in love. It's a great carb-y treat and fits in perfectly with our natural food philosophy. Except for one cereal (which has added dried banana pieces [oils and sugars added]) they are completely natural products. Here's what Dorset has to say for themselves: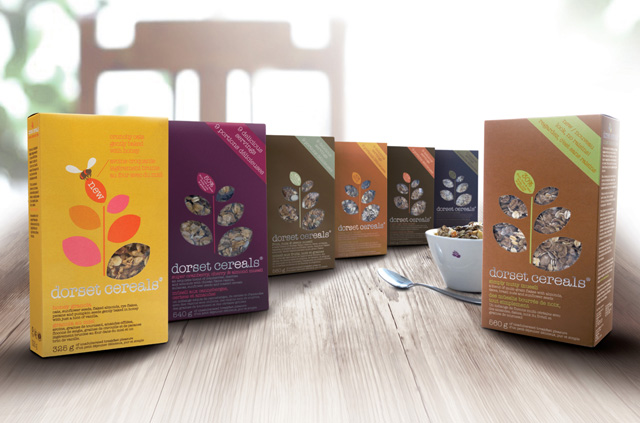 Our philosophy…

We make unadulterated breakfast pleasure, that's tasty, real and in good measure.  We believe that life is too short to settle for second best and that simple, honest pleasures are often the most rewarding – like a good walk on a sunny day, the smell of freshly cut grass or sharing a joke with an old friend.

Simple, but then the best things in life usually are.
So naturally, we ate all the boxes and now that I KNOW we are in love with them, I feel like I should share the wealth with my readers. Dorset cereals has been so kind as to provide a wonderful prize for you: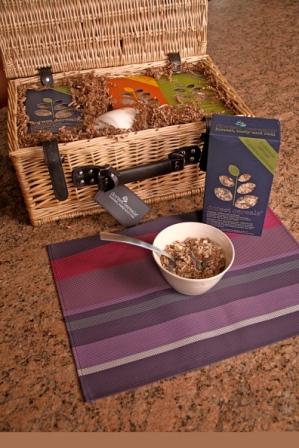 The gift basket has a retail value of $150 and includes:
Wicker picnic basket
The full line of Dorset Cereals available in Canada
Cereal bowl
Colourful placemat
Spoon
You must be a resident of Canada to win and to be eligible, simply leave a comment on this post telling me about your meal planning tips, changes you're going to make  in your diet or your favourite snacks and you'll be entered to win! Winner will be chosen by random number drawing and will be announced here in one week (June 29th).