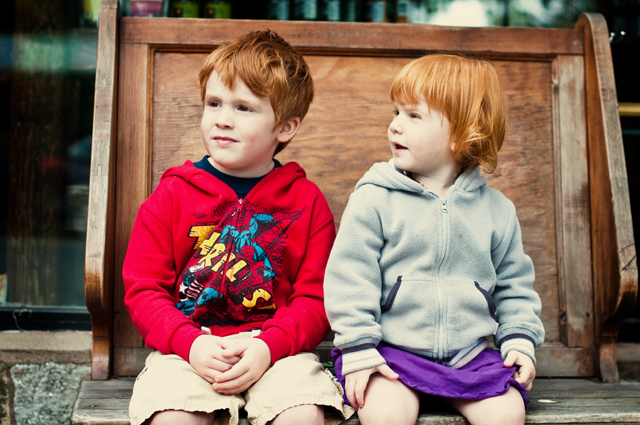 Remember these two little cherubs? 
So I thought maybe I'd indulge everyone in their constant request for more recipe like it used to be! Like I've been saying in previous posts, it's a lot harder for me in the last few months to get my poop in a group to actually design a recipe, test it, photograph it and write a post to go with it. Those two innocent little faces up there are mostly to blame, the time suckers that they are. But my other problem is posting recipes for meals that require no recipes!
Thankfully, the wee-est little one just had her second birthday and I was forced to create food for people that aren't completely healthy food obsessed. So I tricked them by making ridiculously healthy dips and passing them off as your average run of the mill party food. No one was the wiser and in fact I got about 72 requests for the recipes. So I will be posting all three of them this week and also I will be answering another reader question regarding my meal planning later in the week. While there may not be recipes, there is definitely planning required to meet your daily macro nutrients and calories. I try to plan my day in the morning or the night before, but I will get into the hardcore details int he actual post later this week.
For now I give you this incredibly healthy and ridiculously easy dip to impress your friends and celebrities alike. Or you could do what I like to do and sit down with a bowl all to yourself. Whatever gets gets your rocks off…
This dip is super healthy and full of healthy fats (don't be afraid of the fats…). It's also completely dairy and gluten free and pleases just about anyone. For an even creamier consistency, add a dollop of your favourite vegan mayonnaise or cream cheese substitute, but I like it just the way it is.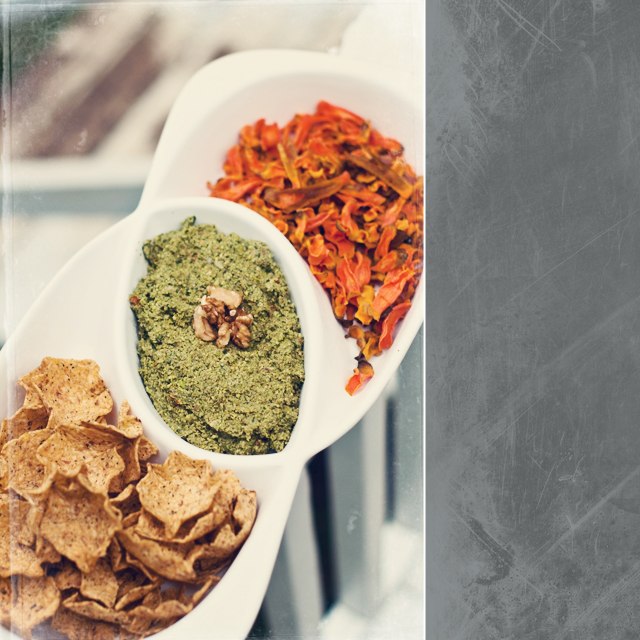 One year ago: Fresh Fava Beans
Two years ago: Chimichurri Sauce
Spinach and Edamame Dip (Vegan and Gluten Free)
Ingredients
1 cup shelled edamame beans (I use frozen)
1/2 cup frozen spinach, thawed and squeezed of excess liquid (measure after thawing and squeezing)
3 tbsp extra virgin olive oil
2 tbsp unsweetened almond milk
2 tbsp walnuts (pieces and halves)
2 cloves garlic
juice of one lemon
1 whole or two half pieces of sun dried tomatoes in oil
pinch of cumin
sea salt and pepper to taste
Instructions
Cook edamame beans according to package directions
Place all ingredients in a food processor or blender and blend until smooth.
Season with salt and pepper.
Serve with chips, raw vegetables or other crunchy goodies.
Feel good about eating dip.
All Rights Reserved. Copyright Guilty Kitchen 2014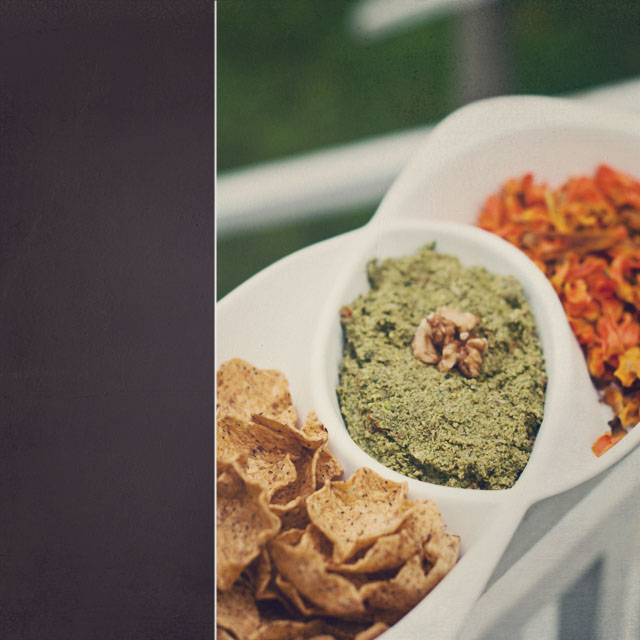 Similarly delicious recipes from other fabulous food blogs:
Eggplant and Sun Dried Tomato Spread from Table & Spoon
Roasted Red Pepper Dip from Living Lou
Asparagus Tapenade from  Lunch Box Bunch
Healthy Peanut Butter Chocolate Dip and Apple Chips from Dig Into Books