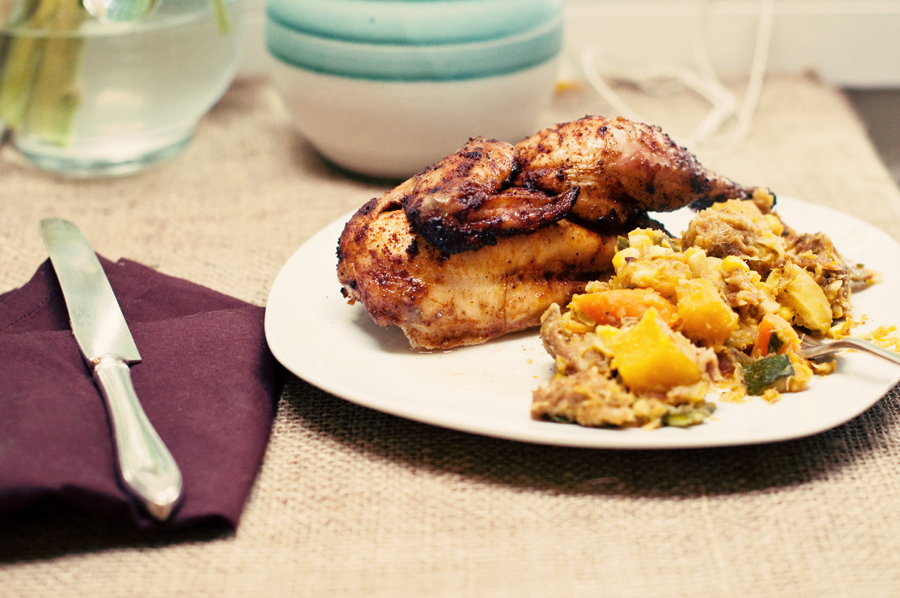 Well, it's finally happened here in Victoria. Fall has arrived in all it's unglorious forms. It's cold (14°C yesterday), the heat is on, the wind is blowing and it's pouring down rain. My snowbird parents have decided that this marks the beginning of their trip back down south for the winter, and I don't blame them. Surely if I had no ties to this place, I would be gone in a second for warmer climes. It's not the cold I dislike, but the rain. I hate it. I won't leave the house. I stand at the windows and glare at the dark clouds. And so the countdown begins until the next season of little rain, and it's a long wait.
The beginning of fall does mark another event for us Canadians though, Thanksgiving. Which is on October 10th this year. Which brings us to this weeks challenge for the Canadian Tire Kitchen Crew series (part II!). Here is a reminder of the specifics:
"Thanksgiving. For some, just hearing the word makes them shudder, especially thinking about all the work creating a thanksgiving feast for your family entails. Your mission this week is to get inspired and take a new view on old Thanksgiving classics. From side dishes to the main event – anything goes!"
My challenge involved using the provided KitchenAid 18-inch Roaster with Lid to make something slightly out of the ordinary, Thanksgiving-wise. At first I couldn't think of what I could possibly make in this giant roaster that wasn't a huge slab of meat. A turkey (same old), a beef roast (we don't eat beef), a pork roast (it would feed 20 people), a lamb roast (would cost me an arm and a leg, possibly two of each). But then I came back to the same realization I did with the first part of this challenge, that small families make Thanksgiving meals too.
I mean, we often do Thanksgiving for just the four of us or maybe two more. Six people. It's not a huge amount. I often won't buy turkeys in the grocery store because I prefer organic, local and free range birds. The turkeys in our grocery store are more often than not factory farmed Butterballs, Lilydales and other mass produced fare. I just can't bring myself to eat them. I won't go into detail here, but if you want to know more about the way turkeys are raised in most areas these days, check out Compassion Over Killing or PETA (be prepared for gruesome videos).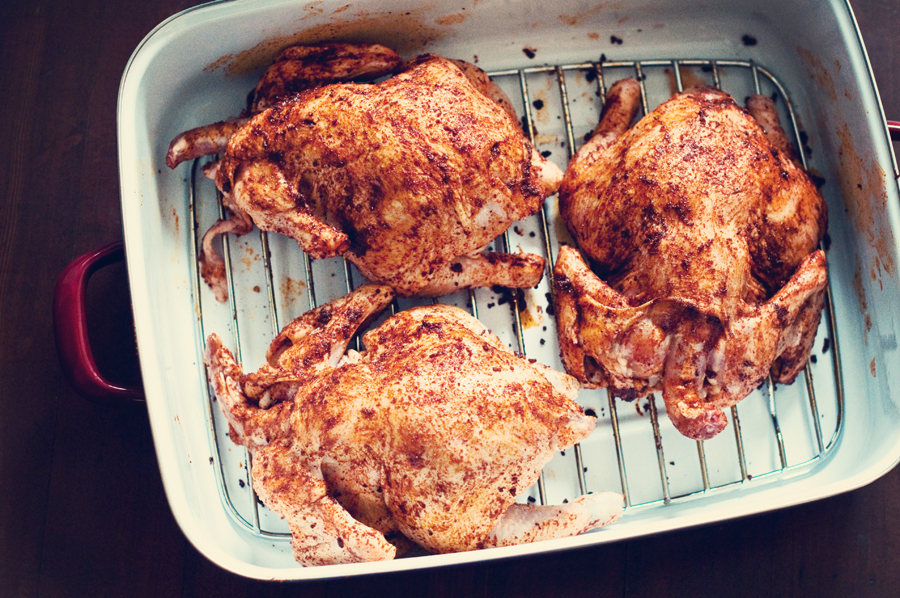 Instead I chose some locally raised, organic cornish hens. A cornish hen can be anywhere from 1-2 pounds and is perfect for two people to share, though one can often be a meal for just one person as well. They cook quickly, are almost identical to a chicken and are easy to find in most grocery stores. The best part about these little birds is that most people rarely eat them or have never done so, which makes them a special treat for holidays. If you can find small ones (1/2 a lb. or so), they do make perfect individual dinners for a family and are fun for kids to dig into.
I remember the first time I ever ate one. It was at Medieval Times in LA. We were on holiday and the waitress (colloquially known as a wench…) brought us our soup first (no spoon), which we slurped right from big clay bowls. Next came our hens, which we ripped apart while we watched our red knight win the tournament. It was a most fantastical experience for a ten year old on vacation. Then the handsome knight threw my older sister his rose, and I will never forget my disappointment…but that's a story for another time.
I must confess this might be one of our last meat meals. We are switching to a diet of mainly plant based whole foods. Once in a while we will definitely indulge ourselves in some animal based protein (especially because we still have about half a dozen of our own chickens in the freezer!), but for the most part, we will be eating a vegetarian diet. I look forward to bringing you exciting veggie recipes and of course will continue to bring you decadent desserts.
One year ago: Autumn Frittata

Two years ago: Chipotle Lime Marinated Chicken

Spice Rubbed Cornish Hens

Yield: 6 servings
Prep Time: 15 minutes
Cooking Time: 60 minutes

3 Cornish hens (approximetly 1 lb each)
2 lemons, cut into wedges
9 cloves garlic, peeled and slightly smashed
5 tbsp spice rub (recipe follows)
3 tbsp grapeseed oil

Spice Rub
1/4 cup paprika
2 tbsp chili powder
2 tsp garlic powder (not salt)
1 tsp onion powder
1 tbsp seasoning salt
1 tsp dry mustard
2 tsp dried oregano
2 tsp dried basil
1 tsp ground cumin
1/2 tsp ground coriander
1/2 cayenne pepper

1. Preheat oven to 425°F.
2. Stuff the cavity of each hen with 1/3 of the lemon wedges and a 3 cloves of garlic.
3. In a small bowl, mix the oil and 5 tbsp of the rub together into a paste.
4. Rub each bird on the outside with the rub mixture.
5. Arrange birds breast side down in the roaster with the roasting tray in place. Roast in oven for 45-60 minutes. Check for doneness with a digital thermometer by reading the temperature measured at the thickest part (usually right between the thigh and body of the bird.)
6. Remove from oven and allow to rest for 15 minutes.  Cut in half down the spine and serve each side with a side salad or roasted vegetables.



Disclosure: I was provided with compensation, including a free KitchenAid Roasting Pan, in exchange for creating this post for the Canadian Tire Kitchen Crew series. All of the opinions are 100% my own and reflect my honest opinion on the product. If I didn't love it, I would say so. The Kitchen Crew series highlights my stories, recipes & tips with promotional consideration made possible by Canadian Tire. If you want to uncover your kitchen's true potential, stay tuned to the Kitchen Crew for my weekly missions.
Similarly delicious recipes from other fabulous food blogs:
Drunken Game Hens from Poor Girl Eats Well
Korean Cornish Hen Soup with Ginseng from Korean American Mommy
Spatchcock Game Hen from Panini Happy
Hoisin Roasted Game Hens from Sippity Sup
Tagine of Cornish Hens from Elra's Cooking