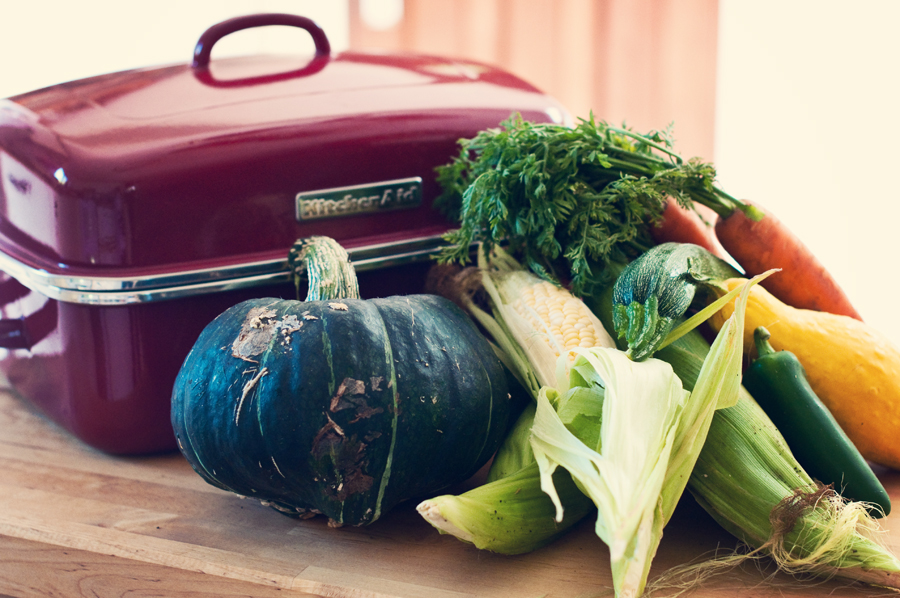 This weeks challenge for the Canadian Tire Kitchen Crew series was an easy one for me.  The task was put forth as such:
"Thanksgiving. For some, just hearing the word makes them shudder, especially thinking about all the work creating a thanksgiving feast for your family entails. Your mission this week is to get inspired and take a new view on old Thanksgiving classics. From side dishes to the main event – anything goes!"
Thanksgiving with family doesn't scare me. Roasting a 22lb. turkey doesn't scare me. Mixing gallons of freshly made dressing into thai noodle salad in giant rubbermaid containers with my arms buried down to my elbows for a wedding party of 400 people doesn't scare me. Making all of the above for Bono, or David Eggers or Gordon Ramsay…well, that might scare me a little.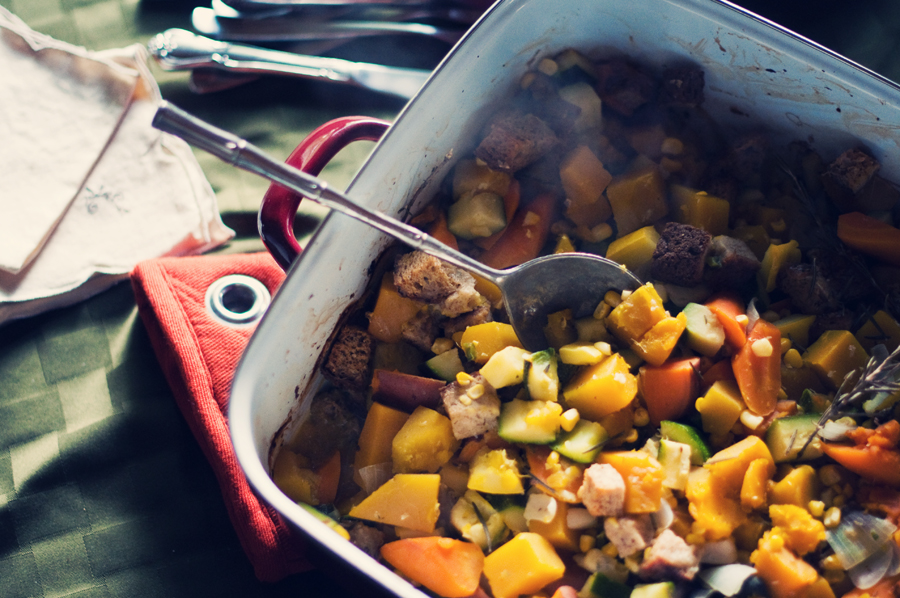 So when I got this challenge, and the KitchenAid 18-inch Roaster with Lid many thoughts flowed to my mind. As I've mentioned on Twitter and on this blog, we've recently taken a step into an even healthier life by eliminating some animal products from our diets. We've so far gotten rid of milk and meat. I think we are doing fabulous! What I wanted to do for the first part of this challenge, was something vegetarian, vegan if I could manage.
And I did. This is a completely vegan dish and can be served as a main or as a side dish without changing one little thing. It's filling, delicious, healthy, full of colour (and fibre) and takes little more than chopping to be completed.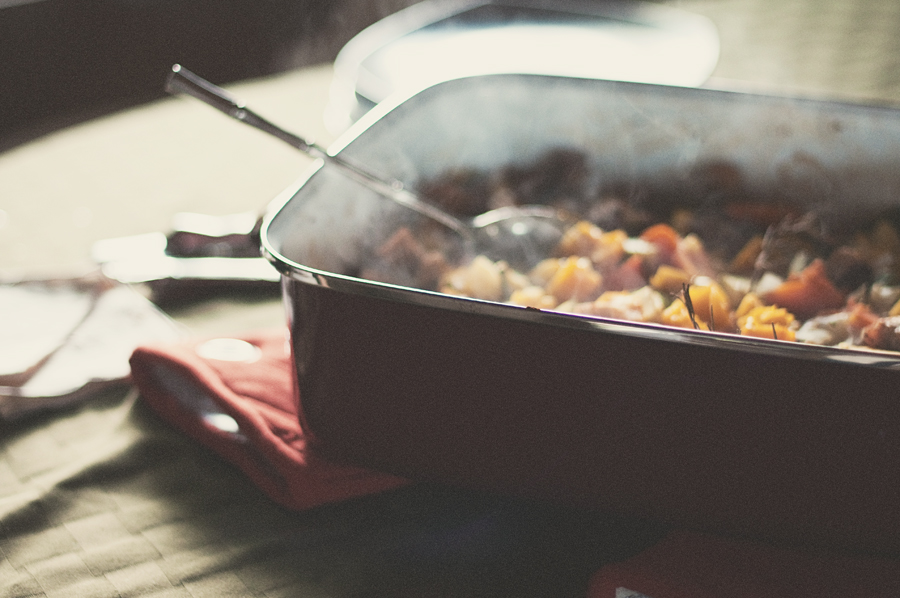 The KitchenAid 18-inch Roasting Pan is very large. The product information for it states that it can carry up to a 24lb. turkey without the lid on. That's huge. So filling it up to a good capacity was no easy task. I used every available vegetable in my garden and some from the markets. I wanted to make sure this recipe could feed a large family as a side dish and any regular sized family for a main meal. It probably weighed at least ten pounds by the time it made it into the oven. That's a lot of vegetation.
The pan did an amazing job though of sealing in all the wonderful flavours of the veggies and was a breeze to clean afterward thanks to the porcelain enamel interior. I actually already have a very large roaster from Lagostina but it doesn't have a lid (This makes a big difference when roasting large items), so I will be replacing it with this one for sure. I hate tenting with aluminum foil.
My only qualm with this roaster is that it is so huge. It will only be used a few times a year because we don't eat big pieces of meat or large birds. Filling it with huge amounts of vegetables will only happen for group gatherings as our kids just don't eat that much yet. When it comes to roasting large items though, this dish has got the market cornered. I love the colour and will definitely use this roaster to serve in as well. It can go from oven to table without a thought.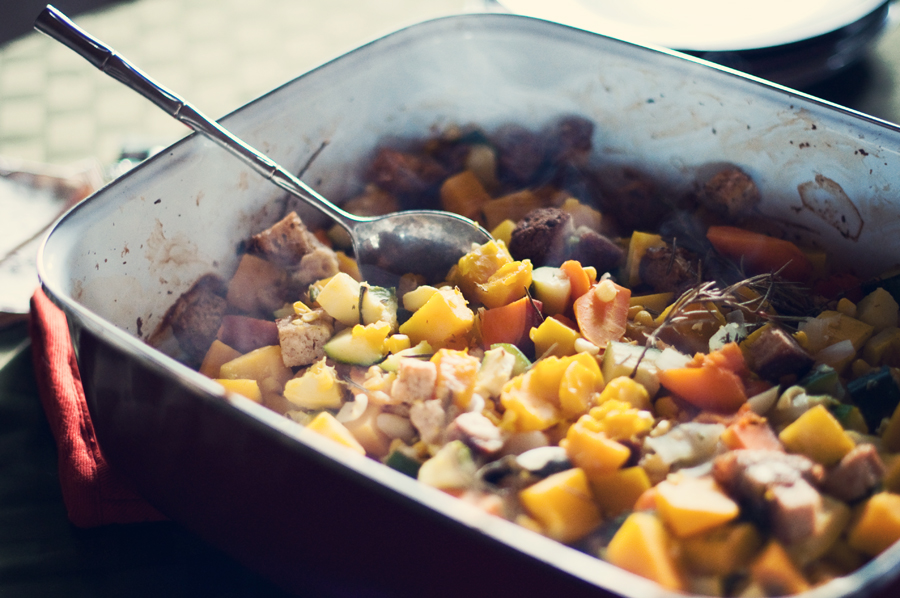 This autumn bake showcases the best of the seasons harvest right now and will be perfect for your Thanksgiving meal. We had ours two days in a row and it was just as meaty and satisfying the second time around. Perfect for entertaining vegans, vegetarians, carnivores and paleos alike.
One year ago: Salmon Burgers, Tartar Sauce and Spinach Salad with Blackberry Vinaigrette

Two years ago: Corn and Black Bean Soup with Spinach and Feta Biscuits

Autumn Bake

Yield: 10-12 servings
Prep Time: 25 minutes
Cooking Time: 1 hour

1 tsp grapeseed oil
3 medium zucchinis
1 medium sweet potato, washed
2 small onions or 1 large
1 jalapeno
1 large buttercup squash, peeled
4 large carrots, peeled
3 cobs fresh corn
1 head garlic, peeled
1/2 loaf whole grain bread
fresh herbs (sage, rosemary, thyme, etc.)
salt and pepper
3 cups vegetable stock
1 tbsp cornstarch

1. Cube all vegetables and bread into 1″ x 1″ cubes.
2. Pour the oil over the bottom of the roasting dish and spread around with a spatula or your fingers.
3. Pour all the vegetables and the bread into the roasting dish and lay herbs over the top. Season with salt and pepper.
4. In a small pot whisk the cornstarch and the cold stock. Bring to a boil, slowly, over medium high heat, whisking as you go. When the liquid comes to a boil, turn it off and pour it over the vegetables and bread.
5.  Put the lid on the roasting dish and put it in a 350°F oven for 45 minutes. Remove the lid and continue to cook for another 15 minutes. Remove from oven (remove large stems of herbs if needed), give it a bit of a stir and serve. Great as a side dish or a vegetarian main.

Disclosure:

I was provided with compensation, including a free KitchenAid Roasting Pan, in exchange for creating this post for the Canadian Tire Kitchen Crew series. All of the opinions are 100% my own and reflect my honest opinion on the product. If I didn't love it, I would say so.
The Kitchen Crew series highlights my stories, recipes & tips with promotional consideration made possible by Canadian Tire. If you want to uncover your kitchen's true potential, stay tuned to the Kitchen Crew for my weekly missions.
Similarly delicious recipes from other fabulous food blogs:
Mark Bittman's Autumn Millet Bake from 101 Cookbooks
Autumn Vegetable Lasagna from  Farmersgirl Kitchen
Vegetarian Nut Loaf from A Couple Cooks
Vegetarian Fajitas from Good Life Eats
Black Bean Burritos from Simple Bites