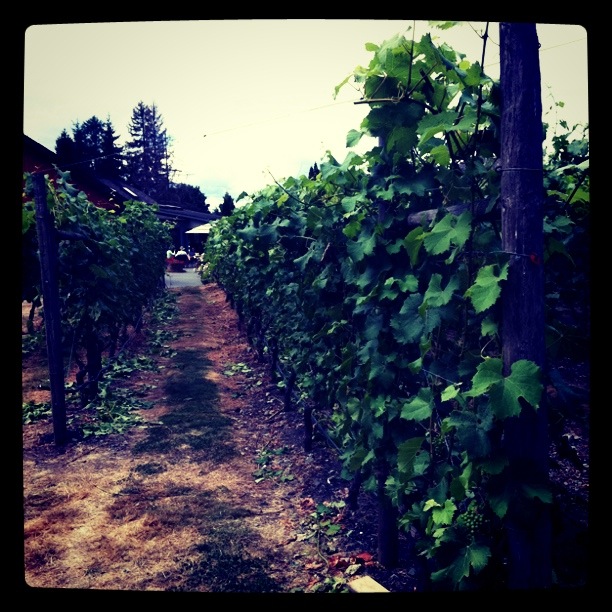 Today's post comes to us from Hélène of la Cuisine d'Hélène. Her beautiful blog used to be written from right here on Vancouver Island, but she now writes from the great city of Ottawa in Ontario. Hélène and I share many of the same passions such as eating seasonally and a love of farming, but we also love cooking, baking and our photography. Being from this beautiful side of the West Coast, we also share a love the the natural beauty all around us. Hélène's recipes are always vibrant, beautiful and full of lavour, not unlike this drool-worthy zucchini spice cake.

Being that I have a monstrosity of a zucchini plant currently taking over a whole corner of my garden, I think I'll be making this over the weekend. In fact I've already created my own recipe for a similar (but chocolate filled) version of zucchini bread, so look for that recipe in the next week as well.

For now, enjoy this luscious cake from Hélène!
Hi everyone,
What a pleasure to write a guest post for Elizabeth.  Guilty Kitchen is a blog that is close to my heart.  Last summer we moved to Ottawa from Vancouver Island where Elizabeth lives with her husband and two beautiful children.  Since then I have been missing waking up to the views of the mountains, the smell of the sea and the peaceful life on the Island.  I wished I had met Elizabeth before moving.  She seems to be that down to earth girl that everyone loves.  She is very talented, creating beautiful recipes that are mouth watering.
During my childhood we always had fresh vegetables on the table because we were living on a farm and we had a garden.  Every season I crave different food.  Fall is coming and at my farmer's stand there is a lot of zucchinis right now.  What to do with zucchinis you are going to ask?  So many ideas come to mind.  Zucchinis are really good sautéed with other seasonal vegetables.  Also in salads, quiches, ratatouille, pastas.  For me the best way to enjoy zucchinis is in baked goods.  I have been baking since I am really young.  My parents would work long hours on the farm and during that time I would read cookbooks and try new recipes.  This Zucchini Spice Cake is so moist and you fill the house with the smell of spices when it bakes.  It freezes well also and you have treats ready for the lunchbox or to bring to work.
Another delicious dessert that you can bake with Zucchinis are the Chocolate Zucchini Cupcakes from Rebar.  If you are not familiar with Rebar it's a restaurant in Victoria, BC that is known for its ethical and environmentally sustainable approach to restoring body and soul.  I had the chance to eat there and tried their Three Sisters Burrito filled with roasted squash, pinto beans, corn and served with a mesa red sauce. It was delicious. The staff is very friendly and the place fills up fast during the weekend so expect a line up.
Follow La Cuisine d'Hélène on Facebook and Twitter.
One year ago: Granola Bars

Two years ago: Mushroom Risotto

Zucchini Spice Bread

Adapted from Everyday Food

Yield: One large loaf
Prep Time: 20 minutes
Cooking Time: 55 minutes

Nonstick cooking spray
1 large zucchini (1 ¾ cup grated, large holes)
1 cup packed light-brown sugar (I used ½ cup)
2 tablespoons granulated sugar
2/3 cup vegetable oil
2 teaspoons vanilla extract
2 large eggs
1 1/2 cups all-purpose flour
1/2 teaspoon baking powder
1/2 teaspoon baking soda
1 1/2 teaspoons ground cinnamon
3/4 teaspoon ground nutmeg
1/4 teaspoon ground ginger
1/8 teaspoon ground cloves
3/4 teaspoon salt

1. Preheat oven to 350°F. Lightly coat a 9-by-5-by-3-inch loaf pan with cooking spray, and set aside. Grate zucchini on the large holes of a box grater (to yield 1 3/4 cups); set aside. In a large bowl, whisk together sugars, oil, vanilla, and eggs.
2. Into a small bowl, sift together flour, baking powder, baking soda, cinnamon, nutmeg, ginger, cloves, and salt. Add flour mixture to egg mixture, and stir to combine well. Stir in grated zucchini.
3. Pour batter into prepared pan, spreading evenly. Bake until a toothpick inserted in center of loaf comes out clean, 45 to 55 minutes. Cool in pan 10 minutes; invert onto a wire rack, then reinvert, top side up. Cool completely before slicing.
Similarly delicious recipes from other fabulous food blogs:

Zucchini Pound Cake on I am Baker
Zucchini Cheddar Drop Biscuits on A Cozy Kitchen
Chocolate Zucchini Cake on Confectious
Double Chocolate Zucchini Brownies on A Dash of Sass
Zucchini Waffles on The Perfect Pantry