Being that I'm suddenly overwhelmed by freelance work at the moment, I thought it would be great timing for another awesome guest post. Today's post is from Stephanie of Global Dish. Stephanie is a woman of many talents. From her "About page":
"Stephanie Arsenault is a writer/photographer/recipe developer based out of Calgary, Alberta. She specializes in the areas of food, travel, and parenting.  Stephanie has been educated at a variety of institutions including the Southern Alberta Institution of Technology (SAIT), theUniversity of British Columbia (UBC, on location in Southern France), University of Los Angeles, California(UCLA), Mount Royal University (MRU), and the New York Times Knowledge Network.
She is a member writer of the Parenting Publications of America (PPA), and the Writer's Guild of Alberta (WGA). Stephanie has also acquired her certification in the Fundamentals of Wine from the Wine and Spirit Education Trust (WSET), and is currently enrolled in a nutrition program with the Alive Academy of Natural Health."
So you could imagine how happy I was to let Stephanie take over the reigns for a day here on Guilty Kitchen. I hope you'll enjoy this delicious looking rustic pie. I know I have an abundance of plums and this will be on my table for the weekend. Thank you Stephanie!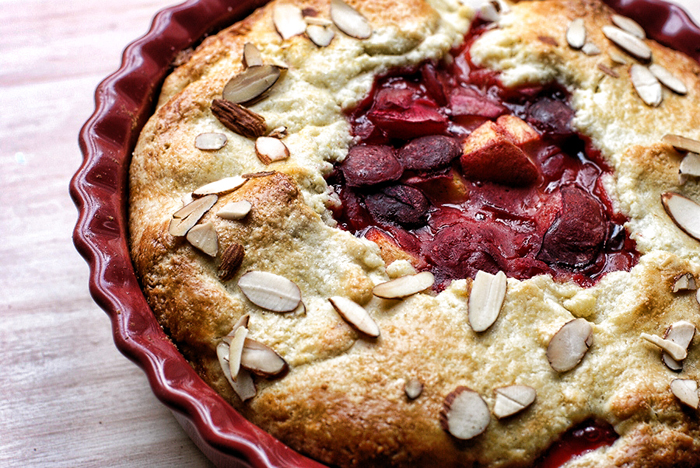 Hello, Guilty Kitchen readers!
My name is Stephanie, from Global Dish, and I am so excited to be sharing one of my favourite recipes with you. If you're anything like me, the single most important part about this season is the abundance of farmer's markets. For eight months of the year, I sit waiting, anticipating the arrival of the seasonal markets. As time goes by, I begin to wonder what types of produce will be available, and what I'll create with it… my imagination runs wild.
It is now August, and I still can't get enough. My countertops are overflowing with peaches, blueberries, cherries and nectarines, and my fingers and tongue have acquired a mulberry hue from excessive fruit consumption. I may have to declare cherries to be their own food group.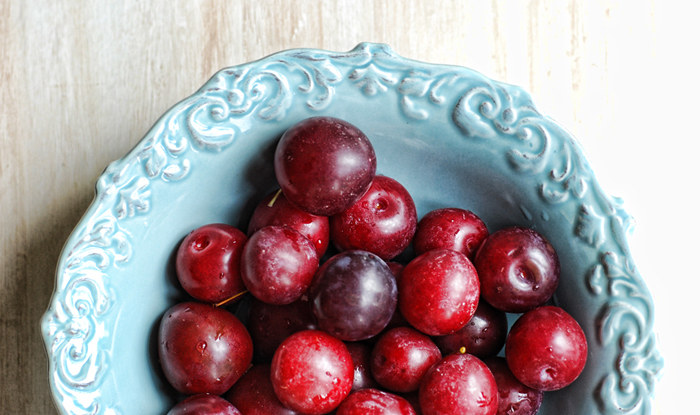 It's been a summer of celebration, a time for creativity in the kitchen; and, as mid-summer turns to late, I welcome the addition new fruit varieties and warm spices…
…and as the time for the markets to close lingers, I must savour the ingredients they've brought me. I'll use them in sweet desserts, ones that will feature the flavours and accentuate the unique colours and textures.
One of my favourite ways of doing this is to simply cut the fruit up and wrap them in a delicate, yet crispy crust; such as in this Rustic Plum and Peach Pie, inspired by my Summer Fruit Galette.
What is your favourite way to use the fruits of summer?
One year ago: Prosciutto Wrapped Figs

Two years ago: Idle Hand Bars (chocolate, peanut and pretzel layered dessert bars)

Rustic Plum and Peach Pie

Yield: 1 pie
Prep Time: 15 minutes plus 1 hour refrigeration
Cooking Time: 1 hour

Crust:
1/3 cup skim milk
1 teaspoon lemon juice
1/3 cup blanched whole almonds
1 2/3 cup all-purpose flour
3 tablespoons cornmeal
Scant 1/3 cup granulated sugar
1/8 teaspoon sea salt
½ teaspoon pure vanilla extract
½ cup cold salted butter, diced

Filling:
2 cups halved Santa Rosa plums (or roughly chopped plums of any variety)
2 cups chopped peaches
2 tablespoons cornstarch
¼ cup granulated sugar
½ teaspoon cinnamon
½ teaspoon pure vanilla extract
1 teaspoon lemon juice

To Finish:
1 egg
2 tablespoons milk
1 teaspoon granulated sugar
1 tablespoon sliced almonds

1. Mix milk and lemon juice in a small bowl, set aside. In a food processor fitted with a blade attachment, process almonds until they resemble coarse crumbs, about 30 seconds.
2. Add flour, cornmeal, sugar, and salt; pulse a few times to combine. Add butter and process until the mixture again resembles coarse crumbs, and with processor still on, slowly add milk mixture. Continue to process until a loose ball of dough forms. Shape into a disk and cover with plastic wrap, refrigerate for 1 hour.
3. Preheat oven to 350 degrees Fahrenheit. Combine all filling ingredients in a medium bowl; set aside. Remove plastic wrap and place the dough on a large sheet of parchment. Cover with another piece of parchment and roll out until you have a 14 inch circle.
4. Remove the top sheet of paper and turn dough out onto a pie dish; peel off the other piece of parchment, let excess dough hang over the sides of the dish. Pour the filling onto the dough, and then gently fold the remaining dough inward (it will not cover the entire pie).
5. In a small bowl, whisk egg and milk. Brush onto crust, and then sprinkle with granulated sugar and almonds. Bake pie in preheated oven for about 60 minutes, or until crust is evenly golden brown. Cool on a wire rack for at least 1 hour before serving.
Similarly delicious recipes from other fabulous food blogs:
Rustic Onion Tart on Simply Recipes
Plum Upside Down Cake on The British Larder
Easy Peach Preserves from In Jennie's Kitchen
Gluten Free Clafoutis from Gluten Free Girl
Breakfast Bread Pudding with Peaches from Smith bites