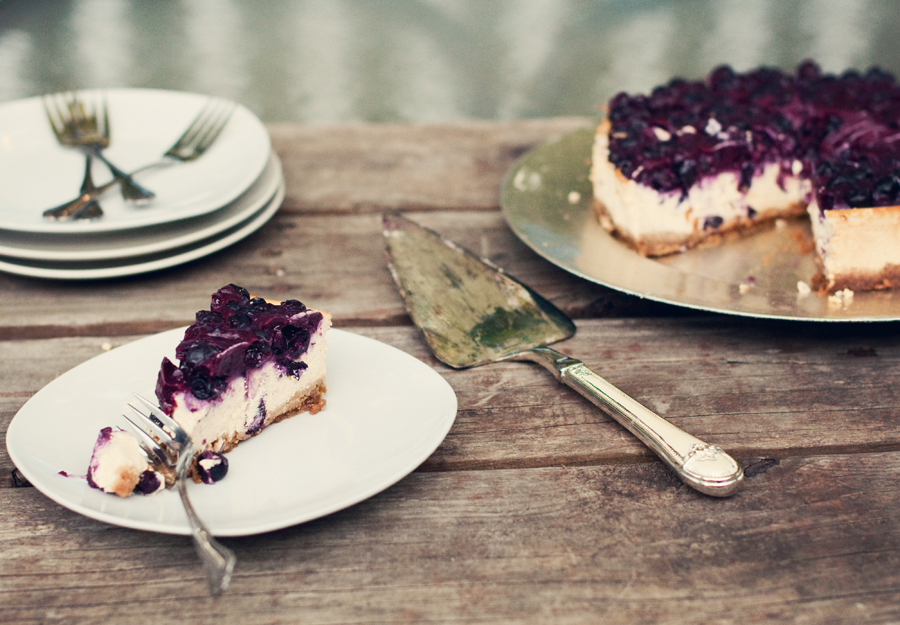 Summer came a little late this year or not at all according to some people. In fact, with the cool evenings and dark morning, it feels as if we are slipping directly into fall. I can't complain, as autumn is my favourite season, after all. Usually, it's a welcome reprieve from the overbearing heat of summer, but this year, that was not so. Spring/summer/fall, it's all felt the same. I'm thinking we just call the "summer" of 2011 Sprummerall (that's spring, summer and fall all wrapped in one).
But one thing that hasn't been lacking in the season has been the produce. Our garden is awash in green and I eagerly anticipate the autumn bounty. Right now though, is the height of the berry season around the Saanich Peninsula. A three minute walk from my house is a blueberry patch. A U-Pick blueberry patch. We have also done strawberries and raspberries as well. If it were up to me, dinner would consist of giant bowls of all the fresh berries accompanied by another giant bowl of freshly whipped cream. You just can't go wrong, except….then the guilt sets in. All that sugar… and the fat from the cream. Hmmm….what's a girl to do?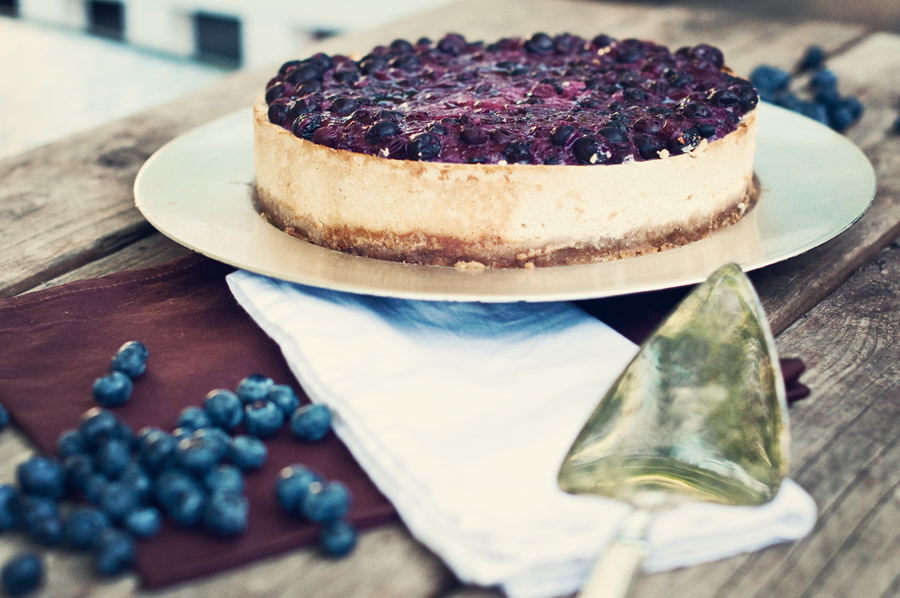 Make a dessert that is completely guilt free, that's what. This Cottage Cheesecake stemmed from my mother and I trying out a new product: dry curd cottage cheese. I'd never had it, and neither had my mother. I usually just buy the regular 1% creamy style, as it's the perfect protein boost after my workouts. But the dry stuff has more protein and less salt, actually barely any, compared to over 300g per serving of my regular variety (!). So we bought a big tub, and we brought it home, and we got ready to have some lunch. We both dug in a spoon, placed it gingerly in our mouths…and we both simultaneously made horrified/disgusted faces. Gross. Tasteless. No salt. Blech.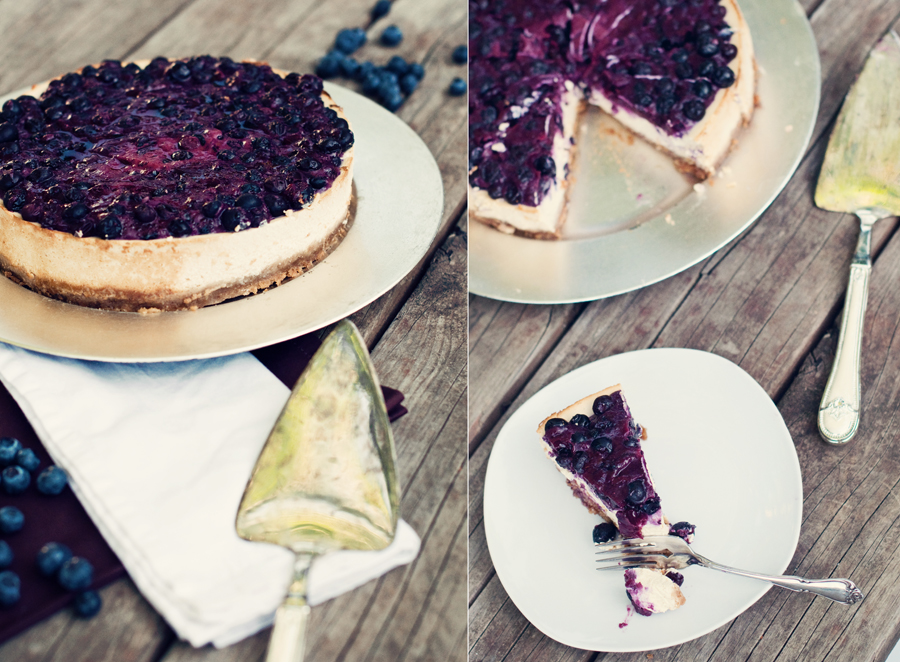 But what to do with 600g of dry curd cottage cheese that everyone hates? How about a high protein, low fat dessert? After a bit of research, I found that a lot of fitness junkies made all sorts of delicious things out of my usual breakfast snack. Not many recipes called for the dry stuff…in fact I couldn't find a lot about it anywhere. But we figured it out, we switched a few things, we changed this and that and you know what? My father, a staunch cheesecake hater, says this is the perfect cheesecake. Light not heavy with a definite cheesy quality. Low in sugar, high in protein and rich with flavour. A 1/16 slice (with topping) will set you back about 300 calories, quite a difference compared to a regular cheesecake slice, coming in at about 500 calories.
We were all so impressed with the caloric content, we ate out pieces and gushed over how good it was. We all excused ourselves from the table and sat down to watch some comedy from John Pineti (hilarious…I'm STARVIN"!) and then quietly…one by one, we all snuck back into the kitchen and sliced ourselves off another hunk. It was just that good.
So if you've been indulging a bit too much this summer but aren't ready to give up on desserts just yet, try this cottage cheesecake out. It might just blow your socks right off.
One Year Ago: Roasted Corn, Lima Bean and Feta Salad

Two Years Ago: Grilled Peach Salsa

Blueberry Topped Cottage Cheesecake

Yield: 12-16 servings
Prep Time: 20 minutes
Cooking Time: 60 minutes 

For the Crust:
1 3/4 cups  cookie crumbs (I used digestive biscuits, but these are impossible to find in the states. Try shortbread, graham crackers, chocolate cookies or any other desired cookies or biscuits)
1/3 cup unsalted butter, melted
1/4 tsp salt
1/3 cup sugar

1. Preheat oven to 350°F, arrange racks in top and bottom 1/3 of oven. Place a metal or glass baking dish in the very bottom (more on this later).
2. In a small bowl mix crumbs,  sugar and salt. Stir in the melted butter until completely combined.
3. Pat into the bottom of a greased 9″ springform pan. Bake for 15 minutes on top rack. Cool and set aside.

For the Filling:
600g (4 cups) dry curd cottage cheese
1 cup plain 0% Greek Yogurt
zest of 1/2 an orange
juice of 1 whole orange
1 1/2 tbsp vanilla extract
pinch of ground cardamom
5 eggs
8g stevia powder*
1/3 cup agave or honey
1/4 tsp salt

*If not using stevia, double the agave or honey.

1. In the jar of a blender or the bowl of a food processor, pulse all filling ingredients until as smooth as possible.
2. Pour filling onto the cooled crust.
3.  Pour room temperature water into the baking dish on the bottom of the oven and place cheesecake on top rack. Having this water under the cheesecake as it bakes helps to prevent cracking.
4. Bake for 60 minutes, remove from oven and cool to room temperature on a cooling rack.

For the Topping:
3 cups fresh blueberries
2 tbsp butter
juice and zest of 1/2 a lemon
1 tsp vanilla extract
1 1/2 Tbsp cornstarch
1/4 cup sugar

1. In a small saucepan, combine all ingredients.
2. Cook over medium heat for 10-15 minutes.
3. Pour over top of cheesecake, spreading to within 1/2 inch of the edges.
4. Cool cheesecake in the fridge for at least four hours to allow to set, but preferably overnight.
Similarly delicious recipes from other fabulous food blogs:
Japanese Cheesecake on Christine's Recipes
Cheesecake in Jars on My Baking Addiction
Cottage Cheese, Blueberry and Rocket Salad on Salad Pride
Low fat Cinnamon Rolls with Vanilla Glaze on Bakers Royale
Cottage Cheese Pancakes on 5 Second Rule