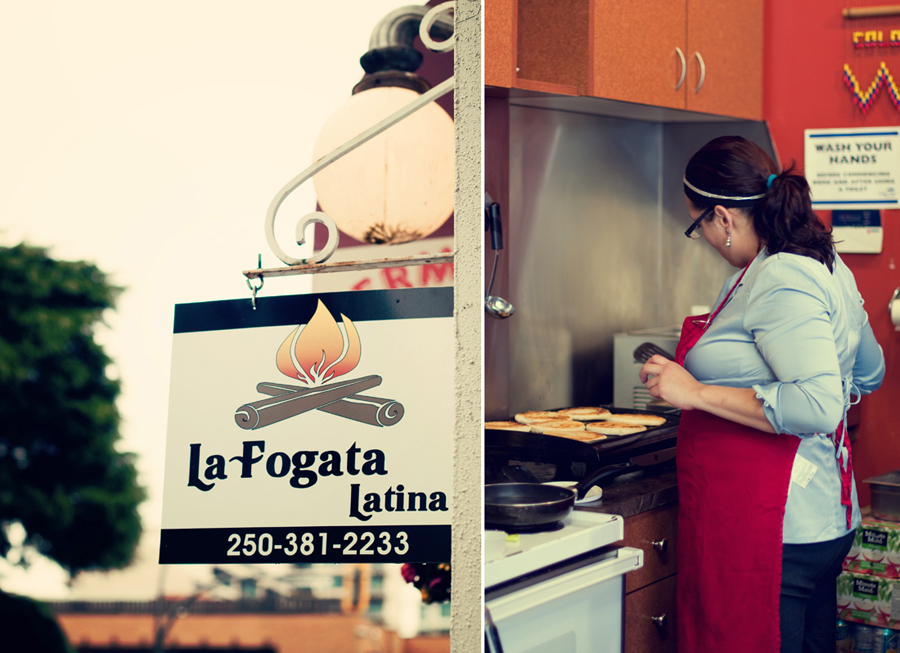 Summer has finally peeked out from behind the clouds here in Victoria and we've been taking advantage of every barely warm moment. If it's not raining, we find something to do . Last week we had to go downtown for a little eyeglass repair emergency (the trouble with kids…), and hit the busy streets right around lunch time.
Walking up the street from our chosen parking garage, we stumbled upon this little Columbian gem, La Fogata Latina, which I had read about in EAT Magazine not even a week earlier. I love happily stumbling upon somewhere you had planned on going for food, and at lunch hour no less.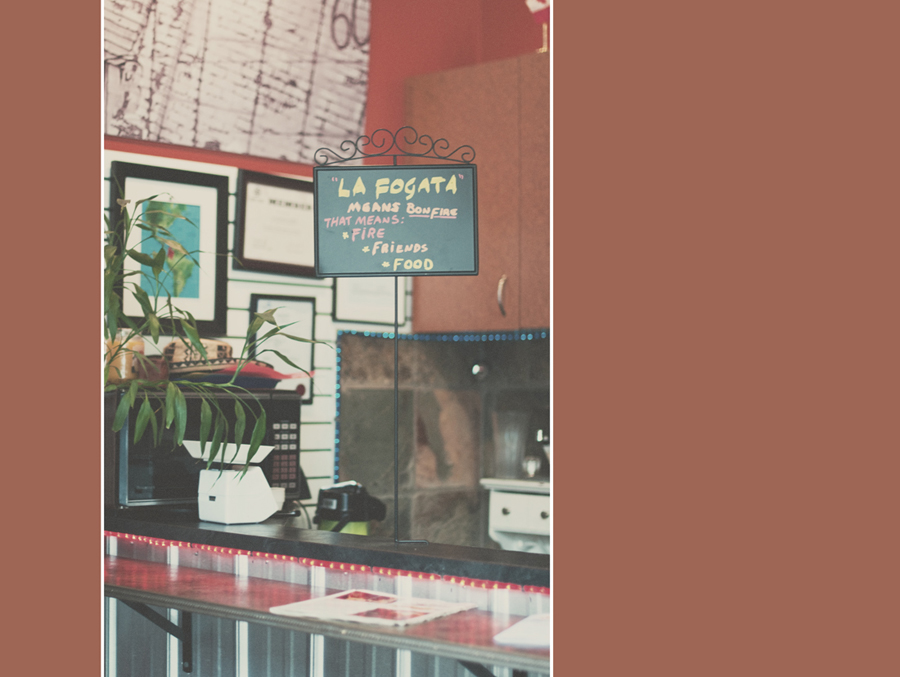 We decided to just grab a snack, as sitting in the tiny space with a purse, backpack, stroller, two kids, giant camera, etc. would have been beyond tough. If you are going for a quick bite at your lunch break, or late at night after a sweaty night of dancing and drinking at numerous downtown clubs, this place is the place to go.
We decided on a chicken arepa, a sort of bready pita/tortilla thing made from corn. It's split in the middle like a pita and filled with delicious chicken and cheese goodness and topped with a most delectable pineapple sauce. I'd never had one before, but it was mighty tasty. I can't say it was the best thing I've ever had in the realm of street food, but it was right up there. The smells coming out of this tiny space were just completely drool inducing and having to wait 10 minutes while they grilled up some fresh arepas was torture!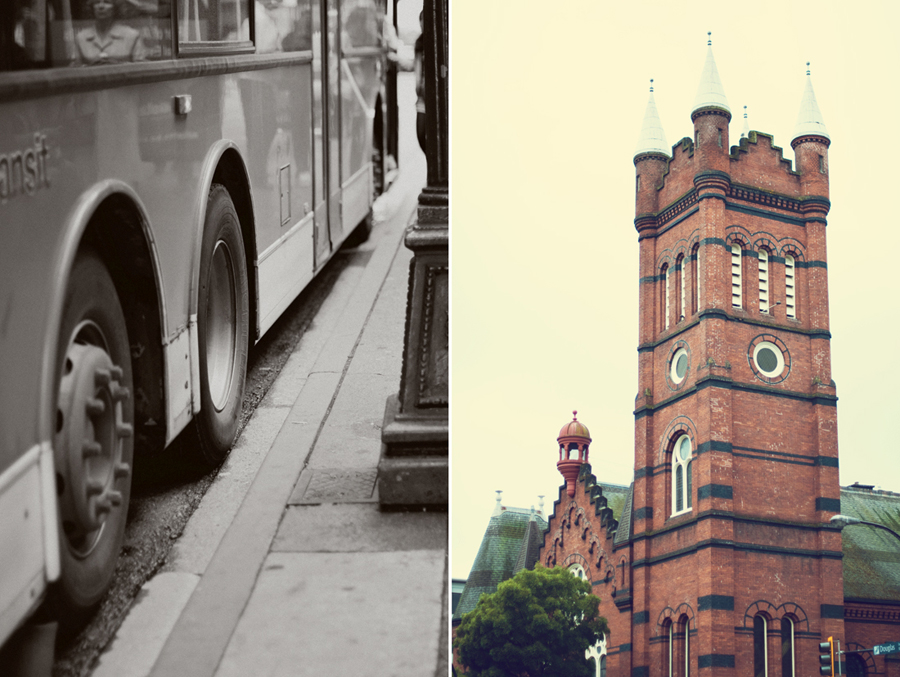 From what a gathered from the people stumbling in the doors, a lot of people are under the impression that the food would be spicy. Columbian food is known for it's mild and savoury flavours, not for being overly bold in spice or flavour. Whether you are looking for a quick bite or a snack while walking the downtown core, this place is great food at great prices. I will be recommending La Fogata Latina to all my friends and anyone in town looking for that quick bite of delicious street food that is so popular these days. With so many choices in our downtown areas, you can eat at three or four places and never have to make a decision again!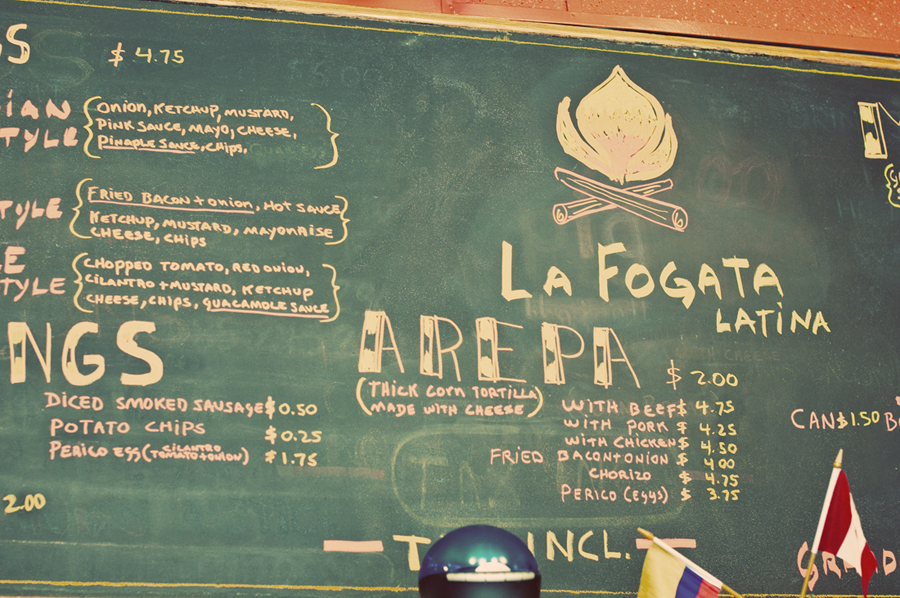 After trying La Fogata Latina, we made out way home for dinner. Now that the garden is bursting with goodness, it was time to create another vegetarian masterpiece.
One of my absolute favourite summer veggies is beets. I HATED them as a child, despised even. My mother and sister were always eating those pickled beets and I cringed every time I saw them. But now I cherish that earthy and deep flavour and love to amplify it with roasting.
What I had never tried with my roasted beets though, was salt roasting them. Traditionally, salt roasting comes to mind when thinking of fish, at least in my mind. But I thought it would be absolutely mind blowing with beets. Like when cooking pasta with no salt, beets need that little kick of flavour from sodium to make them just right. Leaving the skins on while roasting ensures that the beets don't become unpalatable, so don't skip this step.
Use golden, candy cane, red, or whatever you've got growing in your garden. Any beet will do! Paired with traditional partners (walnuts and goat cheese) this salad is even more complex with the addition of the vanilla, lemon, honey buttermilk dressing. I figured it would be good (bitter: arugula, salty: beets and chevre, sweet: honey dressing) but this may be my absolute new favourite salad of all time, and everyone knows how much I love salad. The dressing is to die for…. seriously.
One Year Ago: Fish Tacos Redux (with homemade flour tortillas)

Two years Ago: Baba Ghannouj (Roasted eggplant dip)

Salt Roasted Beet & Barley Salad with Creamy Lemon Vanilla Dressing

Yield: Two servings
Prep Time: 20 minutes
Cooking Time: One hour

For the Salt Roasted Beets:
1 lb beets (any kind), whole with skin on and tops and tip of root removed
3 sprigs fresh thyme
kosher or rock salt

For the Barley:
1 cup pearled barley
2 cups water or chicken stock
1 tsp kosher salt (optional)

For the Dressing:
2 tbsp light mayonnaise
juice of two lemons
zest of half a lemon
1 clove garlic, grated or minced
1 tbsp honey
1/2 tsp vanilla extract
1/2 cup buttermilk

For the Salad:
2 cups baby spinach
2 cups baby arugula
1/2 cup walnut pieces, roasted (Roast in a medium hot heavy bottomed pan for 3-4 minutes or until fragrant)
75 g chevre (fresh goat's cheese)

1. For the Salt Roasted Beets: Preheat oven to 400°F. Pour kosher or rock salt into a baking dish, just enough to cover the surface.
2. Lay whole beets on top of the salt. Cover with a lid or aluminum foil and bake for one hour. Beets are done when a pairing knife slipped into flesh meets little resistance.
3. Remove from oven and let cool for 10 minutes. When cool enough to handle, slip skin from each beet and slice into wedges.

4. For the Barley: Bring liquid to boil, add barley. Lower to simmer for 30 minutes. Fluff with a fork and refrigerate until needed. Stir once in a while to ensure even cooling.

5. For the Dressing: Spoon mayonnaise into a small bowl. Slowly add lemon juice and stir until creamy.
6. Stir in remaining ingredients and set aside until needed.

7. For the Salad: Arrange spinach and arugula on plates.
8. Lay desired portion of cooked and cooled barley over.
9. Arrange beet wedges over barley.
10. Crumble chevre over beets and top with a sprinkling of roasted walnuts.
11. Pour dressing over as desired and serve.

Similarly delicious recipes from other fabulous food blogs:

Roasted Beet Tofu Burgers on Fat Free Vegan Kitchen
Oven Roasted Beet Chips with Cumin Yogurt Dip on Foodie Reflections
Roasted Beet Bread on The Knead for Bread
Roasted Beet Risotto on Cooking with Amy
Roasted Beet Soup on Café Fernando