Today is a very special day.
Three years ago today at 3:10am, in a dimly lit hospital room full of busy nurses, I had the most excruciatingly painful experience of my life. This was the day I had my first child, a son (who weighed almost 9lbs. I may add). It was the most crazy, beautiful, painful, life changing event of my entire experience here on this earth….and I can remember almost the entire day.
Today is my son's third birthday and he has changed so much in those short three years.
It is absolutely astonishing what happens to these tiny blobs of DNA and plasma as they grow into tiny humans full of willpower, humour, sorrow, fun and joyfulness. I cannot explain to anyone who has no children what this is like, because it is like nothing you will have ever experienced save for those who have had a child. There are times of anger, of frustration, of sadness, of sympathy, joy and empathy, happiness and giddiness. There are crazy ups and downs, doubts and bouts of confidence. It is all muddled into this totally imperfect aspect of life we call parenthood.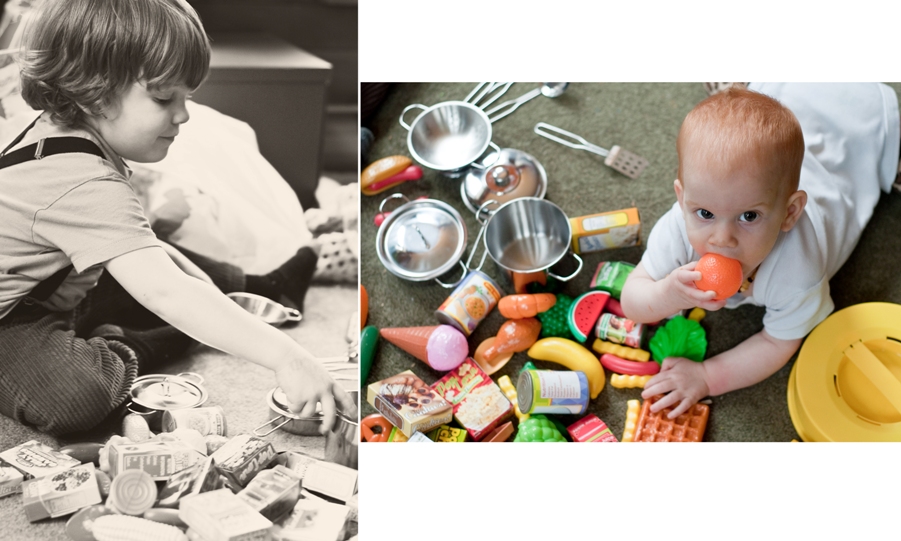 It may have been a choice, however short sighted, to enter into this contract of life, but now that you are in it, you are in it 100%… there's no going back.
I hope to be spending today doing something memorable, something extraordinary, at least it will seem that way to a three year old's mind. I see balloons, and cake and candy and slides and grandparents lovingly doting on him. I see staying up past bedtimes and falling asleep in carseats on long rides home. What else could a three year old possible long for?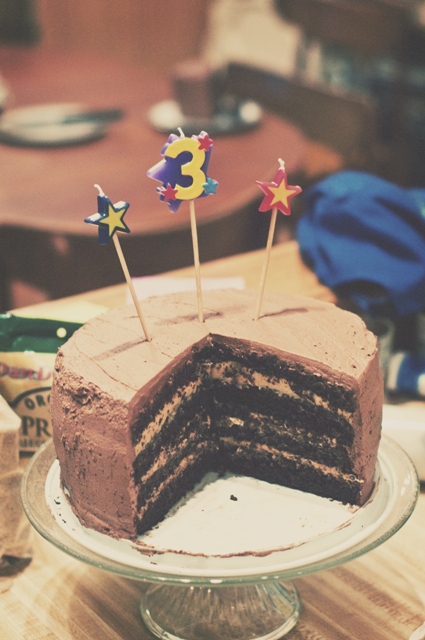 As you can see form the picture above, we have already celebrated for one day. Friends that couldn't make the actual day came for a dinner party filled with wine, laughter and the overt laughter of gleeful children as they played in the cluttered mash of plastic vegetables, pretzels, hotdogs and juice boxes. Small pots clanging against tiny steel slotted spoons, a present after my own heart for sure. May I be blessed with a foodie at any moment, because making PB & Js every day for the last two and a half years has seriously dulled my creative juices.
There was one present he got that was not asked for directly, but chosen on a whim by none other than me! Say hello to Santa: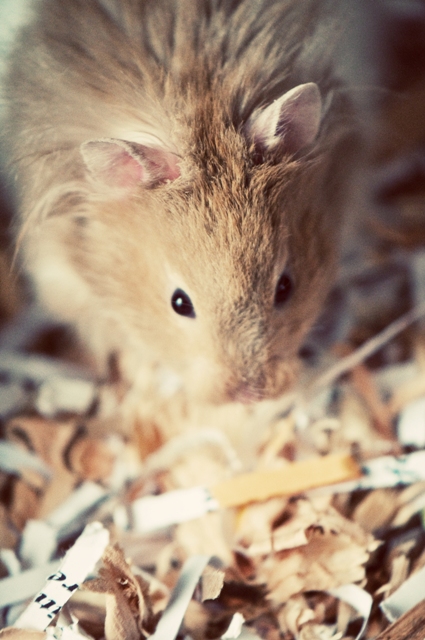 I am sure he is named for the not quite forgotten hero of months gone by and will be joyously played with (whenever it is these things are awake) by eager hands. So far he's just been sleeping in the corner for three days. Rodents.
We threw a small get together, as I said, for friends who couldn't make the actual day, so I made a crazy good cake to celebrate their arrival. Layers of oh-so-moist chocolate buttermilk cake, smeared with thick (but fluffy) pockets of salty sweet peanut butter mousse and topped off with a light and not too sweet whipped cream mocha frosting. This cake is to die for. It's also huge and decadent and rich and you'd better keep a big ol' glass of milk handy when you eat it. Just sayin'.
So happy birthday to you Cohen and thank you for making every year just a little but brighter.
One Year Ago: Pan Roasted Brussels Sprouts

Chocolate Peanut Butter Layer Cake

Yield: One 9″ four layer cake
Prep Time: 45 minutes
Cooking Time: 35 minutes

For the Cake:
2 cups dark brown sugar, packed
1 3/4 cups pastry flour
3/4 cup good quality Dutch Process Cocoa
1 1/2 tsp Baking powder
1 1/2 tsp Baking soda
1 tsp salt
2 eggs
1 cup buttermilk
1/2 cup melted butter
2 tsp vanilla
1 cup hot strong coffee (or 1 Tbsp instant coffee with 1 cup hot water)

For the Peanut Butter Mousse:
2 cups peanut butter (the not so natural kind)
8 oz cream cheese, room temp
1 cup powdered sugar
1 tsp vanilla
1/2 tsp salt
1 1/2 cups whipping cream

For the Frosting:
500 mL Heavy Cream
1/4 cup suagr
1 tsp vanilla
1/2 cup cocoa

1. For the Cake:  Preheat oven to 350°F. Arrange racks in middle of oven. Grease 2 9″ round pans and line bottoms with parchment paper (makes removal of this ultra-moist cake easier).
2. Stir dry ingredients together in a large bowl.
3. In a separate large bowl, beat together the eggs, buttermilk, melted butter and vanilla. Stir in to dry mix. Mix for 2 minutes with a whisk.
4. Pour in hot coffee and mix thoroughly.
5. Pour evenly into pans and bake for 35-40 minutes.
6. Remove from oven and cool in pans for 20 minutes or more before turning onto wire rack to completely cool.

1. For the Peanut Butter Mousse: In the bowl of a stand mixer or in a bowl with a hand mixer, beat the cream cheese and peanut butter until fluffy.
2. Add the sugar, vanilla and salt and beat again (remember to scrape down the sides of the bowl!)
3. Put the PB concoction into another bowl, clean out the first bowl and whip the cream to stiff peaks.
4. Fold the whipped cream into the PB and continue until completely combined. Et voila!
5. Refrigerate until needed.

1. For the Frosting: In bowl of electric stand mixer, pour cream, sugar and vanilla.
2. Beat on medium high until soft peaks begin to form.
3. Add cocoa and whip until stiff.

Assembling your cake:

1. Slice the cooled layers into two horizontally using a long serrated blade. Try to be as even as possible.
2. Place the first layer on the cake stand or plate and load it up with 1/3 of the peanut butter frosting. Continue to do so until you have  just the top layer of cake left. Cap it off and time to frost!
3. Crumb coat the whole cake with a thin layer of the frosting. Then apply a thicker coating when done.
4. Store this cake in the refrigerator. It's mandatory!
Similarly delicious recipe from other fabulous food blogs:
Chocolate Beetroot Cake on What Katie Ate
Molten Chocolate Liquor Cake on Indian Simmer
Café Mocha Cupcakes on My Baking Addiction
Peanut Butter Cookie Dough Truffles on  All Day I Dream About Food
Chocolate Swiss Roll with Peanut Butter Mousse on Poires Au Chocolat