Something odd occurred to me this morning. Something all together tragic and unthinkable. Guilty Kitchen has no breakfast recipes.
Sacrilege!
How could this have happened? I mean sure, there this quiche, and this lovely shirred egg recipe, but those require a little work and planning and are by no means the lazy mans Sunday morning breakfast. I'll tell you how it happened. I have a child who eats nothing but peanut butter on toast every morning. It's a little depressing to think about, when I think back to all the amazingly awesome whole, natural foods I used to feed him before he had a mind of his own. Oatmeal from scottish oats, mixed with flax and apples, seasoned to perfection with cinnamon, no sugar and a little plain organic yogurt stirred in. Sometimes he would have a smoothie with silken tofu snuck into the mix, or cubed up fruits with cereal and a side dish of yogurt. Oh those were the days when I thought I had a little foodie on my hands.
Now, I could maybe get him to take one bite of my oatmeal and yogurt concoction, so why bother? But today I decided enough was enough. I want my child to grow up healthy, strong and with an uncanny love for all things edible. So I decided to whip up a batch of my whole wheat buttermilk pancakes, though I added a few things to my original recipe and topped it off with a little blueberry maple topping, just to double entice him.
So now I have a batch of these wondrous little cakes in my freezer, just waiting to be popped out on any given day I get tired of hearing "Toast!" as the answer to the daily question of "What would you like for breakfast?"
Not this time kid…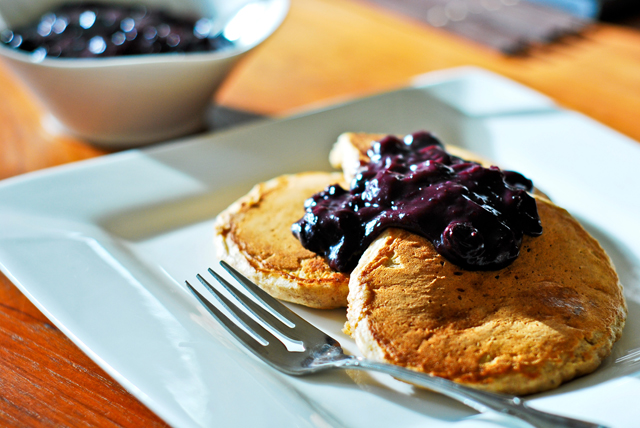 Buttermilk Pancakes with Blueberry Maple Topping
Servings: 12-15 small pancakes
Prep Time: 5 minutes
Cooking Time: 15-20 minutes
1 cup whole wheat flour
1/2 cup all purpose flour
2 Tbsp wheat germ (optional)
2 Tbsp flax seed, ground (optional)
1 Tbsp brown sugar, packed
1/2 tsp salt
1/2 tsp baking soda
1 1/2 tsp baking powder
1 tsp cinnamon
2 eggs, beaten
1 1/2 cups buttermilk
1 tsp vanilla
2 Tbsp butter, melted
1. Stir all dry ingredients together in a bowl.
2. In separate bowl, beat together all wet ingredients except the melted butter.
3. Pour wet ingredients into dry all at the same time, add melted butter and mix just until it comes together. Try not to overmix it.
4. Let the batter rest for 10 minutes or so, and begin preheating a skillet or nonstick pan to medium.
5. Pour about 1/4 cup of batter at a time into hot pan to form pancakes, allowing bubbles to rise to the surface before flipping over. No need for butter or oil in the pan, unless you are using a nonstick pan (which I don't recommend).
6. Top with blueberry topping and serve (recipe follows).
Blueberry Maple Topping
1 cup blueberries (frozen or fresh)
3 Tbsp pure maple syrup
1 Tbsp butter
1 tsp cornstarch dissolved in 2 tsp water
splash of cream
1. In small sauté pan, melt butter on medium heat.
2. Add blueberries and maple syrup and stir for a few minutes. If using frozen, cook long enough to defrost blueberries and heat them thoroughly through.
3. Mash blueberries with the back of a fork or a potato masher.
4. Add half of cornstarch mixture and cook until thickened. Add other half if desired.
5. Remove from heat and stir in cream.
6. Serve over buttermilk pancakes.