Skirt steak, sometimes confused with hanger steak and flank steak.
Let's clarify, shall we? Skirt, flank and hanger all come from the same general area of the cow, the lower rib region. There are four main cuts that come from this area: Brisket, skirt, flank and hanger (there is also the short ribs cut from here too), although good luck finding a hanger steak at most retail outlets as it is not a popular cut and is often ground up for hamburger meat.
The skirt steak is cut from the diaphragm, and includes the inside and outside skirt. The inside skirt is what you will find in the grocery store. Although you could use flank steak in place of skirt in most recipes, I prefer the skirt steak for it's thinness, texture and excellent flavour.

In any case, if you are having trouble locating this cut of beef, try visiting your local butcher shop. A grocery store stocks only what is most popular, and depending on where you live in the world, skirt steak may not be that popular. My local grocery stores never carry it, but step inside the wonderful walls of my favourite local butcher, and you will see piles of skirt steak lined up in front of hanging beef carcasses. I also know that it is locally raised beef and I can talk to the owner if I need to get more information. Such is the guarantee when you start searching your own neighbourhoods for locally sourced food. If I wanted to, I'm sure I could take a little visit to the farm where the animals are raised, just to get an idea of where my food is really coming from.
In any case, if you can find yourself a nice piece of skirt steak, make this recipe and you will see why it is so popular!
Skirt Steak Fajitas
Servings: approximately 8 fajitas
Prep time: 20 minutes (plus 1+ hours for marinading)
Cooking Time: 10-15 minutes
1 skirt steak (approximately 3/4 – 1 lb)
1 chipotle pepper (canned in adobo sauce)
1 Tbsp adobo sauce
1/2 cup fresh cilantro, loosely packed
2 cloves garlic
1 tsp cumin
1 Tbsp Chili powder
1 tsp salt
3 Tbsp extra virgin olive oil
3 Tbsp red wine vinegar
1. Add all ingredients (except the steak of course!) into a blender or food processor. Whir until the whole mixture comes together.
2. Pour over steak, coating on both sides, in a dish or plastic bag.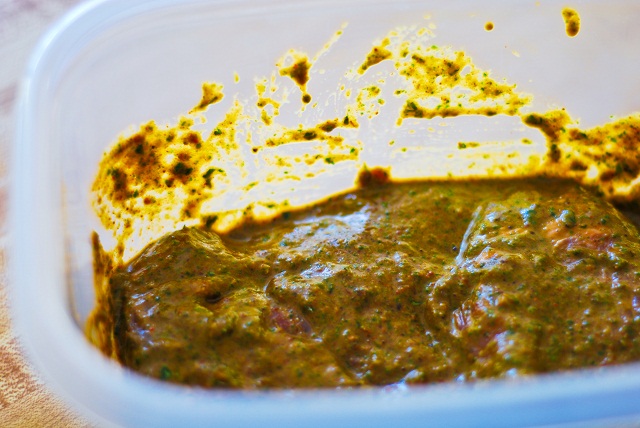 3. Allow to marinate for 1 hour at the least, but you can go as long as overnight.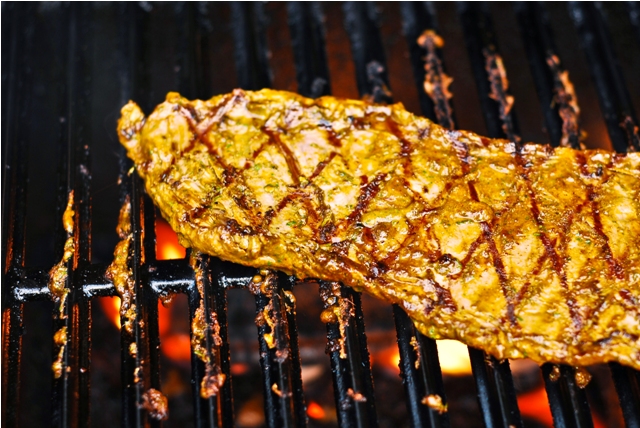 4. When done marinating, grill steak on BBQ or other grill. This is a quick grill, so no more than 5 minutes per side on medium high heat. You want the steak to be no more then medium rare for optimal taste and tenderness. Skirt steak can be tough if cooked incorrectly.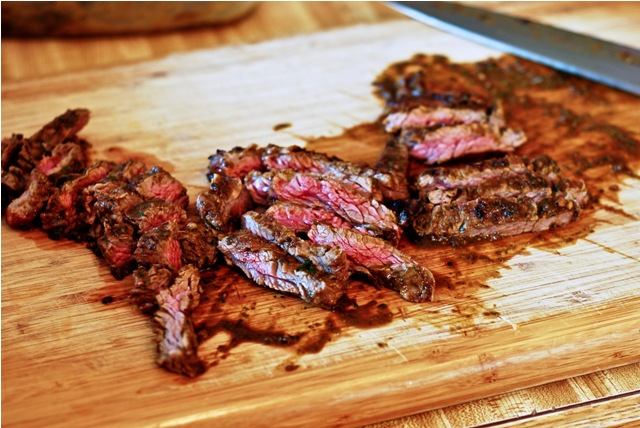 5. Let steak rest for 5 minutes before slicing and slice across the grain.You may need to cut the steak into smaller pieces and then slice in the opposite direction.
Meanwhile, make the rest of the recipe…
1 tbsp canola oil
1 red pepper, thin strips
1 yellow pepper, thin strips
1 large onion, sliced in half moons
1 tbsp chili powder
1/2 tsp oregano
1/2 tsp garlic powder
1 tsp cumin
salt & pepper
1/2 cup stock (chicken, beef, vegetable…)
1/2 cup cilantro, loosely packed and then minced
Accompaniments:
flour tortillas to serve in
grated cheese
salsa
sour cream
1. In a large sauté pan, heat oil. Add in peppers and onions, cook until softened.
2. Stir in seasonings and stock, allowing stock to completely cook off.
3. Stir in cilantro and remove from heat.
4. Serve family style with accompaniments.