I'm still not much for words right now, so I will leave you with a dish that I consider "ultimate" comfort food.
To me, comfort food fits into two main categories, pub food like wings, burgers and fries and one dish meals, easily made at home. This is an at home variety. It can be made in no more than two pots or pans and is eaten out of one bowl or plate. There's no complicated techniques and all of the ingredients are easy to find.
When I'm not feeling on top of the world, this is the food I turn to. I admit it, I eat for emotional reasons. There's a reason this site is called "Guilty Kitchen" you know.
Red Thai Curry
1 Tbsp canola, peanut or sesame oil
2 Tbsp red curry paste (or more)
1 tsp cumin
1-2 Tbsp fish sauce
1 large onion, diced
1 large potato, peeled and cut into chunks
1 clove garlic, minced
1 400ml can of coconut milk (don't open before shaking!)
1 red pepper, cut into large chunks
500 g pork, chicken or beef, cut into cubes or slices
1/2 tsp dried lemongrass or 1 lemongrass stalk, chopped
1/4 tsp ground white pepper
1/4 tsp ground ginger or 1-2 tsp finely diced fresh ginger
2-3 kaffir lime leaves (fresh or dried)
1/2 bunch fresh cilantro, finely diced
1/4 cup sliced green onions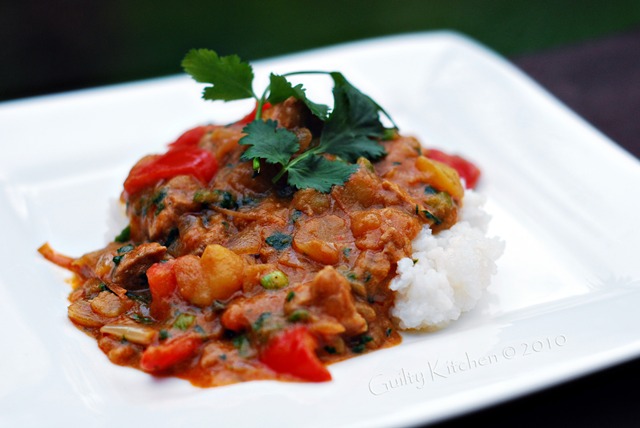 1. In large, deep, heavy bottomed sauce pan or wok, heat oil and curry paste on medium/high.
2. Add cumin and fish sauce, cook for 1-2 minutes.
3. Add potato, onion and garlic and sauté for 5-10 minutes on medium heat.
4. Add coconut milk and cook for 5 more minutes.
5. Add peppers and pork to coconut mix and bring to simmer. Add in lemongrass, ginger, white pepper and kaffir lime leaves. Cover and cook on medium heat for 30-60 minutes, stirring occasionally. Stir in cilantro and green onions in last 5 minutes.
6. Curry is done when pork is tender and all vegetables are softened. Serve over Jasmine Rice (method to follow).
Jasmine Rice
1 cup Thai Jasmine rice
2 cups water or stock
1 tbsp butter
1. Place rice, water and butter in saucepan with tight fitting lid.
2. Bring to boil, lower to low heat and simmer for 15 to 20 minutes.
3. Remove from heat and let sit 5 minutes. Fluff with fork before serving.