Warm Spinach Artichoke Dip
1 8oz pkg cream cheese (1/2 fat)
1/3 cup sour cream (1/2 fat)
1/4 Parmesan, grated
1/4 cup Romano, grated
1/4 cup mozzarella, grated
2 cloves garlic, minced fine
1 Tbsp fresh basil, minced
1 tsp salt
fresh ground pepper
1/4-1/2 tsp cayenne
1 14oz can artichoke hearts, roughly chopped
1 cup frozen spinach, thawed and drained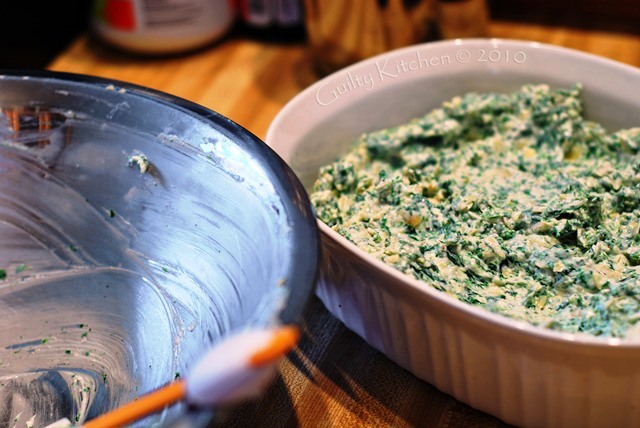 1. Preheat oven to 350°F. Grease baking dish with pan spray.
2. Mix cream cheese, sour cream, Parmesan, Romano, mozzarella, garlic, basil, salt and pepper in a large bowl.
3. Stir in spinach and artichokes. Mix well.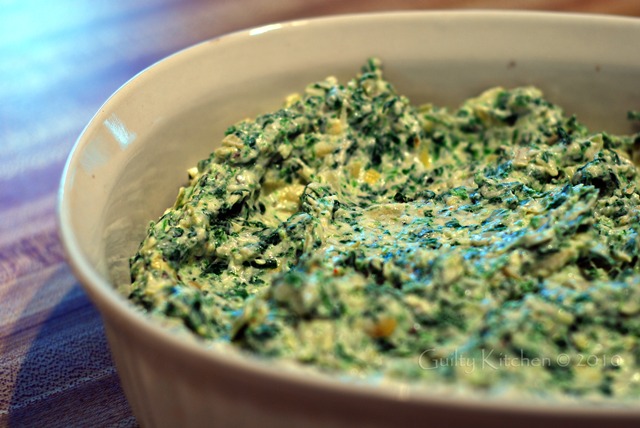 4. Transfer to baking dish and bake in center of oven for 30 minutes, or until browned on the edges.
5. For even more top layer crunch, add another quarter cup of your desired cheese to the top before baking. But remember, this will harden as it cools, making it somewhat more difficult to dip your chip.