Merry Christmas Eve everybody! Today, I hope your spending lots of time with family and friends, drinking way too much egg nog or Tom & Jerrys by the fire and gorging yourself on overly indulgent chocolates and cookies. It's all a great warm up to tomorrow's big feast! But hey, maybe you do all that today anyway. When all that imbibing and over indulging catches up to you, rest assured that this recipe will be waiting for you when you return to some semblance of normalcy.
These chicken strips are tasty, healthy and super easy. Also, they have conquered the unconquerable when it comes to feeding a toddler. My son will absolutely not touch meat, and yet he happily nibbled on one of these last night while madly dipping it into some plum sauce. Then he drank all the plum sauce and threw the strip on the floor, but he ate almost half! I call that a success in my books.
I hope everyone has a wonderful holiday season and makes it through with nary a care in the world, except for which gift to give out next. I hope you'll join me back here soon, but if I'm gone for a few days, just know I can't roll myself off the couch just yet. Or maybe I'll just be sick of making food by then. Happy Holidays everyone! And thanks so much for reading, I truly appreciate each and every one of you.
Chicken Strips
1 lb chicken fillets
1/2 cup buttermilk
salt & pepper
1/2 tsp paprika
1 cup corn flakes, crushed into fine crumbs
1 cup panko bread crumbs
salt & pepper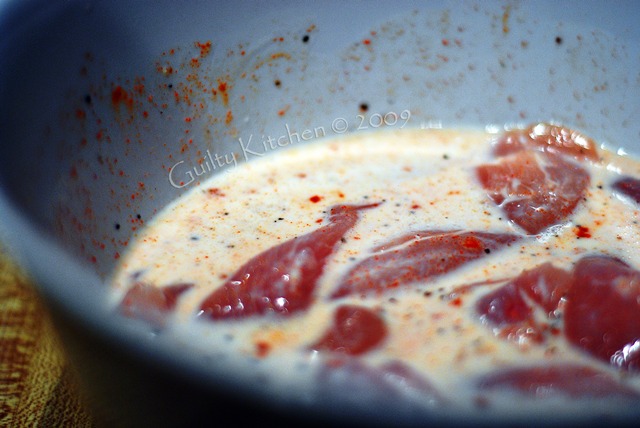 1. In a small bowl, mix buttermilk, salt, pepper and paprika. Add in fillets and marinate for at least 30 minutes.
2. Preheat oven to 375°F.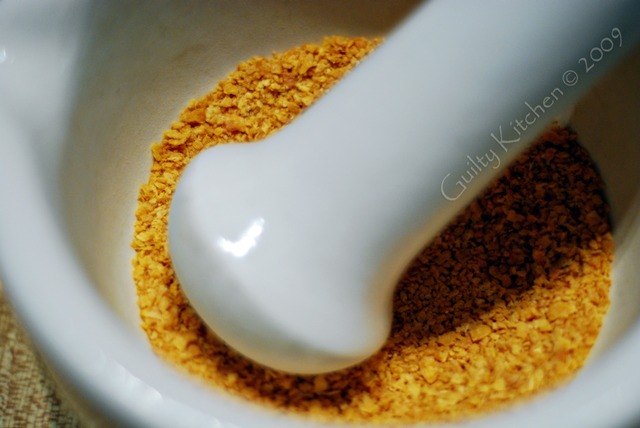 3. Mix corn flakes and panko (try crushing them together a bit in a mortar or in a plastic bag with your palm to make flakes smaller) together on a plate, season with salt & pepper (and any other herbs or spices you may want).
4. Place one or two pieces of chicken at a time on plate, thoroughly coating each piece in crumbs.
5. For best results, bake on a greased metal cooling rack set atop a baking sheet. This allows the hot air to crisp all sides of the strips, instead of just one side. If you cannot get this set up, simply spray a baking sheet with baking spray and place strips on sheet directly.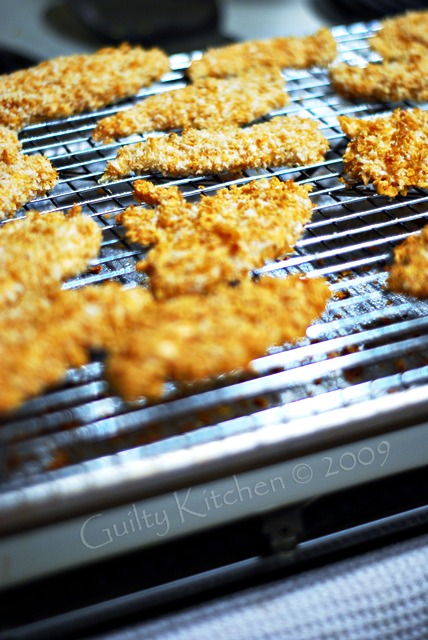 6. Bake for 8-10 minutes or until thoroughly cooked.
7. Serve alongside a nice salad for a light, yet filling dinner…but don't forget the dip (You all know how much a like to dip things)!
Honey Mustard Dip
1/3 cup low fat Hellman's Mayo
1-2 Tbsp liquid honey (depending on taste)
2 heaping Tbsp Dijon mustard
1. Mix all ingredients in a bowl.
2. Serve in individual ramekins alongside chicken strips.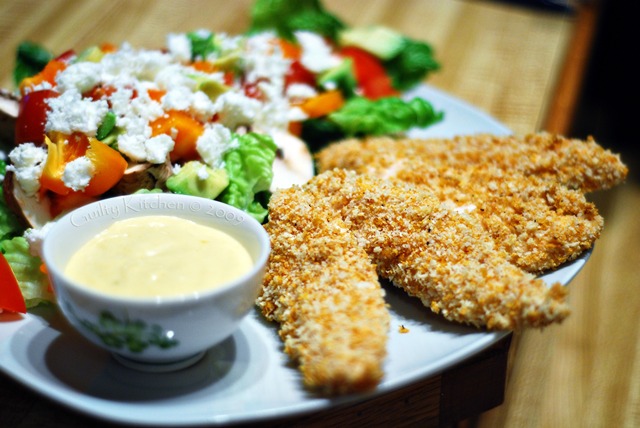 This makes a fair amount of strips, so any family of four could manage this recipe quite easily. Just don't forget to make enough dip, I hate when it runs out too soon.