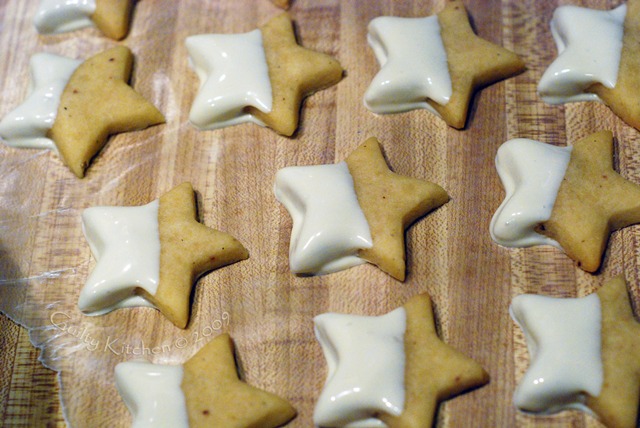 No words today folks, just more Christmas baking!
Eggnog Shortbread
1 cup unsalted butter, room temperature
1/2 cup icing sugar
1 1/2 tsp rum extract
3/4-1 tsp grated nutmeg
1/2 tsp salt
1 3/4 cups all purpose flour
1. Cream butter until fluffy, beat in sugar and rum extract.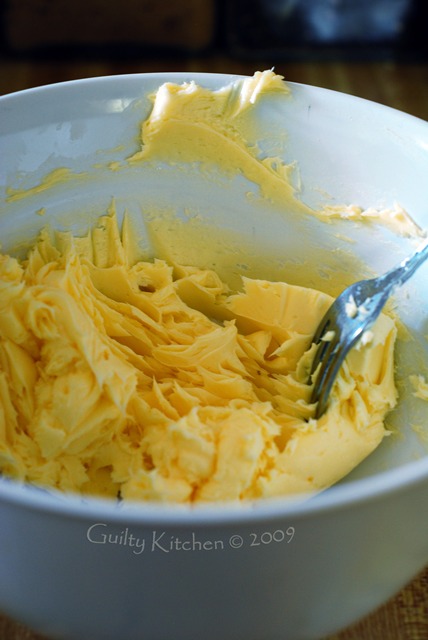 2. Mix flour, nutmeg and salt in small bowl.
3. Beat into butter a little at a time.
4. On a lightly floured surface, roll out dough to 1/4″ thickness (flour the rolling pin too, this dough is very sticky!).
5. Cut into whatever shapes you like, place 1″ apart on cookie sheets lined with parchment paper and refrigerate for 10 minutes (to avoid spreading).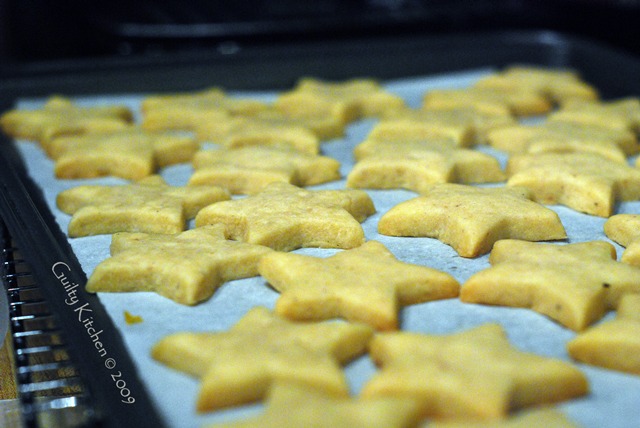 6. Bake in 325°F oven for about 15 minutes, or until just the bottoms start to turn a golden brown. You don't want too much colour…well, if you are my husband, you will put them in for 20 minutes or more until they are brown and crispy. Apparently they're better that way.
7. *Optional* Melt 1 cup of white chocolate dipping wafers in a double boiler. Dip half of completely cooled cookies in chocolate and lay on wax paper to set.
Mocha Candy Cane Cake Balls
1 cup sugar
scant 1 cup all purpose flour
1/2 cup cocoa
3/4 tsp baking powder
3/4 tsp baking soda
1/2 tsp salt
1 egg
1/2 cup milk
1/4 cup butter
1 tsp vanilla
1/2 cup hot coffee (or 1 Tbsp instant coffee in 1/2 cup hot water)
Chocolate Frosting
1/4 cup butter, room temperature
1 cups icing sugar
2 Tbsp cocoa
2Tbsp heavy cream
1/2 tsp vanilla
Coating
1 cup dark chocolate chips
2 Tbsp butter
3 candy canes, crushed
1. Preheat oven to 350°F. Grease a 9″ round baking pan.
2. Stir dry ingredients together. Add egg, milk, butter and vanilla and mix until completely incorporated.
3. Pour in coffee and mix again.
4. Pour into pan and bake for 30-40 minutes.
5. When done, allow to cool almost completely. How you remove it from the pan doesn't matter, because we are going to smash it up anyway.
6. Smash it up! Make into fine crumbs in a large bowl.
7. Make chocolate frosting:
Beat butter until fluffy, add icing sugar and mix completely.
Add cocoa, cream and vanilla and beat until completely incorporated.
8. Mix frosting and cake crumbs together until it is completely mixed together. Should be like wet, sticky batter.
9. Form balls about 1/2″ in diameter. Place on waxed paper lined cookie sheets.
10. Place in freezer for 10 minutes, to harden.
11. Meanwhile, melt 1 cup of dark chocolate chips in top of double boiler. Add 2 Tbsp butter. Keep warm while dipping balls.
12. Dip balls using two spoons to knock off excess chocolate and return to wax paper.Sprinkle tops with crushed candy canes.
13. When done, place in refrigerator to harden.
Unfortunately, none of my pictures turned out for the cake balls, except this one. Sorry! They were absolutely delicious though!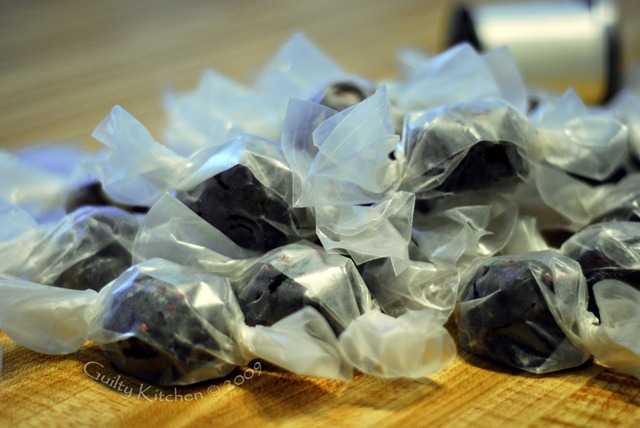 I packed everything up, added some ice packs, and shipped them off to their destinations. Here's hoping they got there in one piece!