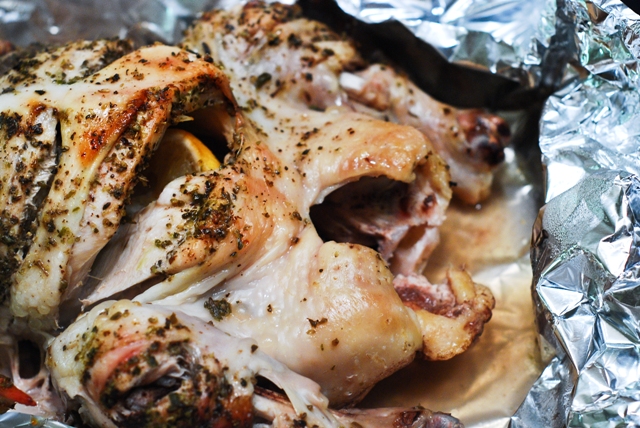 The perfect roast chicken. I'm sure you see that a lot, but what really makes a roast chicken "the perfect" variety? Crispy skin? Moist, succulent flesh? Flavourful, juices to make delicious gravies? I guess it's really all relative. Some people will say crispy skin, which I agree is something of a delicacy, in which case I don't eat it very often. I prefer to save my chicken skin eating for wings, oh so delicious and reserved for those special occasions. In my personal, humble opinion, the best roasted chickens are flavourful and moist in every bite. I hate to see dry white meat because the desire for crispy skin outweighed the desire for moistness of the flesh. Now I'm not saying you can't have both, but I will say this. Chicken skin is bad for you! Bad, bad, bad…you shouldn't be eating so much of it anyway.
Oh, who am I kidding, I love the skin. I'll just say this then: I didn't call this the "best" roasted chicken, because I find it slightly cliché. It is though, one of the best roasted chickens out there. Save for not much edible skin, being that it stays moist, this chicken is divine in every other part. Every piece is dripping in juices and tastes of amazing herbs and garlic.
I'm guessing this would translate well, even for turkey, although you need to up the cooking time. Trust me, you need to make this chicken. Little effort is rewarded in so much juicy, flavourful goodness. We saved the bones and skin for making stock the next day for chicken noodle soup. Just add all the bones, flesh and desired herbs into a large piece of cheese cloth. Tie at the top, and simmer in water or low sodium chicken broth for added flavour for a few hours. Then use it as the base for any kind of soups. Want not, waste not!
Oregano Roasted Chicken
1 large roasting chicken
1/2 lemon
2 cloves of garlic, halved
1-2 Tbsp dried oregano
1/2 Tbsp garlic powder
1/2 salt
1 tsp fresh ground pepper
enough olive oil to dampen herb rub
1. Slash chicken all over body, right down to the bone.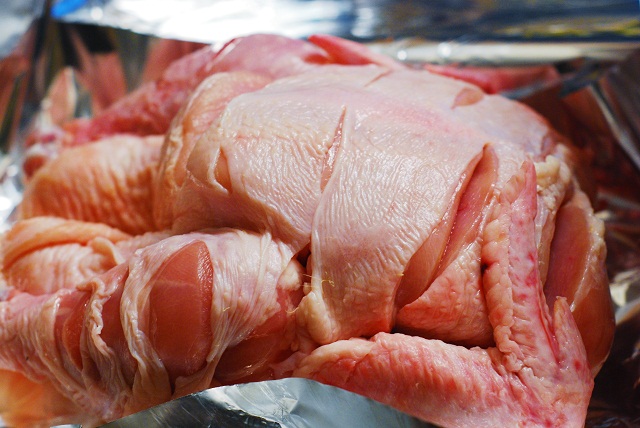 2. Place lemon and garlic cloves into cavity of chicken (add fresh herbs into cavity as well if desired).
3. Mix all other ingredients together in small bowl.
4. Rub all over chicken, making sure the mixture goes inside all the slashes.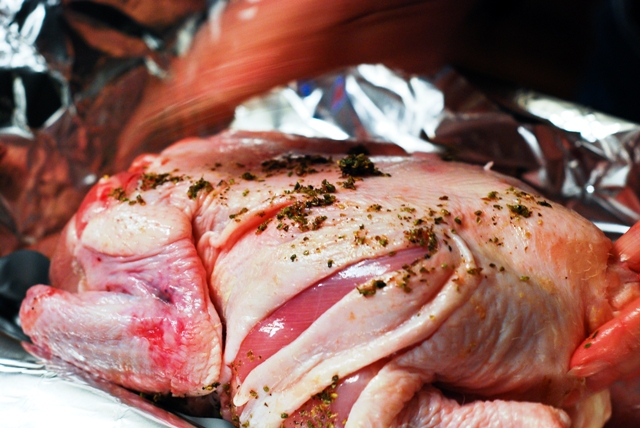 5. Take two long pieves of tin foil and line a baking pan. One sheet going across lengthwise and one piece crossing it widthwise, like an "x".
6. Place chicken in foil lined baking pan and fold foil loosely around, making sure it is sealed but just loosely.
7. Bake in a 400°F oven for 1 1/2 to 2 hours (this may seem excessive, but it guarantees a devinely moist bird).
8. Carefully pour liquid from foil and set aside. (Alternately you could make a gravy with it at this point as well).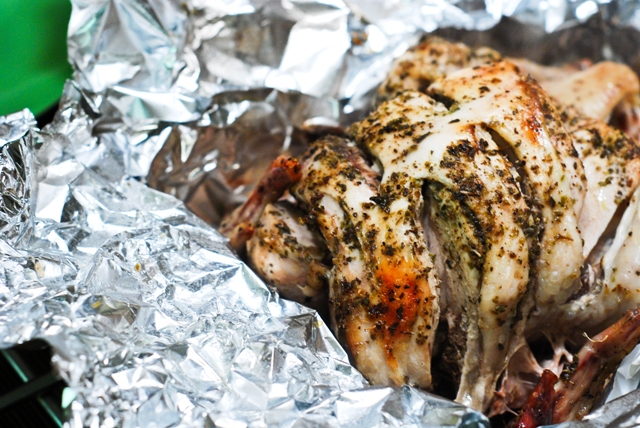 9. Remove chicken from oven and let stand for at least 10 minutes before carving, this will allow juices to reabsorb into the meat.
10. This chicken is delicious served with a rice pilaf, in which case the juices are poured directly over the rice and served.