I love pasta. I love it's heartiness, it's simplicity, the many wonderful shapes it comes in. What I don't love is the sheer amount of calories involved in a typical serving. It's enormous, it's ridiculous, it's really a shame. When I was a kid (Mom, Dad, this is not a criticism, merely a fact.), when we had pasta, there were only three kinds. Spaghetti, fettuccine and macaroni. I had no idea there were even other kinds of pasta, until I started into my cooking career. Manicotti? Tortellini?! Shells??!!! I could live my entire life without ever eating spaghetti again. I am a sworn convert to the smaller forms of pasta, such as rotini, bowties, small shells, and penne. Another thing I love about pasta, is the items usually served along side it. Namely, delicious sauces and sometimes meat in ball form.
When it comes to making pasta dishes, I don't get the chance very often, as the other member of the adults in my family won't allow it. So I've resorted, in the past few years, to making spaghetti squash. Same name, it must be similar, right? Well, in shape, yes it is quite similar. Taste, on the other hand is closer to zucchini. It does not taste much like other forms of winter squash, having a much higher moisture content and lighter flavour. Adding lots of sauce and topping it in cheese is my preferred method of disguising it's vegetable-ness.
If you are one of those people who would rather not eat massive amounts of carbs, or are simply looking for a lighter version of a popular dish, than this is it. This recipes makes a large batch and freezes well, so you can whip it out any time you like.
"Spaghetti" and Meatballs
1 large spaghetti squash
1 large onion, diced
1 clove garlic, minced
1 Tbsp canola oil
1 lb mushrooms, sliced
1 tsp oregano
1/2 tsp each basil & thyme
1 28oz can plum tomatoes, chopped (juice reserved)
1 680 mL can tomato sauce
1/4 cup tomato paste
1. Slice squash in half lengthwise, remove seeds and roast, cut side down, in 375°F oven for 1 hour.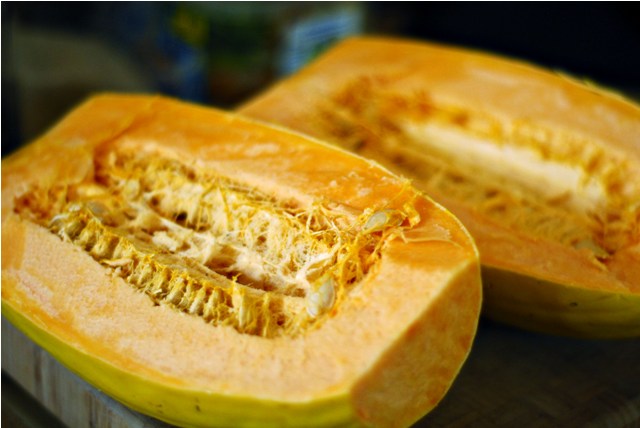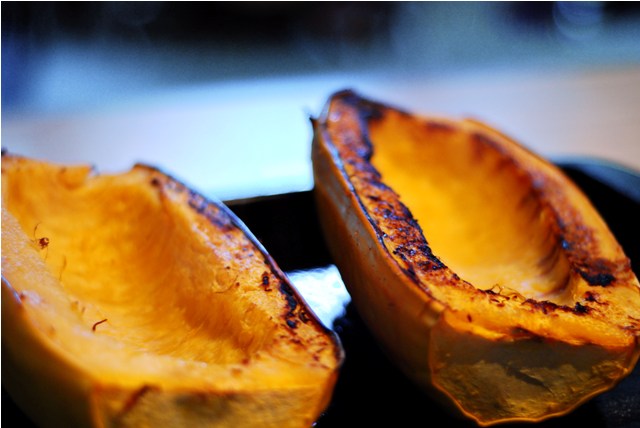 2. Heat oil in large, deep saucepan on medium heat. Add in garlic, onions and mushrooms. Sauté for 5-8 minutes, or until softened.
3. Add tomatoes and their juice, tomato sauce and tomato paste.
4. Add in herbs, bring to boil, and lower to a simmer for 1 hour to thicken and cook.
5. Scrape squash innards out with a fork into a 9 x 13 casserole dish. Distribute evenly across dish.

6. When sauce is thick enough, pour over spaghetti squash and stir slightly to settle the sauce down into the squash. Set aside.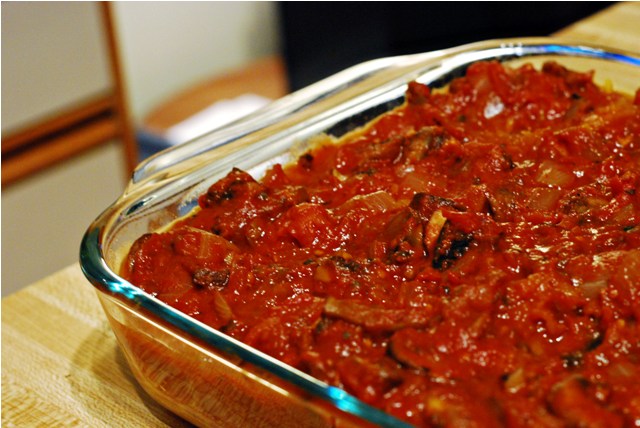 7. Meanwhile, make you meatballs:
Meatballs
1 lb. meatloaf mix (beef, veal and pork)
1 egg
1/3 cup bread crumbs
1/4 cup sour cream
2 cloves garlic, minced
1 tsp each basil and oregano
1 tsp salt
1/2 tsp pepper
1. Mix all ingredients until well combined in a small bowl.
2. Form into balls about 1 1/4″ round.
3. On baking sheet, bake in 375°F oven for 15 minutes.
4. Remove from baking sheet, push slightly into top of tomato sauce/spaghetti squash mix and finish in oven for another 15-20 minutes.
5. Serve with a sprinkle of cheese.