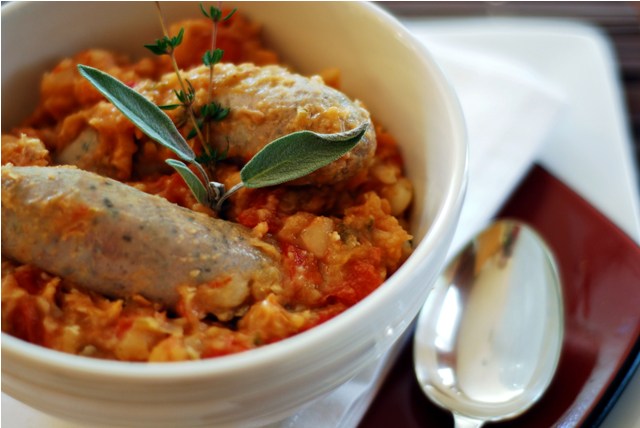 If there is one thing about the cooler weather that I, inexplicably, love, it is the fact that it's damp, cold chutzpah sends me fleeing into the house. Or should I say, truthfully, that I cower in a ball on the couch, wrapped in layers of warm fabric (perhaps a comfy Snuggie?), fire blazing, purposefully avoiding the doorways at all costs. I only venture out to get mail, groceries, eggs and the occasional piece of fuel for said fire. Not that I'm a hermit by any means. I do have my intrepid social activities involving friends and family. Nothing else could draw me from this dwelling in this kind of weather.
Another way to conveniently (and cheaply) heat the house, is to have pots of steaming food simmering away for hours on the stove. There are, most likely, a million and one dishes to be prepared in such a way. Well, I'll probably get to them all this winter. Being my first year relying almost solely on fire for heat, we shall see how I do. I'm not one for being too hot, or too cold. A fire is a very unpredictable heat source, I'll tell ya. One minute I'm freezing my buns off, the next I'm peeling layers off like it's a sudden heat wave in October. The inconsistency of it drives me mad! I'll learn to deal, and in the meantime, I will continue to heat the house using nothing but beans and steam.
Italian Sausage & White Bean Stew
1 lb. Cannelini beans, dried (Soaked in at least 8 cups of water overnight)
8 cups water
2 tbsp olive oil
8 cloves of garlic, peeled
1/2 cup fresh sage, roughly chopped
1/4 tsp, fresh ground black pepper
1 tsp salt
1. Drain soaked beans and add to large saucepan. Add 8 cups water, oil, garlic, sage and pepper. Bring to boil, boil for a few minutes and then reduce to medium low. Simmer for 1 1/2 hours (make sure the pot remains bubbling).
2. The garlic will become almost  mush, and will dissolve into the beans.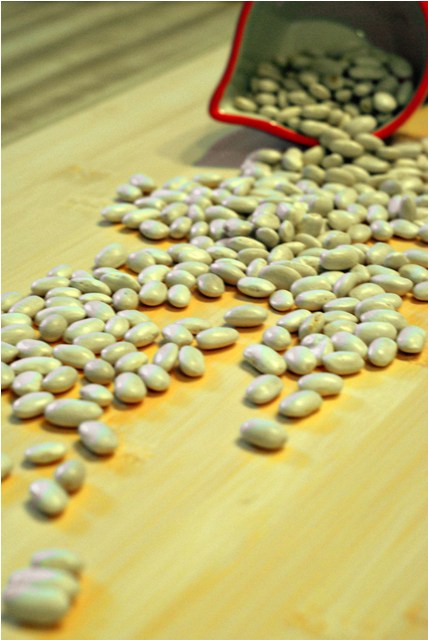 About 30 minutes prior to the beans being done, get the rest of the dish ready:
1 Tbsp veg oil
2 cloves garlic, minced or grated
4 large, mild Italian sausages (I used sausages with fennel)
1 28oz can plum tomatoes, drained and chopped (juice reserved)
1/2 cup fresh herbs (oregano, thyme, sage, rosemary, etc.) minced very fine
1 1/2 tsp crushed toasted fennel seeds
1. In large, deep sauté pan (with lid), heat oil. Sauté garlic for 2 mins on medium heat or until slightly browned.
2. Add whole sausage, raise heat to medium high and brown for 5 minutes.
3. When sausages have achieved a nice browning, turn heat down to medium again, add tomatoes, their juices and the herbs. Allow to come up to a simmer and simmer for 5 minutes.
4. Add beans to sauté pan (most of the liquid should be gone by now, but if there is too much just scoop some out before adding).
5. Cover and simmer on medium low for 30 minutes.
6. Uncover, season with salt and pepper and serve.