The October 2009 Daring Cooks' challenge was brought to us by Jaden of the blog Steamy Kitchen. The recipes are from her new cookbook, The Steamy Kitchen Cookbook.
Welcome to my very first attempt at a Daring Cook's Challenge! Although I joined a couple of months ago, we were so busy with child care and moving that I just didn't book off enough time from everyday life to sit down, write out the recipe and get to experimenting with food I've never made before. Joining the Daring Kitchen is supposed to challenge my inner epicurean. So far, it's made me cower in a corner making easy & simple (yet tasty) dishes that I am intimately familiar with instead of branching out and gettin' dirty.
Well, let's take this as my next step. The next step to pushing myself beyond my comfort zone, to not limiting myself because of my current knowledge. Life is about learning, a constant process that is ever evolving. We cannot remain static just as the seasons cannot do so. If my hunger cannot be sated it is most likely because it is somehow related to my hunger for knowledge. Let's hope these challenges will fulfill that need and spark in me some creativity that I am always looking for.
Surprisingly enough, I've never actually eaten Pho in a restaurant or anywhere else for that matter. I have been to Vietnamese restaurants, but I don't recall ever ordering this wonderful national dish. What a mistake that was. This has got to be one of the most complex and extraordinary tasting soups I've ever had. The roasted spices brought out such a deep, intense flavour in the dish. The addition, in the end, of the accompaniments, only added to my fascination. Such a light and fun meal, spicy for those who want and it utterly mild for those who don't.
My only alteration to the recipe was to cook my broth for 2 hours instead of 20 minutes. I did use store bought stock, but because I bought such a large piece of pork for the dish, a longer cooking time was completley necessary. It only made the stock that much more concentrated with the heady aroma of the anise, cloves and coriander. I must say, I will definitely be making this again and again. Thanks Jaden, a wonderful dish!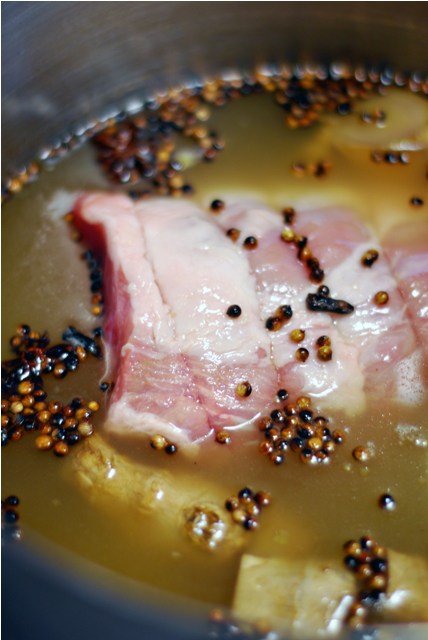 Ingredients:
For the Pork Pho Broth:
2 tbsp. whole coriander seeds
4 whole cloves
2 whole star anise
2 quarts (2 liters/8 cups/64 fluid ounces) store-bought or homemade chicken stock
1 250-300g piece of pork (I used a huge 2 lb picnic roast. What? It was on sale!) (bone in or boneless)
½ onion
1 3-inch (7.5 cm) chunk of ginger, sliced and smashed with side of knife
1 to 2 tbsps. sugar
1 to 2 tbsps. fish sauce
1 lb. (500 grams/16 ounces) dried rice noodles (about ¼ inch/6 mm wide)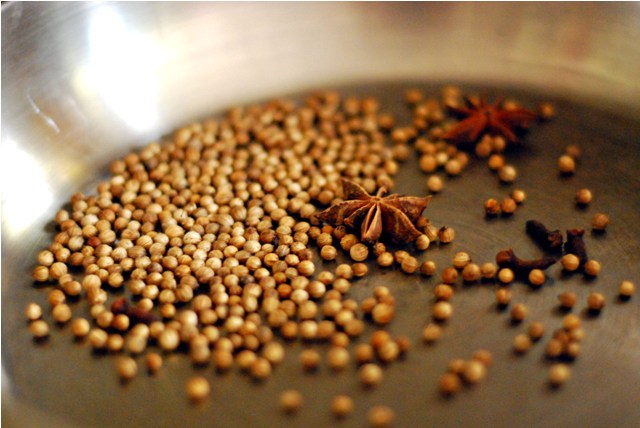 Accompaniments:
2 cups (200 grams/7 ounces) bean sprouts, washed and tails pinched off
Fresh cilantro (coriander) tops (leaves and tender stems)
½ cup (50 grams/approx. 2 ounces) shaved red onions
½ lime, cut into 4 wedges
Sriracha chili sauce
Hoisin sauce
Sliced fresh chili peppers of your choice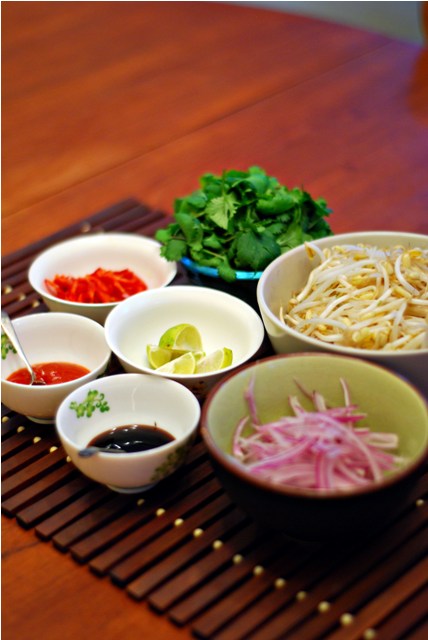 Directions:
To make the Pho Broth: heat a frying pan over medium heat. Add the coriander seeds, cloves and star anise and toast until fragrant, about 3-4 minutes. Immediately spoon out the spices to avoid burning.
In a large pot, add all the ingredients (including the toasted spices) and bring to a boil.
Reduce the heat to medium-low and let simmer for 2 hours, skimming the surface frequently.
Use tongs to remove the pork piece (or pieces) and shred the meat with your fingers, discarding the bone if you have used bone-in.
Taste the broth and add more fish sauce or sugar, if needed. Strain the broth and discard the solids.
Prepare the noodles as per directions on the package.
Ladle the broth into bowls. Then divide the shredded pork and the soft noodles evenly into each bowl.
Have the accompaniments spread out on the table. Each person can customize their own bowl with these ingredients.