I feel like I haven't addressed something very important that's happened this week. Do you know what I'm talking about? The fall of Condé Nast's Gourmet Magazine has been the talk of the social networking world since it's abrupt announcement on Monday morning. As a self professed food whore, I am saddened by this great magazine's sudden decline. Gourmet magazine has been around since 1941, and has held the attention of food enthusiasts ever since. More recently, Gourmet has been dubbed too "upper class" and gearing itself towards a more bourgeois audience. There was a recent article on how food critics could spend $1000 in their own home town. There has been a lot of talk this week on who's fault it really is. Is it us food bloggers? Are we bringing the recipes you could find in Gourmet straight to people's inbox for free instead of the inflated $5.00 newsstand price? Is it the Rachel Rays and Sandra Lees of the world? The 30 minute meals and Semi-Homemade recipes that everyone "really wants" that has driven such an iconic magazine into the ground? We'll never really know. What we do know is that Bon Appetit, Gourmet's sister Magazine and well matched competition, is still around, as are many well rounded food publications such as Saveur and Home & Garden. Is it sad? Indeed, it is sad to lose a magazine of such outstanding pedigree, as well as the many talented writers and photographers who are now jobless, and perhaps will become my competition. Don't lose hope though, there are food blogs out there that provide equally gourmet recipes and outstanding photography. We may have lost some inspiration, but maybe now we can make our own.
What does all that have to do with today's recipe? Absolutely nothing! In fact, today's recipe is from a few weeks ago. I made this cake as requested by my dear husband for his birthday. A favourite amongst his family, is mocha. I love mocha too, so bring on the dark chocolate and coffee! Actually, this cake was made in record time and in doing so I made a few mistakes. Mistakes that eventually turned out to have bettered the cake enormously. You couldn't even tell I had made it in less than 3 hours, cooling time included. Freezers are wonderful for speedy cooling.
Dark Chocolate Mocha Cake

For the cake:
2 cups dark brown sugar, packed
1 3/4 cups pastry flour
3/4 cup good quality Dutch Process Cocoa
1 1/2 tsp Baking powder
1 1/2 tsp Baking soda
1 tsp salt
2 eggs
1 cup buttermilk
1/2 cup melted unsalted butter
2 tsp vanilla
1 cup hot strong coffee (or 1 Tbsp instant coffee with 1 cup hot water)

1. Preheat oven to 350°F. Arrange racks in middle of oven. Grease 2 9″ round pans and line bottoms with parchment paper (Makes removal of this ultra-moist cake easier).
2. Stir dry ingredients together.
3. Add eggs, buttermilk, melted butter and vanilla to dry mix. Mix for 2 minutes with a whisk.
4. Pour in hot coffee and mix thoroughly.
5. Pour into pans and bake for 35-40 minutes.
6. Remove from oven and cool in pans for 20 minutes or more before turning onto wire rack to completely cool.

For the Ganache:

1/2 cup dark chocolate (70% solids)
1/2 cup butter

1. Melt chocolate and butter in microwave at 30 second intervals. Stir between, and do not overheat!
2. Arrange first layer of (cooled) cake on cake plate. Pour half of chocolate over first layer. Place second layer of cake on top of first. Pour remaining chocolate over second layer.
3. Set cake in fridge or freezer to harden.

Mocha Frosting

500 mL Heavy Cream
1/4 cup sugar
1 tsp vanilla
1/2 cup cocoa
1 Tbsp very finely ground coffee beans (or instant coffee granules)

1. In bowl of electric stand mixer, pour cream, sugar and vanilla.
2. Beat on medium high until soft peaks begin to form.
3. Add cocoa and coffee and whip until stiff.
4. Frost cooled cake completely on all sides. You may want to begin with a crumb coat, but it doesn't matter too much as the frosting is already speckled with coffee.
Just a note: This cake does need to be refrigerated when you are not devouring it.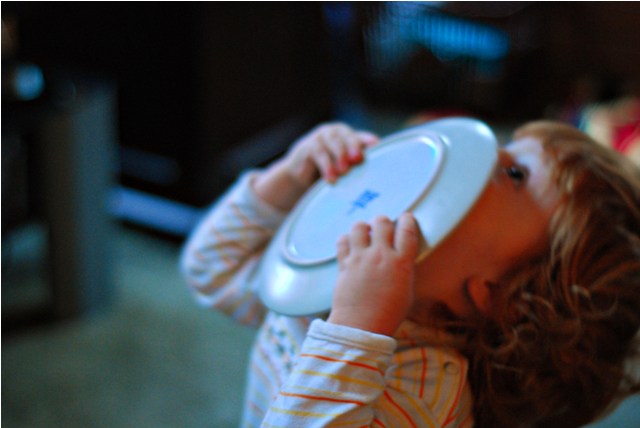 Yup, it's THAT good.