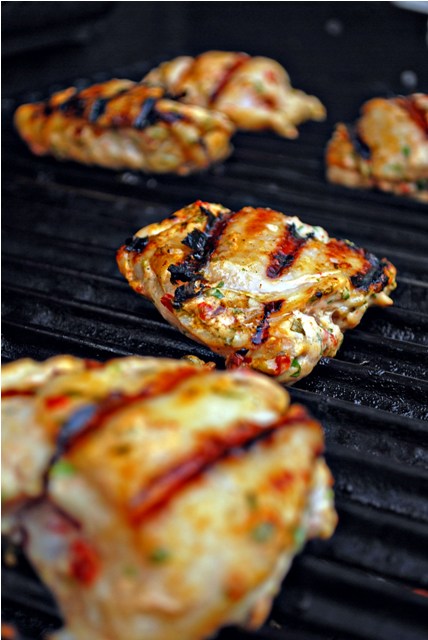 As much as I've been going on and on about how much a love fall and how the weather is cooling off, it's still 80 degrees every afternoon. Mornings are another thing altogether though, with an average of about 45 degrees. So with this odd mix of cooler mornings wrapped in sweaters, hugging my cuppa and blazing hot afternoons, stripping down to our shorts and tanks, there seems to be a need for a transitional meal. Something I can cook outside while it's still warm enough to want to do so, but still embracing the coming of the cooler weather.
In comes a spicy, chipotle and lime marinated chicken. Hello lovely, how have we missed each other all these years? I thought my chicken marinating had reached it's full potential, but I should have known that knowledge never ceases to be accumulated. We are always learning, in and out of the kitchen. One will never be finished or full, at least not I.
Where was I? Oh right, you're here to know the winner of the giveaway!
I was all official and used Random.org to generate some random numbers. Since my comments don't have numbers, I eliminated double posts, my own posts and those of my husband as well. Weeded down, there were 29 posts, and the winner was #23, Jen from Vancouver!
| | |
| --- | --- |
| Jen | I love East Coast fall but I hate Vancouver fall, where I've lived for the past 6 years, because it means… rain and NO SUN is on its way for 4 months or more. I also hate saying good bye to summer fruit and Birks – I hate boots! |
Congratulations Jen! I will be e-mailing you shortly to obtain your mailing address. Thanks for playing everybody! I loved all your reasons for loving (or hating) fall. Stay tuned for more giveaways coming soon. I love giving you stuff, it makes me feel all warm and fuzzy inside.
Love it or hate it, fall is here. Make today's recipe to prolong those summer moments, and just be thankful it's not winter yet. Though I hear there's been snow in some parts of the US!
Chipotle Lime Marinated Chicken

This makes about enough marinade for 1 1/2 lbs. of chicken

8 small chicken thighs, bone-in skin on
3 small chipotle peppers (in adobo sauce) (This sauce is spicy! Reduce peppers if you're a wimp)
Juice of 2 limes
1 clove garlic, grated
2 Tbsp cilantro, minced
1/2 cup plain yogurt or buttermilk
1/2 tsp salt

1. Mix all together in small bowl.
2. Place chicken in plastic bags or small plastic container with a lid.
3. Pour marinade over, mix around to cover completely, refrigerate.
4. Allow to marinade for at least an hour, but longer would be better.
5. When ready to grill, preheat BBQ to medium high for about 5-10 minutes.
6. I like to begin grilling skin side down, which allows the chicken to get some nice grill marks.
7. Allow to cook for about 5 minutes per side, then flip (using tongs, never a fork!), cook for another 5 minutes, flip again and repeat once.
8. Bone in thighs should take 20-25 minutes on a BBQ at medium high heat. Full legs (thigh and drumstick) take much longer, as would bone in breasts. Boneless breasts will take 15-20 minutes.
9. If you are going to be using the oven instead, simply reduce cooking time based on the cut you use.
10. Allow to stand for 5 minutes before cutting in, as the juices need time to settle. If you cut into them while they are piping hot, all the nice juice will run out.

Serve with a green salad or even pasta salad, if you really want to prolong summer.
I made two batches of this to have a sort of dipping sauce for the chicken when it was done. Delicious!