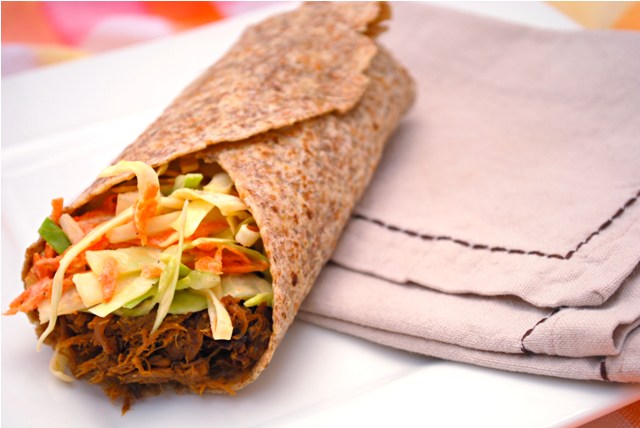 There's something about cooler weather that makes me want to get outside and soak up those last few warm afternoons. I want to drink my wine on the deck in the sunlight and stare out into the woods near our house, without wearing a toque (that's a woolen hat yo), mittens, scarf and winter boots. I know I'll be spending more and more time in the kitchen as the seasons change. Cold weather outside means more elaborate meals and time spent by the woodstove, stoking the fire. So what does this all mean? It means I want to relish the outside air while it's still warm enough to enjoy without 14 layers of clothes on. It means I want to be outside in daylight, while it's still around and not be inside during those last few nights of afternoon sun. It means it's time to break out the slow cooker and some simple weeknight meals.
I'm a big fan of slow cookers. Though, I've only ventured into making protein based meals in there. You won't find me making cake or brownies in my slow cooker. This baby is for meat and meat alone. Don't get me wrong, I'm sure there are some fantastic recipes out there (feel free to e-mail them to me at elizabeth (at) guiltykitchen (dot) com if you'd like me to try one!), I just don't mind cooking other food the old fashioned way. Slow cookers to me, are a just a great way to make meat tender and fall off the bone.
There are a lot of different cuts of meat that work well in a slow cooker, but the best one, in my humble opinion, is a pork roast. Not a loin though (too lean), but a good old fashioned blade roast or butt. These cuts have good fat to meat ratio and also contain both dark and lighter meat, they also come in boneless or bone-in. For this recipe, we'll be using a boneless shoulder roast, about 4 lbs.
And I have a nice giveaway for today as well. My first giveaway! *Applause* Oh thank you, thank you!
Please note: This contest is over. Done. Gone. You're too late.
Today I am giving away some local organic goods from right here in the Cowichan Valley. Well okay, one is from the Cowichan Valley and one is from Denman Island. Today for your cooler weather pleasure, I am giving away one Organic Dark Chocolate and Toasted hazelnut bar (from Denman Island Chocolate) that you can enjoy with a nice, hot cup of locally roasted Biodynamic, fair-trade coffee from Peaks Coffee Co.
This is one prize consisting of 1 (one) 44g Organic Dark Chocolate Bar and 1 (one) lb. of Biodynamic Medium roast Chapada Diamantina blend coffee beans.
To enter, simply leave me a comment on this post telling me what you love (or hate) about the cooler weather.  Retweets would be appreciated too! One entry/comment per person. Multiple entries will disqualify you, sorry. This giveaway is open to residents of Canada and the US only (sorry, I can't afford international shipping just yet). You have until 9pm PST, Thursday, September 24th, to enter. I'll pick a winner using a random number generator, make the announcement on Saturday, September 26th and then soon after I will send said winner a nice lb. of coffee (and a chocolate bar) to warm you up! Good luck everyone!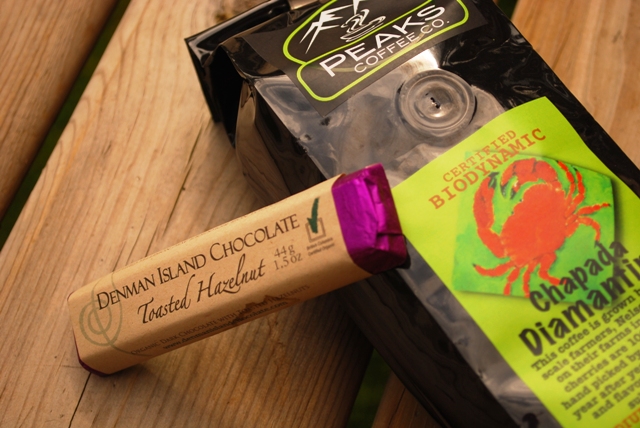 Pulled Pork Wraps with Country Coleslaw

1 Pork roast (approximately 4 lbs.)
1 bottle of BBQ sauce (Flavour is a personal decision, or use homemade!)
1 package of 8″ wraps (or again, make your own!) You could also use buns instead.

1. In a slow cooker, place your roast and smother in BBQ sauce. Cook on high for 1 hour, then turn down to low for another 8 hours (add more sauce in the last 2 hours).
2. When cooking time is done, remove roast from pan and place in bowl. Take 2 forks and begin to pull the meat using a scissoring action. Confused? Take your two forks in both hands, stab the meat with both at opposite ends of the roast (your wrist should be crossed) and pull across (now your wrists should be uncrossed).
3. Add more sauce if desired at this point.
4. Serve pulled pork in wraps or buns with coleslaw.

Country Coleslaw

1/2 head of green cabbage, shredded
2 large carrots, peeled and shredded
3/4 cup mayonnaise
3 Tbsp. sugar
1 1/2 Tbsp. White wine vinegar
1/2 tsp. Dijon mustard
1/4 tsp. onion powder
1/4 tsp. dry mustard
Fresh ground black pepper
1 Tbsp lime juice
1/2 cup buttermilk
1/4 tsp salt

1. Combine cabbage and carrots in a large bowl.
2. Combine remaining ingredients in another bowl. Stirring until sugar is dissolved. Combine with cabbage and let stand for 30 minutes prior to devouring.
3. Serve as topping for pulled pork sandwiches, or as a side dish for another meal.