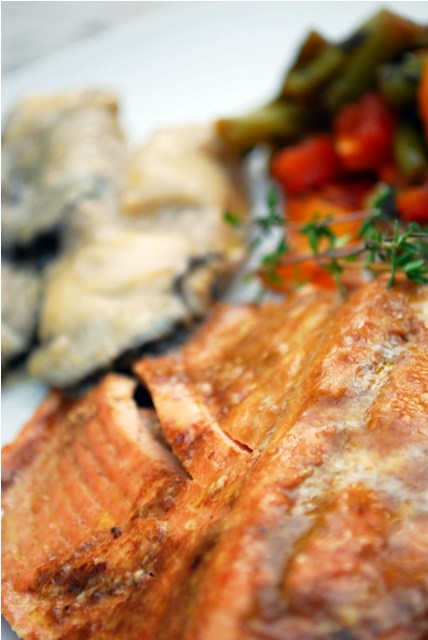 I know I've been gushing recently about the amazing quality and quantity of local food available to me on this wonderful island paradise, but I'm not finished yet.
Last week my Mother, Alexis, a seasoned salmon fishing guide (now retired) and avid outdoorsy type (fair weather only thank you, unless money is involved), went on a leisure trip to what is known as the "Salmon Fishing Capital" of the World, Campbell River (my childhood home). This time of year, there is a little contest where a bunch of fisherman get out their row boats (no motors allowed) and hedge their bets on catching a 30+lb Chinook or Spring salmon. Those that are successful are garnered membership in the Tyee Club of British Columbia. Lucky!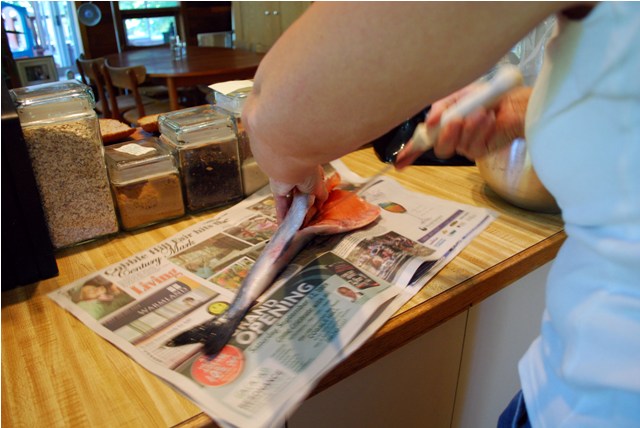 Well, let's just say my Mother is still waiting for her membership card. She did, on the other hand, catch a couple of Pinks (aka Humpbacks). I'm not one to be picky about gifts of fresh caught salmon. If you bring me a fish, I will feed you dinner. No questions asked. There has never been a lack of salmon in my life. As the child of a fishing guide, I grew up gnawing on smoked salmon still hot from the smoker. Those days are gone, but once in a while, I do get a chance to wet my rod tip for a chance of fighting the big one. Here I am a few years ago with my Mother, successful!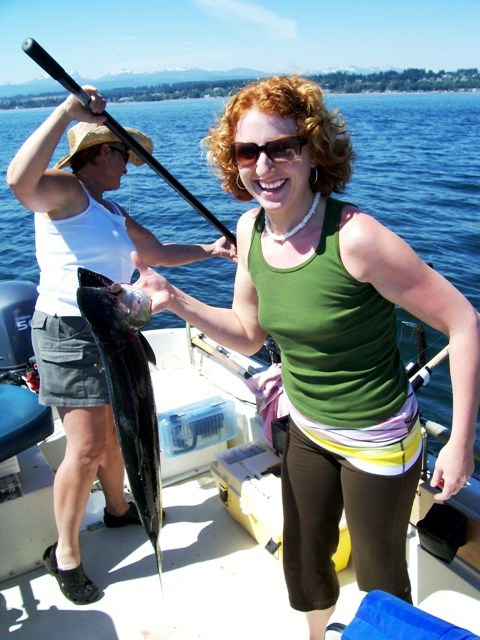 One of the recipes we always used when I was a kid, was a BBQ sauce recipe made almost entirely of butter and other condiments. It sounds totally unappealing when you look at the ingredients, but trust me, this is the only salmon sauce recipe you will ever need. It is divine.
To go along with our Supreme Seafood dinner, we also threw in a few locally raised oysters and a small side of peppers and beans from the farmer's market. If you're lucky enough to have access to fresh seafood, give these recipes a whirl, you won't be sorry.
BBQ Sauce for Salmon

1/4 lb. butter
2-3 cloves garlic, grated (more if you want it)
1/4 cup soy sauce
2 Tbsp. Yellow Mustard
1 Tbsp Worcestershire sauce
2 tsp. ketchup

1. In a small saucepan, combine all ingredients and heat over medium low until combined.
2. Do not boil! It will seperate.
3. Apply sauce to fillets and BBQ until cooked to desired degree of doneness. This depends entirely on the size of your fillets. Ours were small (about 2-3 lb salmon).

4. Reserve some of the sauce for applying after cooking, or dipping if you're feeling really indulgent.

Miso sauce for Oysters

Adapted from a recipe given to me by one Richard Breukers
1 16oz. Tub of oysters
3 Tbsp Japanese Mayo
1 1/2 Tbsp White Miso
2 tbsp. Mirin, Sake or Rice Vinegar

1. Mix all ingredients together add to large saucepan.
2. Add oysters and sauté for 7-8 minutes on medium high heat.

3. Serve immediately.
4. This sauce is much better on oysters on the half shell, but that's not what I had at the time. For oysters on the half shell, apply a dollop of sauce to each oyster, bake in a 425°F oven for 7 minutes. Serve immediately.