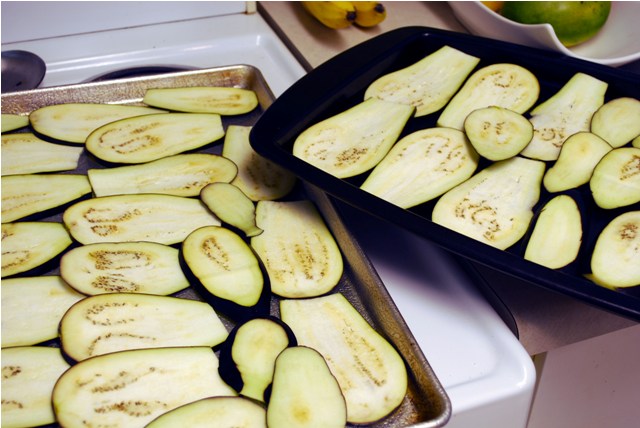 Seeing as I've been sicker than a dog these past couple of days, Mr. Guilty promised me that he would tackle tonight's menu item all by himself. I do have to commend him for offering, as Mr. Guilty usually steps foot in the kitchen for two reasons only, a bowl of cereal or a snack.
As there are boxes piled up all around us, it is getting a lot harder to work in our small space as well. I've packed all but the necessities from the kitchen (I might need my loaf pan or mortar & pestle in the next 3 days!). I have barely anything left to work with…so I had something fairly easy planned for the evening, Eggplant Neapolitan. Layers of eggplant topped with a homemade tomato based sauce. What could be more simple?
I know he feels intimidated when he's in the kitchen with me. And who wouldn't? I just can't handle seeing someone cooking differently than me, or slower than me, or in my kitchen. I always end up stepping in and just doing it myself. God help me when our little man is old enough to want to help, I'm sure he'll regret it. Let's all give kudos to Mr. Guilty, he put in a good effort! He grilled that eggplant just as I asked.
I did the rest….
Oh well, even when I'm sick, I still love to cook.  As long as he gets me a big ol' mug of NeoCitron before bed, then life is good.
This is a very simple dish, uses many vegetables that are in season right now and takes less than an hour to prepare. Feel free to add zucchini or even replace the eggplant with zucchini, it would work quite well in this dish. I recommend it to anyone who wants to teach their children (or anyone else) the basics. Learning to make a basic tomato sauce is something everyone should know how to do.
Eggplant Neapolitan with Cous Cous

3 small Eggplants (Aubergine)
Salt & Pepper
4 Medium sized tomatoes, dice
1/3 cup fresh herbs (I used chives, oregano, basil and thyme), minced
10-12 large mushrooms, diced
1 large vidalia onion, diced
1 clove of garlic, grated
1 6oz can of tomato paste
Salt & Pepper
2 oz soft goat cheese (chèvre)
2 cups low sodium chicken broth
1 1/2 cups cous cous

1. Remove tops from eggplants. Slice vertically into very thin pieces (approximately 1/8″).
2. Line a baking tray with eggplant slices and spray with baking spray or brush with oil. Season with salt and pepper.
3. Grill on a very hot BBQ until grill marks appear, flip and repeat.
4. Remove from grill and return to baking tray. Set aside.
5. In a large, deep saucepan, add garlic, onion, mushrooms and herbs. Sauté until vegetables begin to soften.
6. Add tomatoes and can of tomato paste. Season with salt and pepper.
7. Continue to sauté for another 10-15 minutes.
6. Oil an oblong baking dish and line the bottom with your eggplant. Overlap each slice with the next to prevent the sauce from seeping through.
7. Next, pour a layer of sauce over your eggplant.
8. Crumble some goat cheese over your layer and repeat as many times as you have eggplant and sauce for. I had three layers.
9. Bake in a 375°F oven for 40 minutes.
10. For the cous cous, boil your broth and add in cous cous. Remove from heat, stir, put the lid on it, and let stand 5 minutes. Fluff with fork before serving.
11. To serve, place a large scoop of cous cous on plate and top with a portion of eggplant Neapolitan. Bon appétit!

This weekend is drawing ever closer, and if you are a loyal reader of Guilty Kitchen, than you know that moving day is drawing near. We have oodles of family coming in as of tonight, a wedding tomorrow and then last minute packing to do on Sunday and Monday. I do have a few things planned as far as menu items go (a famous flavour of David Lebovitz ice cream among them), so stay tuned for those, but don't get on my back if posts wane for a few days. I know you'll stick with me right?

Right?

You'll be back…