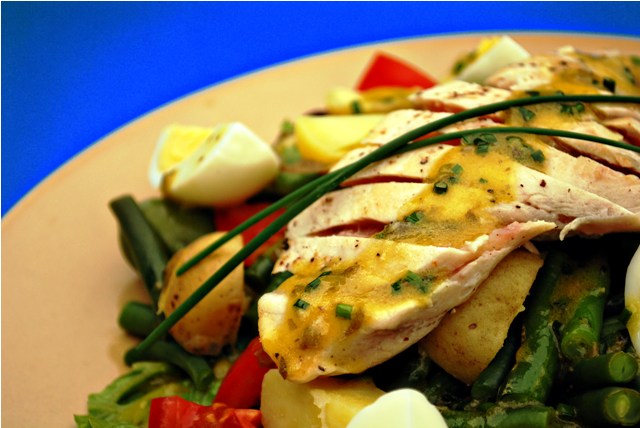 This salad has it's history. If you are keen on knowing it, you will have to look elsewhere. Like the great Caeser salad, Waldorf salad, Panzanella salad and others like them, what once may have been an original masterpiece, has, over the years, become something more of a personal masterpiece for anyone making it. Some people prefer their Niçoise with canned tuna, or without potatoes, or with artichoke hearts, or anchovy fillets. Well, everyone has their preferences. This is my take on a classic salad.
This dressing is basically my Caesar dressing without the egg, worcestershire or parmesan. It remains a creamy vinaigrette and adds a salty, tangy bite to this dish.
Dressing

1 clove garlic, minced
1 tsp anchovy paste (or 2 small diced anchovy fillets)
1 Tbsp Dijon mustard
1 Tbsp Capers, chopped
1 Tbsp red wine vinegar
1 tsp. caper brine
1 Tbsp fresh chives, chopped
juice of 1/2 a lemon
salt and fresh cracked pepper
3/4 cup extra virgin olive oil

1. In small bowl, combine garlic, anchovy, Dijon and capers.
2. Mix in vinegar, caper brine, lemon juice and salt and pepper.
3. Drizzle the olive oil in, whisking as you go.. You are trying to emulsify the dressing in this step.
4. When all is combined, stir in the chopped chives.

For the Salad

2 Sashimi grade tuna steaks (I used albacore)
5 small yukon gold potatoes (you could use any small potatoes here)
2 cups green beans, cut into 1-2 in chunks (or haricots vert if you want to get fancy)
2 medium sized tomatoes
2 large eggs, hard boiled
3 cups romaine leaves, torn into pieces
12 olives ( I used kalamata and cerignola)
salt and pepper to taste
olive oil for searing

1. Boil potatoes until fork tender, approximately 30 minutes (depends on the size of yer taters). When done, drain water and set aside, (you want them to still be warm for the salad).
2. Steam green beans until al dente, about 5 minutes. Quickly run cold water over to stop them from cooking, and set aside.
3. Cube tomatoes and set them aside as well.
4. Dress plates with romaine, tomatoes and beans.
5. Drizzle olive oil on your tuna steaks, season with salt and pepper and get your pan ready. You need a heavy bottomed or non stick sauce pan. Heat on high until almost the smoking point. Sear tuna steaks quickly on both sides, leaving the tuna a blue rare.
6. Cube potatoes and add to salad base. Quarter your hard boiled eggs and scatter them on the salad as well. Place olives around edges.
7. Slice tuna steaks on a diagonal tilt, and place on salad. Drizzle dressing over the whole thing and serve!