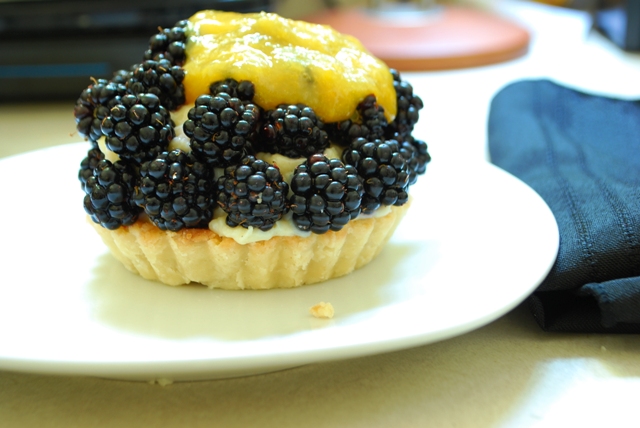 Now we all know that things don't always go 100% as planned. To me this is what experimenting in the kitchen is all about. When you are passionate about food, you take risks with it. You do daring things in the kitchen, you risk ingredient's lives for recipes you've never even seen before, you make things up as you go along, you mix 14 recipes together to get one fantastically awesome product! And yet sometimes, you fail. That's right, I'm not perfect. I know this comes as a surprise to some of you, but fear not! Things made with any of the following ingredients: sugar, fat, custard, cream or chocolate, will almost 98% of the time, still be edible after a recipe fails them.
My kitchen might as well be called "the lab." I rarely use recipes, and if I do, like most other food bloggy types, I don't follow them. It's simply not in my nature. Try as I might to follow every ingredient and rule, I almost always stray from one or two or all of them.
Now, I wouldn't go so far as to say this recipe "failed", it was damn good. But it failed my stringent guidelines for amazing food bloggery goodness. So, if you do decide that you like this recipe and would like to make it, go right ahead. I'm sure it will work fine for you, because I'm sure you won't follow the recipe.
For the tarts I used David Lebovitz's French Pastry Dough, which he took from a woman named Paule Caillat of Promenades Gourmandes. So go ahead and follow that to a T. I did, I swear! Okay, the only thing I changed was the tart mould. I used 5 mini tarts instead of one big one.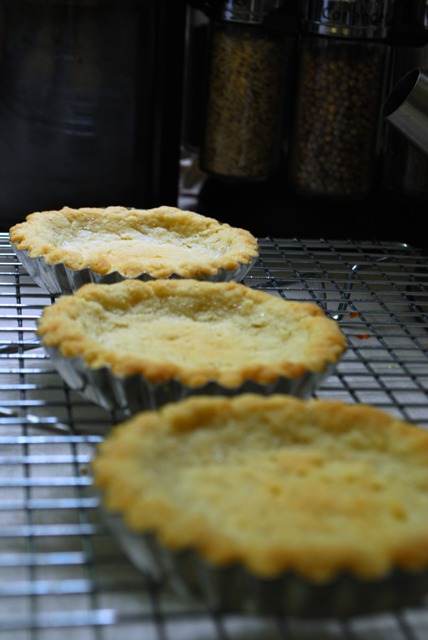 I don't think I did anything more or less than what David said, except the small tart shells. My shells were VERY flaky. One of them, after gently being turned out of the mould, disintegrated in my hand….poof! They were evil-y delicious though.
On another note, it's blackberry season Pacific Northwesterners! Go out there and pick your free berries!
Blackberry Cream Tarts

For the Pastry Cream
adapted from joyofbaking.com

1 1/4 cups whole milk
1/2 vanilla bean, split
3 large egg yolks
50 grams sugar
20 grams AP flour
3 Tbsp cornstarch (This is where I think the recipe should be altered, I'm thinking 2 Tbsp is more than enough)
3/4 Tbsp liqueur ( I used Grand Marnier)

1. Mix egg & sugar in medium sized bowl. Sift flour and cornstarch into sugar mixture, then set aside.
2. In heavy bottomed saucepan, combine milk and vanilla (I scraped the seeds into the pot and added the pod in as well). Heat over medium until boiling. When milk begins to foam a bit, remove from heat and strain into a glass measuring cup with pour spout.
3. Add slowly to egg mixture, whisking vigorously, vigorously!!
4. Place mixture back into saucepan and cook over medium until boiling again, whisking very fast to avoid lumps. When it boils, continue to whisk until it thickens up. Immediately pour in your liqueur and mix in.
5. Pour into a small bowl and cover the surface with plastic wrap to keep skin from forming. Cool.

To assemble the tarts, pipe pastry cream into tart shells and sprinkle with blackberries, pushing them in a tiny bit to keep them on your tart. I also made a little golden plum coulis to pour over our tarts which was simply 4 small golden plums (skins peeled off) cooked with 1 Tbsp of sugar until thick. Pour over tart or scatter on serving plate as garnish.

Now, to explain the pictures. My pastry cream was thick. Way too thick to pipe. It clogged up my pastry bag and wouldn't come out, so I had to glop it on. The first spoonful was huge and when I tried to get some off to make them smaller, the tart shell started disintegrating. So I just made them huge! It was Sunday night after all, the perfect end to another great weekend!