So, some news! Currently we have been living in a smallish, strata governed, not well lit (BAD for photography), townhouse in the city. Well, after receiving a noise complaint about our poor little doggy, we have decided to move out to the sticks!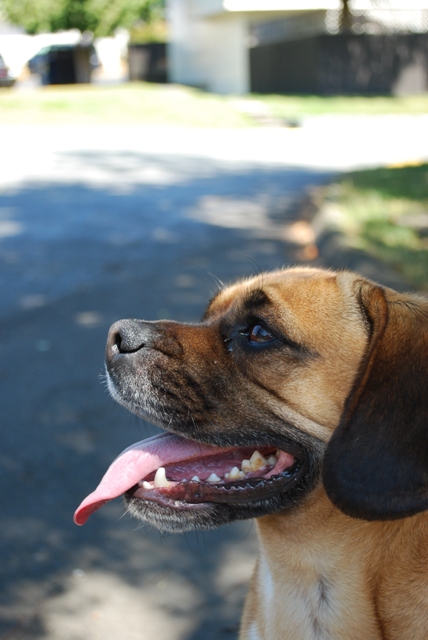 How could anyone not like that face???
My current kitchen is small, poorly lit, and is not integrated into the design of the rest of the house, so I'm alone in there a lot. If you haven't seen a pic of it, go here. That's my yucky, yellow kitchen. And here's my new one!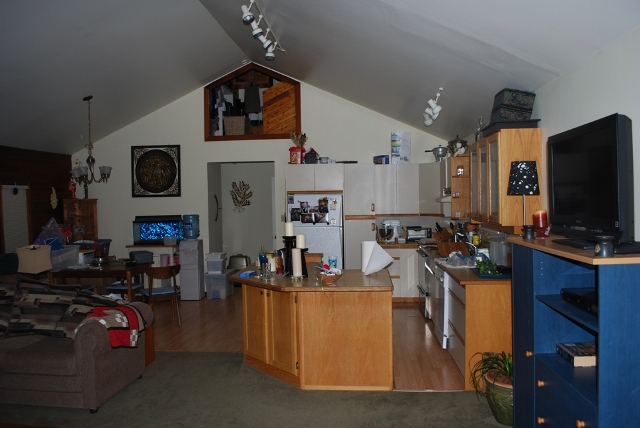 Of course, none of that stuff is mine, as we don't move in until September 1st, but look at that set up! I could host my own cooking show in there!
Alright, enough personal stuff, on to the food!
Continuing with the non-cooking kick, I wanted to make some cold, Asian inspired dishes this week. Being a big fan of wraps and little thingys I can dip in something delicious, I figured Rice Paper Rolls would be the perfect concoction.
If you are looking for something "exotic" (in the sense that you don't have it all the time), fresh, easy, fast and healthy, look no further. These wraps were so very easy and I will definitely be making them again (if only to finish off my 100 count package of rice paper rolls).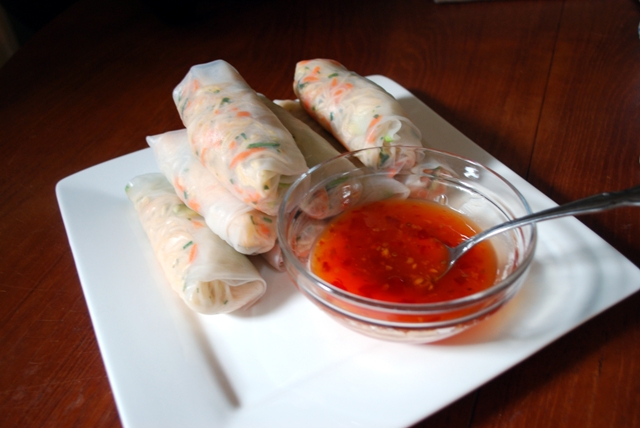 Rice Paper Wraps with Sweet Chili Dip

2 Tbsp Rice vinegar
2 Tbsp Water
2 Tbsp Sugar
1 tsp salt
1 clove garlic, crushed
2 oz. Vermicelli rice noodles
8 Rice paper wraps
1/8 head cabbage, shredded
1 large carrot, shredded
1 handful cilantro, chopped
1/4 cup chopped green onions or chives
1/2 an avocado, sliced

1. Add vermicelli noodles to boiled water. Let stand 5 minutes. Drain.
2. Meanwhile, mix vinegar, water, sugar, salt and garlic in bowl. Set aside until sugar dissolves.
3. Add cabbage, carrot, cilantro and chives to dressing mix. Stir in noodles.
4. In a shallow circular dish, big enough for your wraps, add more boiled water. Place wraps in one at a time to soften. When soft (after approximately 1 minute), remove to paper towels.
5. Pat wraps dry before beginning filling.
6. For filling: Place a spoonful of mixture on wrap and top with one or two slices of avocado. Take end closest to you and fold over filling, away from you. Take sides, and fold in to center. Then, roll filling toward other end, forming a cigar shape. Wrap should seal itself (these are a bit sticky!)
7. When finished rolling all eight of your wraps, serve with sweet thai chili sauce ( I added a bit of fish sauce for flavour as well).