AKA: Taboulé
Who likes to cook when it's 30 degrees outside (for all you 'mericans, that's 86 degrees Fahrenheit). I just want to sit in the backyard, watch the kid run around with the dog and drink fresh Mojitos. Mmmmmm…
But the mint reminded me of something a friend made for me a while back. Tabbouleh. Yes, the Mediterranean salad. Fresh, minty, cold, no cooking required! Bingo.
And so, the gathering of the ingredients for the requisite food porn shot, began.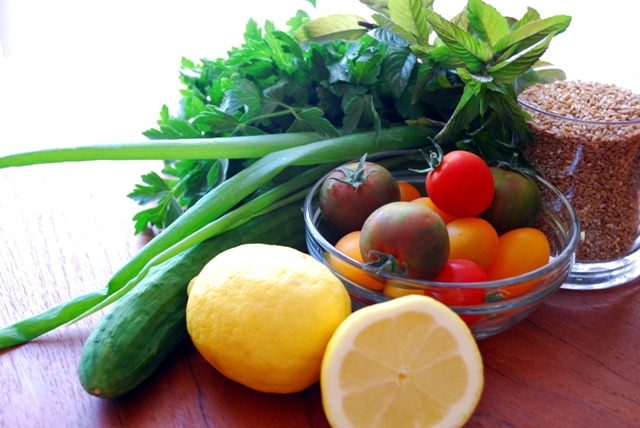 Doesn't that just look delicious? Refreshing? Summery? Yup, that's what I thought too.
Tabbouleh Salad with Tofu and Chèvre

2 cups presoaked Bulgur (or you could also use cooked quinoa, couscous, wheat berries, etc.)
2-3 cups minced flat leaf parsley
1/4 cup finely chopped fresh mint
3 spring onions, finely chopped
1/2 tsp. ground cumin
3 tomatoes, diced
3 Tbsp. fresh lemon juice
3 Tbsp. extra virgin olive oil
salt and pepper to taste
3/4 of a large English cucumber, diced
4 cups Romaine lettuce, roughly chopped

1. In medium sized mixing bowl, combine everything except cucumbers, romaine and oil. Toss and chill for 1 or more hours.
2. Remove from fridge, add oil, toss and serve on bed of Romaine with cucumbers sprinkled on top.
3. I served mine with some fresh Chèvre and pan fried tofu with a little garlic and salt and pepper.