Ahhhh……Saturday. My favourite day of the week. Every week on this day, my husband, my son, me and anyone else who wants to joins us, heads out for some well deserved relaxing adventure. Well, they aren't always relaxing. Sometimes we hit the trails for a monumental hike, as it's good to earn those calories at the end of the day.
Well, with yesterday's disastrous baking results, and my all nighter learning CSS and HTML and all sorts of other technical jibber-jabber, we thought something more slow paced was in order. A call was placed to the in-laws, vehicles and toddler snacks were readied, and it was off on a mini local wine tour and bistro lunch at Merridale Cidery.
We sampled some very nice Pinot Gris, Ortega (a German cold weather grape, which grows well here), Gewurztraminer, and others.
We did mostly sample whites, as my husband is prone to migraines. We then travelled to the tiny village of Cowichan Bay, where we visited Hilary's Cheese and True Grain Bread. Both are locally owned and locally operated. Hilary's is a bounty of delicious cheeses, both locally produced and imported.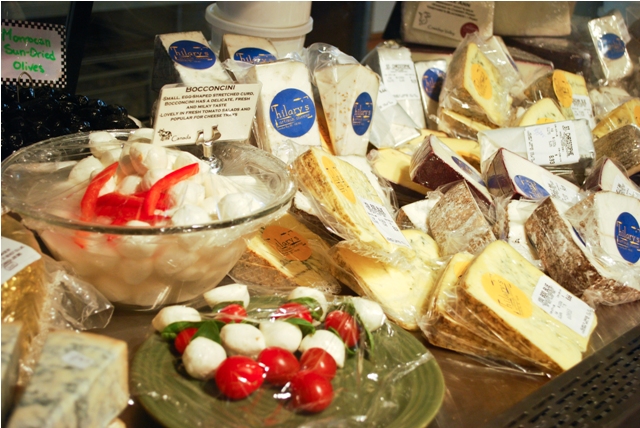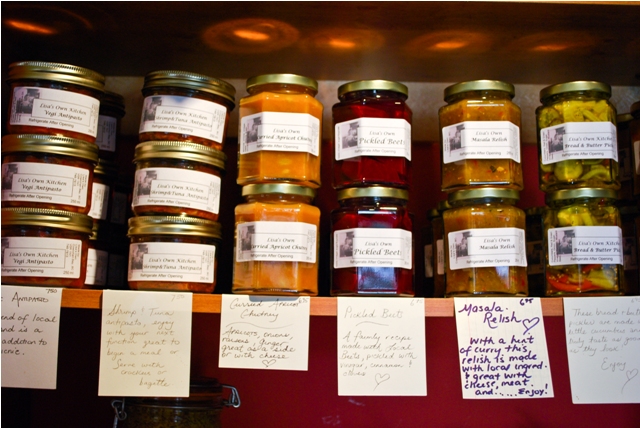 True grain bread produces all it's own breads and also sells it's own stone ground flours. Some of which are sourced from wheat grown right here on Vancouver Island.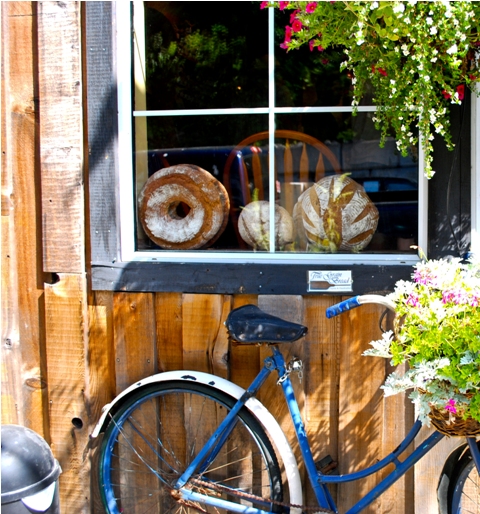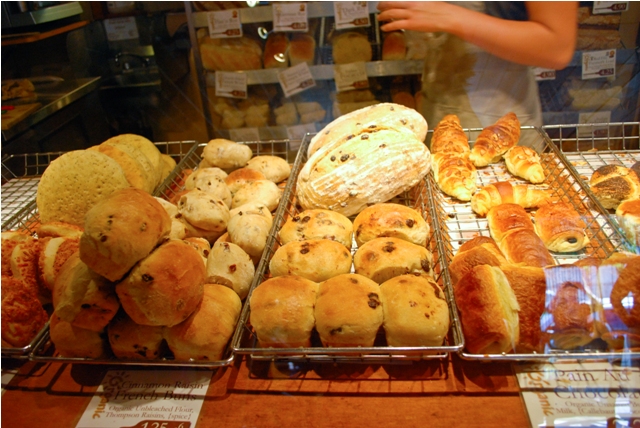 Then we hit the cidery to sample some delicious Ciders, Fortified wines and Spirits. Ahhhhh….relaxing.
Alright, alright, on to the ice cream! I know it's what you were all really dying to hear about. Well, you can put away those sneers and laughs, because it turned out beautiful! It was like I meant to make ice cream or something. I do have to give props to Very Small Anna, though. Without her tip of using vodka in the coulis, it would have turned out rock hard, but it turned out as if I had used an ice cream maker. Which I obviously did not. I, of the tiny kitchen and 15 year old food processor, prefer the good old fashioned loaf pan method. Booyah!
Here's the recipe:

Chewy Tarts with Orange Vanilla Blueberry Swirl Ice Cream

For the Rough Puff Pastry (adapted from Fine Cooking):

6 oz cold flour
1/2 tsp. salt
6 oz. cold unsalted butter, cubed
3 oz. very cold water
4 Tbsp. casters sugar
1 tsp. nutmeg
1 tsp. cinnamon

1. Sift dry ingedients onto the cold cubes of butter. Pulse until crumbly.
2.Add ice water a tbsp. at a time to loosely bind dough. Mix until dough just barely hangs together.
3. Shape the messy, shaggy dough into a rough rectangle and roll it out until it is 1/2″ thick. Do not overwork!
4. Fold dough into thirds like a letter. Turn 90 degrees so fold runs vertical. Roll into rectangle 1/2″ thick, rolling from open end to open end. Square off edges as you work.
5. Keep rolling, folding, turning. About 4-5 times.
6. Chill 1/2 hour. Remove from fridge, give 2 final turns and rest again.
7. Roll out dough. Sprinkle with sugar and spices.
8. Fold in half lengthwise and roll out again.
9. Cut into 10 thin round slices. Press into greased muffin tin, making sure to prick bases.  Alternately, you could use baking paper and pie weights for this step as well.
10. Bake for 15 minutes at 350F. Cool and set aside.

For the Ice Cream:

Custard Ice Cream

3 large eggs
3 Tbsp. honey
2 vanilla pods or 2 tsp vanilla extract
zest of 1 orange
300mL whipping cream

Now keep in mind this was a recipe for custard, which didn't set. When I took it out of the fridge it was still liquid. I immediately put it into a loaf pan and set it in the freezer. It came out just like regular ice cream. I suspect most ice creams call only for yolks and no whites, but I used the whole egg.

1. Whisk eggs and honey in large bowl.
2. Place cream in heavy bottomed sauce pan. Add vanilla and orange zest.
3. Heat cream to boiling point.
4. Whisking as you go, gradually add cream to egg and mix well.
5. Pour cream and egg mix back into saucepan and cook over low heat, stirring constantly. 5 minutes. Do not boil or it will curdle.
6. Strain into bowl add 2 tbsp. vodka and place in freezer.
7. While ice cream sets a little, make blueberry coulis.

Blueberry Coulis

3 cups Fresh blueberries, washed
Juice of 1/2 an orange (you could use the whole thing)
2 Tbsp. Agave nectar
2 Tbsp. Vodka

1. Place everything but vodka in saucepan.
2. Bring to boil and simmer until sauce thickens and reduces by about 1/2.
3. You can strain it through a sieve at this point if you wish.
4. Optional: Put back into saucepan and bring to simmer. Add slurry of equal parts cornstarch and water to mix and bring to boil, simmering until desired thickness is achieved.
5. Remove from heat and cool. Add vodka and stir.
6. When the blueberry coulis is cooled, add to the cream base that is in the freezer. Swirl together, but don't mix too much.

For an extra kick, I made a little caramel sauce to pour over the assembled tarts.

Caramel Sauce

3 Tbsp. Sugar
2 Tbsp. Water
1/4 cup heavy cream

1. Dissolve sugar and water over low heat, swirling to mix.
2. Increase heat to boil until caramelized. You should see a nice mahogany colour. Be careful not to burn it.
3. Slowly add cream and simmer until thickened.
4. Cool and refrigerate.
Just a little side note:
The site is coming together beautifully, but there are bound to be bumps along the way. I expect the site to change appearances a few times in the coming weeks or months, but please stick with me! I promise you won't be dissapointed!